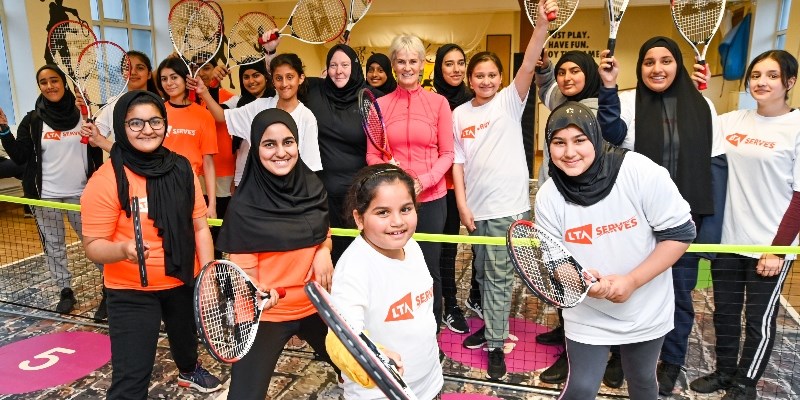 LTA
Inspirational LTA Tennis Activator reunited with Judy Murray to deliver unique tennis session for Bradford girls
• 3 MINUTE READ
A female tennis activator from Bradford who delivers the LTA SERVES community tennis programme at Sunnah Sports Academy Trust fulfilled a lifelong ambition by leading a tennis session for young women with Judy Murray on Friday.
Nalette Tucker, who manages the Sunnah Sports Academy in Bradford, was joined by Murray at a special event organised by the LTA, the national governing body for tennis in Great Britain.
These weekly sessions organised and delivered by Tucker aim to develop tennis skills, confidence and self-esteem in a safe and familiar environment for young women from underserved communities.
The event was the latest collaboration between the LTA's SERVES and She Rallies programmes, the latter being delivered in partnership with Murray.
Murray and Tucker had initially met at an LTA SERVES and LTA She Rallies training workshop for females in Birmingham during 2019 and had discussed the possibility of Murray returning in a mentoring role before the Covid-19 pandemic.
LTA SERVES is delivered at nearly 200 venues across the UK by community leaders, like Tucker, who are trained to deliver free tennis activities to local young people who might not have believed tennis was a sport for them. LTA She Rallies works to develop a female work force to create more opportunities for women and girls in tennis.
Friday's session used drills and games from the LTA She Rallies programme, which aims to spark an interest in tennis among girls and young women by providing a basic introduction to the core co-ordination and movement skills needed for tennis.

Kiran Matharu, Community Tennis Manager said: "Nalette is a fantastic role model and is fiercely committed to growing our sport in her local community. It was great to see her working alongside one of the best in the business in Judy today. Our SERVES programme brings tennis to places and people who wouldn't necessarily think it was for them, and Nalette has been a brilliant advocate of it for many years."
Jo-Anne Downing, LTA Product & Programme Manager said: "The idea of bringing SERVES and She Rallies together is to use the training content we've developed with Judy to empower young women from non-traditional areas to deliver tennis to their local communities. We have worked in partnership to recently deliver training workshops in London and Manchester to upskill many more female activators and hopefully Nalette and Judy will inspire more girls to believe that tennis is a sport for them."

Nalette Tucker said: "One of my proudest moments was meeting Judy in 2019, so to have her come here to work with me and our young people was incredible. Tennis can be for anyone and having programmes like LTA SERVES and She Rallies, as well as role models like Judy, is vital to getting more and more young girls into the sport. It was an amazing experience to put on this session today and I'd like to thank Judy for coming to be a part of it."
Judy Murray said: "It was a pleasure to see Nalette again and to work with the amazing young women who attend her sessions. She was organised, firm, fair and friendly - a born leader and a natural teacher. Nalette embodies what She Rallies is all about - inspiring and supporting women to get involved in starter tennis delivery in their back yards. If we want tennis to be accessible and affordable to many more people, we need to encourage and support more Nalettes. She absolutely rocks."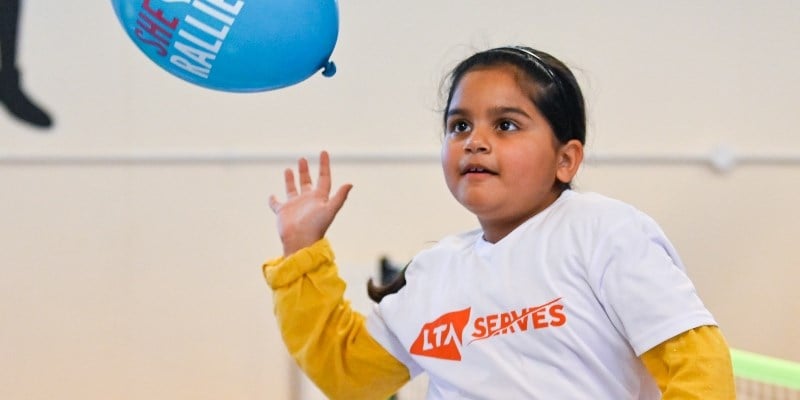 Find out more about LTA SERVES here.