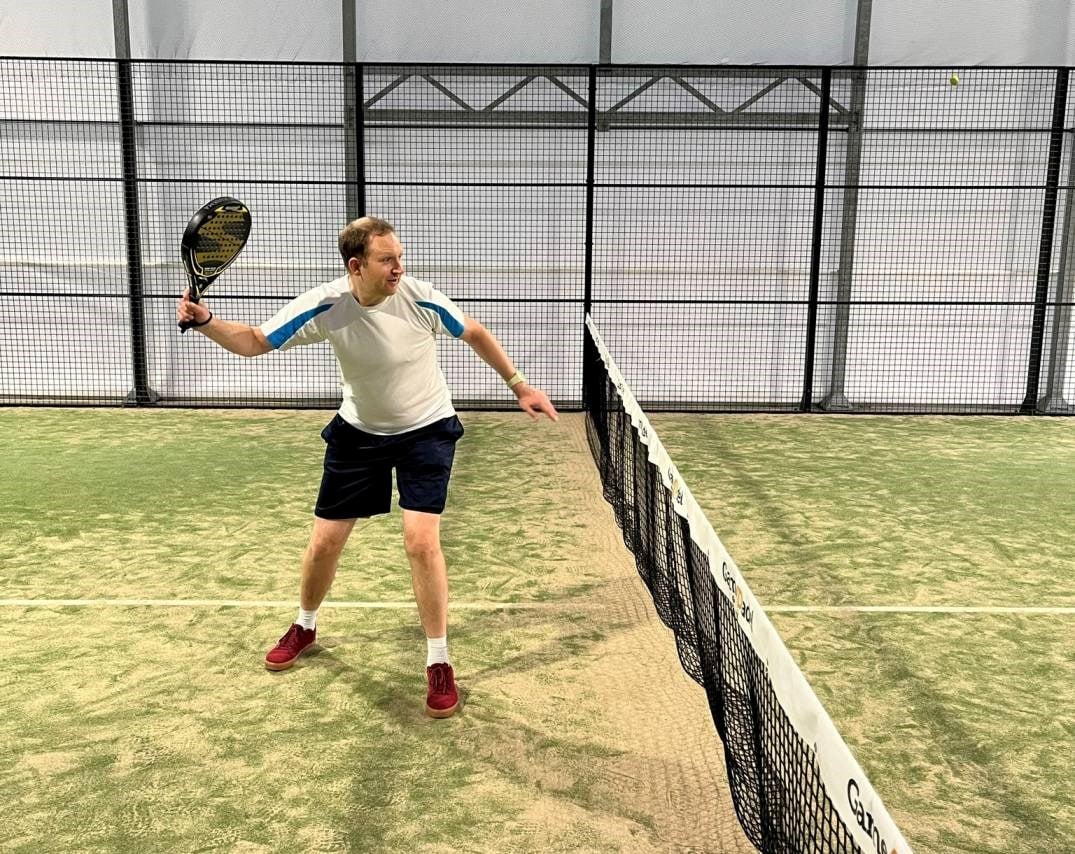 Diversity and Inclusion
How padel is helping members of Edinburgh's LGBTQ+ community come together
• 4 MINUTE READ
Jonathan MacBride, who established the UK's first LGBTQ+ padel club in Edinburgh, tells us why groups such as the Edinburgh Curveballs are so important for LGBTQ+ communities to be able to come together, and details their role in boosting people's mental health.
Tell us about your background. What have your experiences been as a member of the LGBTQ+ community playing sport?
My parents have played racket sports all my life. From the age of five I played badminton and tennis and then started playing squash when I was 10. But I wasn't 'out'. It was in the time of Section 28 (a series of laws across Britain that prohibited the 'promotion of homosexuality' by local authorities), so being gay wasn't talked about in school, and I didn't know anyone else who was out until I was 18.
I think because my parents played racket sports, it was just a thing that I could do without the barriers that might have been there if I was out. Squash became my main sport, I represented Ulster at junior and senior level, I qualified as a coach, I won gold medals at the [now defunct] World Outgames, and I'm the only out gay man in competition squash in Scotland.
Already being an LGBTQ+ squash club, what gave you the idea to add 'padelers' to what was, at the time, the Colinton 'squashers'?
It came about as a result of Covid. Squash wasn't allowed under regulations but tennis and padel were. So I, along with some other squash players from my squash club started playing padel at courts just round the corner from us at Thistle Padel Club.
I was able to get some funding from LEAP Sports Scotland to help with physical activity during Covid for LGBTQ+ people and with the funding being offered, I thought that if I got some padel bats and balls, and book some court time, then I could try and get people who were interested in squash to try padel instead. Whilst they didn't take to it, other people from the community did. They really appreciated being able to get out, meet people within the regulations at the time and do some exercise. But really, just the fact that they were able to play with people like them made a difference to a lot of people.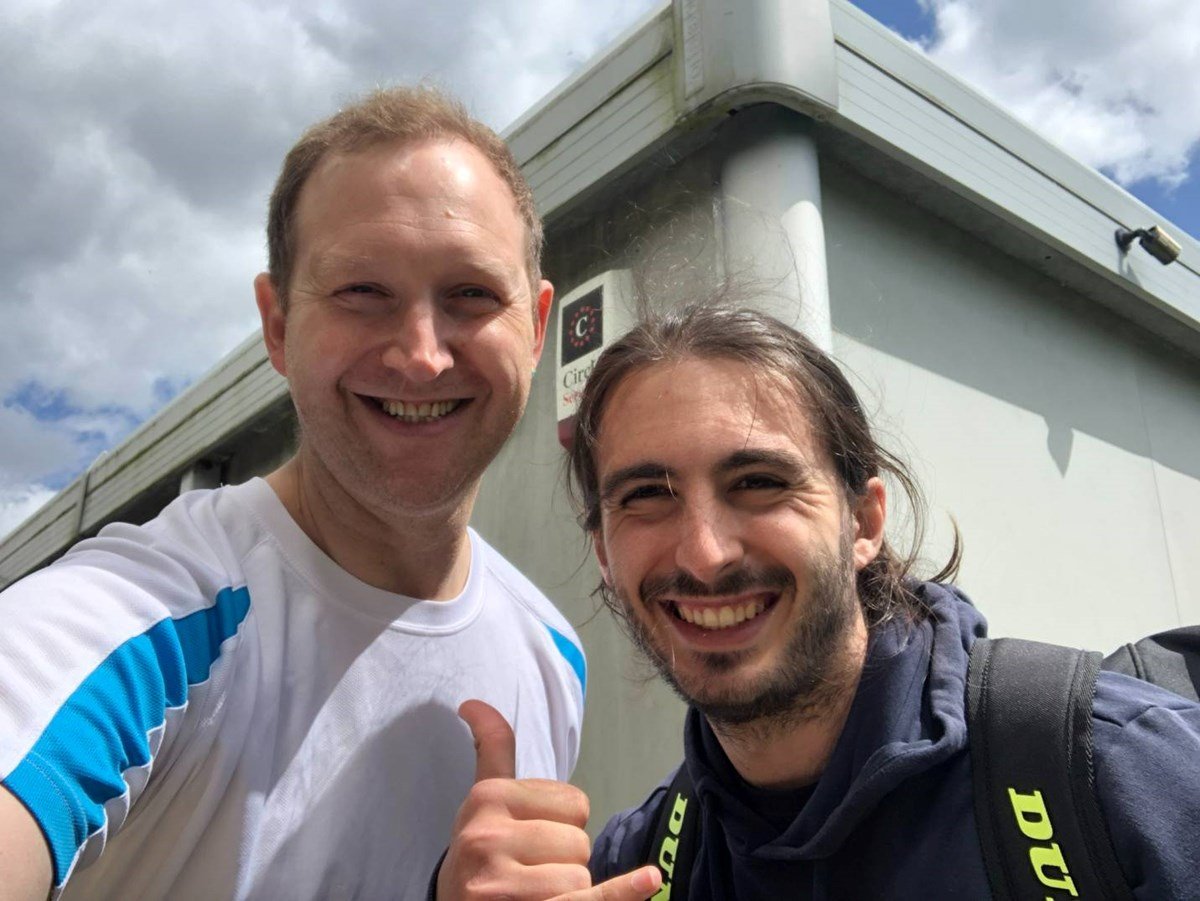 How popular has padel been to members of Edinburgh's LGBTQ+ community?
Since we started, we've had 30 people come as part of the group, with a core group of around 10. They have been starting to play padel after seeing other racket sports. Also, to a certain extent because there isn't that same level of familiarity with it, it's a good leveller, with older players finding it easier to play as well.
It can be quite hard because limited facilities means limiting numbers. As a community group, you want to include people and you don't want to tell people they can't come, so that can be difficult compared to something like tennis where lots of courts are available. But we've had a good core of regulars, and it's made a big difference to them, giving them the chance to talk about mental health, which is really important after Covid. One of the guys used to not do any physical activity, but from this he's now started going along to a running group and gone along to the Edinburgh gay men's choir, so for him it's been a real gateway.
Why do you think sporting groups like the Edinburgh Curveballs are so important, especially in providing safe spaces for LGBTQ+ people?
It's that you're able to come along and you understand each other from the start. You can expect to have comfortable conversations about topics that wouldn't necessarily be brought up by people at your main club. And you could bring up topics of conversation with them that you wouldn't maybe at all in other places. For some people that would be their only group of people that they could bring that up with. I really enjoy that.
Often at clubs it's very much based around the sport. You go along, you play your game of tennis, padel or squash, and then it's "nice to see you, bye" – it's all about the sport.
Whereas this is a safer way of meeting people who you can relate to, who you can talk to about more personal things that you wouldn't do otherwise. From the start for me, the social aspect has been really important. Padel is what brings them together, but they come back for the people.
What plans do you have for the group and LGBTQ+ padel?
I'd like to set up a tournament and have more events, such as having some social home and away matches against different LGBTQ+ clubs. Primarily, I want to attract more people to the group. A big thing for LGBTQ+ people is how do you meet other LGBTQ+ people, and these sports groups are a really positive way of doing that. A key part of achieving that is facilities, so we're looking to increase the number of courts and amount of court time available. We'll be doing more promotion as well and will be hosting an Intro to Padel event as part of LEAP Sport Scotland's Festival Fortnight on 28 June.
The Edinburgh Curveballs are part of a growing network of LGBTQ+ inclusive tennis and padel groups across Great Britain. To find out more about the network, and to find out more about the Curveballs' Intro to Padel session taking place on the 28 June at Thistle Tennis Club, visit the Pride in Tennis website.