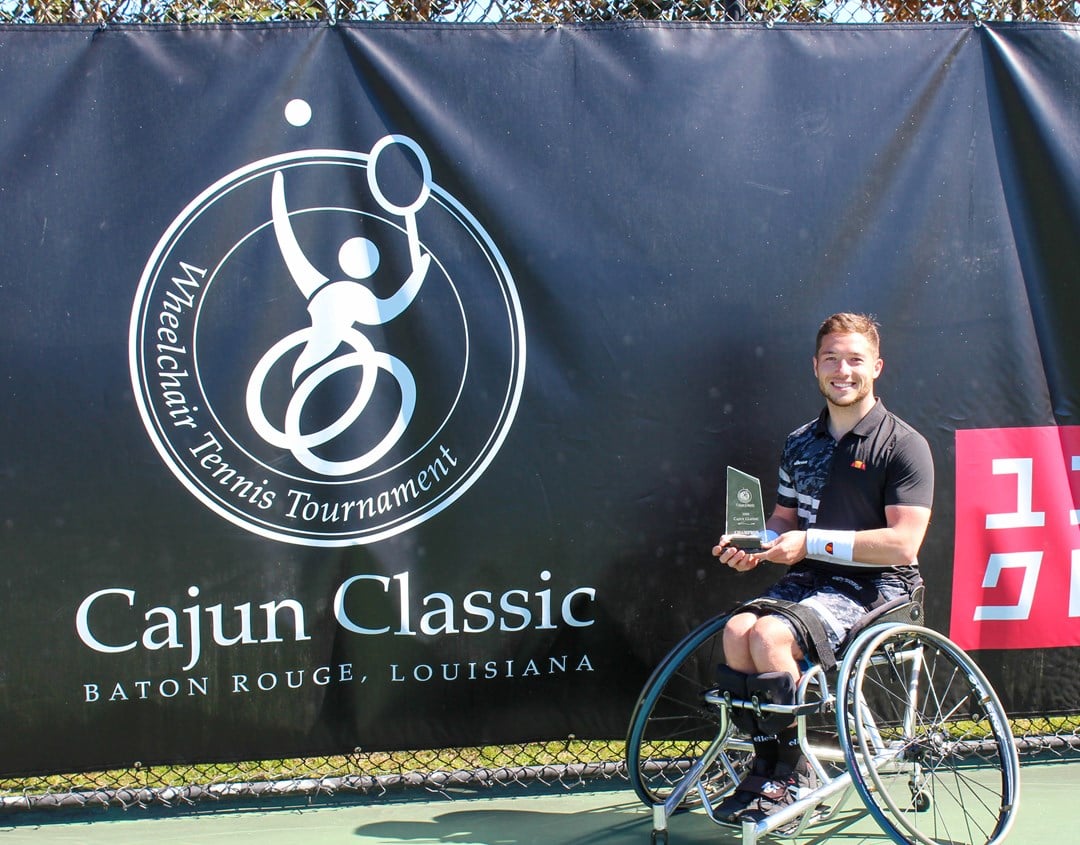 Players News
Hewett and Lapthorne seal third career titles at the Cajun Classic
• 3 MINUTE READ
Alfie Hewett and Andy Lapthorne both claimed their third career titles at the Cajun Classic ITF Super Series tournament last week, capping off an impressive week for the Brits.
Hewett added to his titles in 2017 and 2018 as he closed out the tournament with a commanding 6-2, 6-0 win over Gustavo Fernandez in the men's singles final.
The Brit only lost 15 games throughout the tournament en route to winning his third singles title of the season already – building on trophies in Melbourne and Rotterdam.
Hewett's fourth win of the year already over the Argentinian sees him rise to World No.1 in the ITF singles rankings - equalling his career high set in 2018.
Hewett teamed up with Japan's Tokita Oda in the men's doubles draw where they made it as far as the semi-finals – losing to Martin de la Puente and Gustavo Fernandez 6-3, 2-6, 11-9.
He now heads to Turkey to join Dermot Bailey, Ben Bartram and Dahnon Ward in World Team Cup qualifiers for Great Britain.
Lapthorne won his third doubles title in Baton Rouge in the quad doubles on Saturday, partnering America's David Wagner. The 2022 Australian Open champions defeated Heath Davidson and Robert Shaw 6-3, 6-3 in the final.
A champion in 2015 and 2017, Lapthorne and Wagner won their first Cajun Classic trophy together without dropping a set throughout the tournament.
Lapthorne's fought his way to the singles semi-finals as well, before losing out to top seed Sam Schroder 6-0, 1-6, 6-3 in a match of many twists and turns.
Britain's Lucy Shuker was also in action in Louisiana, finishing as runner-up in the women's doubles with Dana Matthewson and then a semi-finalist in the singles.
Shuker and Matthewson, were bidding for their third title of the season so far but came up short against top seeds Diede de Groot and Aniek van Koot 7-5, 6-3.
The British star has risen back up to her career high ranking of World No.5 this season and continued her singles form with wins over Maria Florencia Moreno and Zhenzhen Zhu. In the final four, Shuker had her first clash of the day with van Koot, with the Dutch star coming out on top 6-4, 6-2.
Hewett, Lapthorne and Shuker are all supported by the LTA Wheelchair Tennis Performance Pathway.