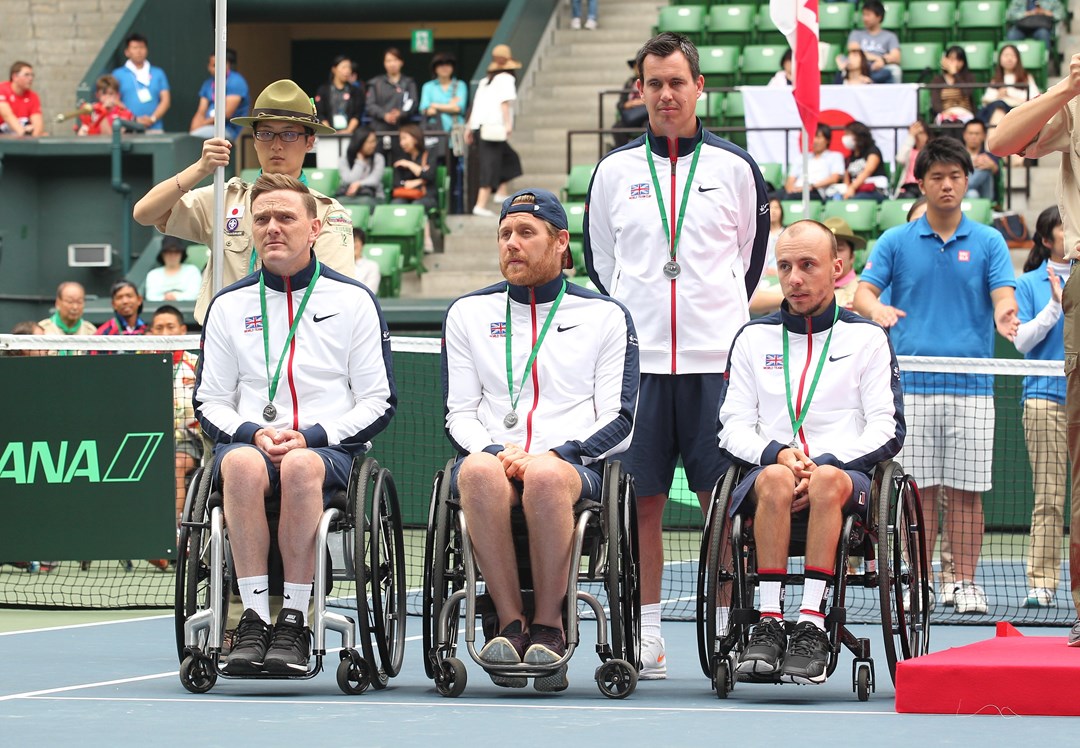 GB Teams
Brits win silver and bronze at wheelchair tennis World Team Cup
• 6 MINUTE READ
Great Britain will end the BNP Paribas World Team Cup with two medals after the quad team claimed silver and the men's team won bronze on a good penultimate day of competition in Tokyo, Japan.
Britain had a shot at gold in the quad event with the tie poised at 1-1 going into the deciding doubles match, with Jamie Burdekin and Dylan Alcott winning their singles rubbers for Great Britain and Australia respectively earlier in the day.
However in a tense atmosphere under the roof at the Ariake Coliseum, the Australian pairing of Alcott and Heath Davidson were ultimately the stronger, winning the doubles 6-3, 6-4 to clinch the world title and leave Britain having to settle for silver. Earlier in the day Jamie Burdekin had put Great Britain 1-0 up after beating Davidson 6-4, 6-3, but world No.1 Alcott levelled the tie by beating Lapthorne 6-2, 6-4 leaving the world title to come down to the deciding doubles match.
"I'm gutted to have lost today, we had big hopes coming into the tournament and desperately wanted to win another world title," said Lapthorne. "Fair play to the Aussies though they were the better pairing on the day. It hurts now but we need to use this as motivation for Rio."
"I was feeling confident after winning my singles but we just couldn't do it," said Burdekin. "It was one or two points here or there which swung the match and changed the momentum. It's tough to deal with now but I think it will teach us a lot in the long run and me and Andy still return home with a big win last week in the doubles at the Japan Open."
Britain's men added to the medal haul by beating Australia 2-0 to win the bronze medal. Seeded fifth going into the tournament, the team were given the perfect start by Marc McCarroll who cruised past Keegan Oh Chee 6-1, 6-1. Eighteen year-old Alfie Hewett, who has enjoyed a stellar week as the number one player for Britain, then dispatched Ben Weekes 6-1, 6-3 to give Britain the bronze without the final doubles being played.
"It's been another good week at World Team Cup, after we won gold last year and I'm chuffed to win bronze," said Hewett. "Being the number one player and stepping up was something I was looking to do this week. I came up against Gustavo (Fernandez) and Shingo (Kunieda) and really did well against them. I'm really happy for the team and the people behind us — a lot of hard work and preparation has gone into it from the Tennis Foundation support team and our programme supported by Lottery funding from UK Sport so it's brilliant to finish with a bronze."
Dermot Bailey who made his World Team Cup senior debut this week said: "It's been a great experience, being around the squad is brilliant. We've had some great stories and banter this week as a team and the support has been amazing. I'm happy I got to play a singles match as well and play my part in the bronze medal."
Sadly it was not to be for Britain's juniors, who had already surpassed their sixth seeding coming into the tournament before their third-fourth place play-off, as they faced a tough test in second seeds the Netherlands. Despite a spirited fight Ruairi Logan lost the opening singles match 7-5, 6-4, meaning Josh Cooper had to win his singles to keep the tie alive. Unfortunately he was unable to match Ruben Spaargaren and went down 6-1, 6-2.
Meanwhile Britain's women enjoyed a comfortable 2-0 win over Morocco, with Louise Hunt defeating Najwa Awane 6-2, 6-1 and Lauren Jones comfortably dispatching Habboubi Naima 6-0, 6-0. They will play for ninth place tomorrow.
26/05/16
Great Britain's quad wheelchair tennis team will play Australia for a fifth BNP Paribas World Team Cup title on Friday after beating host nation Japan 2-0 on another fine day for the Brits in Thursday's semi-finals at the Ariake Colosseum in Tokyo.
Great Britain's men also came up against the host nation in their semi-final and will now face Australia in Friday's bronze medal play-off after two exemplary efforts from Alfie Hewett and Marc McCarroll in their two singles rubbers. Meanwhile, Great Britain's junior team will also play for bronze on Friday when they face the Netherlands.
Jamie Burdekin got Britain's quest for a place in the quad final underway with a 6-1, 7-6(4) victory over Shota Kawano. Andy Lapthorne, who has joined Burdekin in Great Britain's world championship winning teams in both 2009 and 2014, then put the tie beyond Japan when winning the second singles against Mitsuteru Moroishi 4-6, 6-1, 6-4. Burdekin, Lapthorne and Antony Cotterill, the same trio that won the 2014 World Team Cup title, will now meet Australia in Friday's final.
"It's always nice to get through to the final with two singles wins and not have to play a deciding doubles," said Lapthorne. "Tomorrow is going to be big, hopefully Jamie can put us 1-0 up in the final and I can go out and have a really good shot at Dylan who, is world No.1, and wrap it up before the doubles. This match has been brewing for a while, there's a bit of spice between the two sides and we want to win, and I'm sure we want to win more than them so hopefully that'll see us to victory."
McCarroll and Hewett faced two world top ten players in Great Britain's men's semi-final, with McCarroll dropping the opening singles rubber to world No. 9 Takashi Sanada.
After a first career win over Argentina's world No. 6 Gustavo Fernandez on Wednesday to secure Britain's place in the men's semi-finals, 18-year-old Alfie Hewett produced another tremendous performance against Japan's two-time Paralympic gold medallist Shingo Kunieda. Hewett took Kunieda to a deciding set for the first time, but the world No. 5 and former world No.1 prevailed 6-3, 4-6, 6-1.
"It was a really intense match, I had chances and I'm gutted not to have taken them but I have to look at the positives," said Hewett. "The support I had was great and I drew energy from them to win the second set. I think in the third set the effects of my match yesterday showed and I started to struggle. I think we can take Australia in the bronze medal match tomorrow, there's no reason we can't win. A bronze medal would be above the expectations we set ourselves when we came out here so I'm looking forward to it."
Speaking after his match McCarroll said: "I'm a bit disappointed with today; it was my first match since I've been back from injury where I've been down in the match. I had chances in the first set and that's the moment where real match sharpness shows but I got a little bit tight. I'm really pleased to be back playing though and hopefully we can finish the week off on a high with a bronze."
With Great Britain having already bettered their seeding to reach the junior semi-finals, 14-year-old Ruairi Logan slipped to a 6-4, 6-2 loss to Conner Stroud as Britain took on 2015 champions the USA. Josh Cooper unfortunately had to retire with injury at the end of the first set of his singles semi-final and Great Britain will now play the Netherlands in Friday's bronze medal play-off.
"The last time I played him (Ratzlaff) I lost 6-0, 6-0 so I feel I'm definitely improving and making progress," said Logan. "The Netherlands will be tough tomorrow but I'm looking forward to playing for bronze."
Great Britain's women's team return to action on Friday in the first of their play-off ties for ninth place, when they take on Morocco.