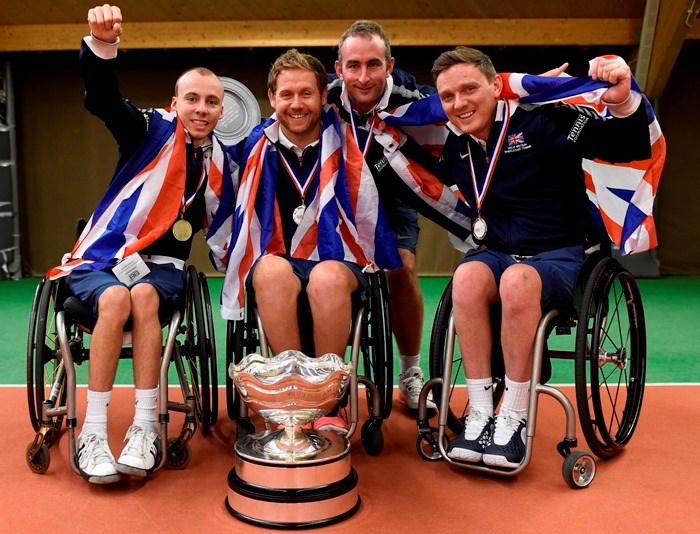 GB Teams
Great Britain name BNP Paribas World Team Cup Squad
• 3 MINUTE READ
Geraint Richards, the Tennis Foundation's Head of Disability Player Performance, today announced his players selected to represent Great Britain in the BNP Paribas World Team Cup in Tokyo, Japan from 23 - 28 May 2016.
Great Britain will be competing in the highest tiers across the competition at the International Tennis Federation's flagship wheelchair tennis event, which will take place at Ariake Tennis Colosseum, the venue for the Tokyo 2020 Olympic and Paralympic tennis competitions.
The teams will be:
Men's World Group – captained by Karen Ross
Alfie Hewett
Marc McCarroll
Dermot Bailey
Paul Stewart
Women's World Group – captained by Stuart Wilkinson
Louise Hunt
Lauren Jones
Luz Esperanza Merry
Quad Event – captained by Rob Cross
Andy Lapthorne
Jamie Burdekin
Antony Cotterill
Junior Event – captained by Kevin Simpson
Josh Cooper
Ruairi Logan
Ben Johnson-Rolfe
Great Britain won two medals at the 2015 BNP Paribas World Team Cup in Antalya, Turkey, including an historic first gold medal in the men's World Group as well as the bronze medal in the women's event.
"I've had some incredible experiences at the World Team Cup in the last few years, including Great Britain winning the junior event in 2013 and then winning all my matches on my senior debut to help GB win gold for the first time in the men's event last year," said 18-year-old Hewett.
"This year will be a new experience for me again, being the top ranked player in the GB men's event, but it's a challenge I'm very much looking forward to after some really encouraging performances against top 10 players in my last few tournaments," he added.
In Andy Lapthorne, Jamie Burdekin and Antony Cotterill, Great Britain fields the same three players that were part of the team that won the BNP Paribas World Team Cup quad title in Alphen, the Netherlands, in 2014.
"My very first experience of representing Great Britain in the quad event at the World Team Cup ended in us winning the title on home soil in Nottingham in 2009, when we beat the USA in the final," said Lapthorne. "Winning the final against the USA again in a match tie-break in the doubles in 2014 was another very special moment and with Rio now getting ever closer, we'll be doing our utmost to pull off another memorable performance ahead of the Paralympics."
Geraint Richards commented: "In the last three years Great Britain has won the junior, quad and men's World Team Cup titles, providing us all at the Tennis Foundation with some tremendously proud moments alongside other impressive medal-winning performances from our women's team. This year's World Team Cup comes at the start of a very busy and exciting summer and we have selected the strongest team available to us in the context of future goals.
"To watch Alfie produce a fantastic performance on his senior debut for Great Britain last year to help earn us the men's title for the first time is testament to the success of the World Class Programme we have in place, which is supported by UK Sport and National Lottery funding. I'm also excited to have been able to select Luz Esperanza Merry and Lauren Jones for their senior debuts in the women's event after they were also part of our gold medal-winning junior team alongside Alfie in 2013."