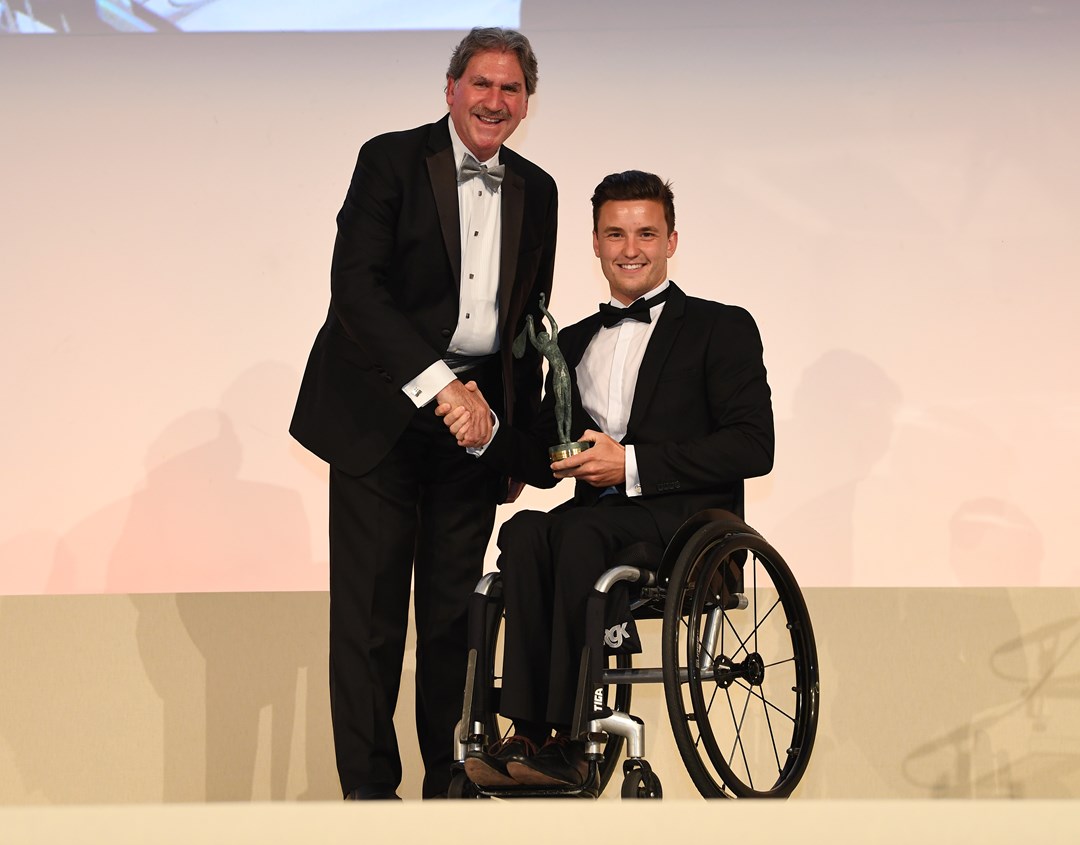 Players News
Gordon Reid honoured at ITF World Champions Dinner
• 1 MINUTE READ
Paralympic and Wimbledon Men's Wheelchair Tennis champion Gordon Reid attended the ITF World Champions Dinner in Paris this week to receive his trophy in recognition of him having finished 2016 as the World Number One.
Reid, who is part of the Tennis Foundation's Elite Performance Programme for wheelchair tennis, started 2016 by picking up his maiden Grand Slam title at the Australian Open, before going on to finish runner-up at Roland Garros. The 25 year old then made history by becoming the winner of the first ever men's singles tournament at Wimbledon, before winning gold as part of the ParalympicsGB team in Rio.
Reid clinched the year-end No. 1 ranking by reaching the final of the NEC Masters to become the first ever British player to become World Champion.
Speaking to the ITF, Reid said: "It's a great honour for me to complete the best year of my career by finishing year-end No.1 for the first time. I can't thank all of my coaching team, family and friends enough for all their dedication and support, which was a vital part of my 2016 successes."
Roll of Honour – Men's Wheelchair Tennis World Champions

2016: Gordon Reid (GBR)
2015: Shingo Kunieda (JPN)
2014: Shingo Kunieda (JPN)
2013: Shingo Kunieda (JPN)
2012: Stephane Houdet (FRA)
2011: Maikel Scheffers (NED)
2010: Shingo Kunieda (JPN)
2009: Shingo Kunieda (JPN)
2008: Shingo Kunieda (JPN)
2007: Shingo Kunieda (JPN)
2006: Robin Ammerlaan (NED)
2005: Michael Jeremiasz (FRA)
2004: David Hall (AUS)
2003: David Hall (AUS)
2002: David Hall (AUS)
2001: Ricky Molier (NED)
2000: David Hall (AUS)
1999: Steven Welch (USA)
1998: David Hall (AUS)
1997: Ricky Molier (NED)
1996: Ricky Molier (NED)
1995: David Hall (AUS)
1994: Laurent Giammartini (FRA)
1993: Kai Schrameyer (GER)
1992: Laurent Giammartini (FRA)
1991: Randy Snow (USA)
Highlights - ITF World Champions Dinner 2017