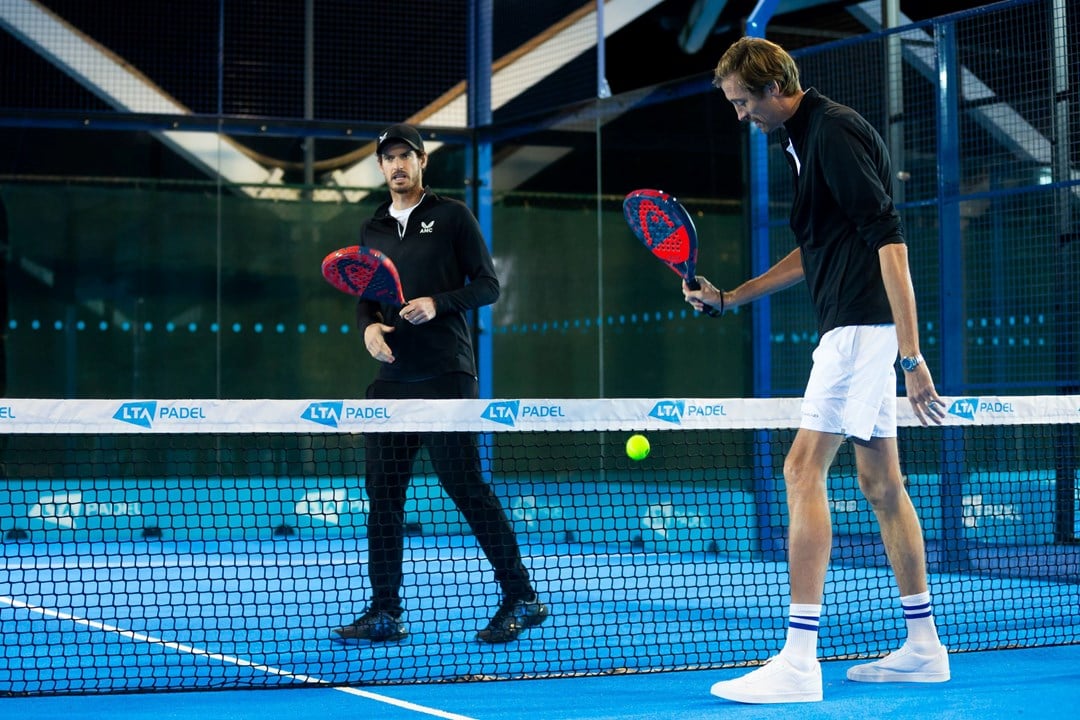 Padel
Global sports stars show their love for padel
• 4 MINUTE READ
Fast-paced, exciting and a very social sport – it's easy to see why padel is the fastest growing sport in the world and why it's going from strength to strength in Great Britain.
As it continues to gather momentum and more people start to pick up a bat to give padel a go – there are several famous faces from the world of sport who have shown their love for padel.
Famous padel fans
Andy Murray
Jamie Murray
Rafael Nadal
Serena Williams
Maria Sharapova
David Beckham
Lionel Messi
Neymar
Mohammed Salah
Paul Pogba
Zlatan Ibrahimovic
Pep Guardiola
Jurgen Klopp
Carlos Sainz
Charles Leclerc
Denise Lewis
Annabel Croft
Michael Vaughan
Max Evans
Check out what some of these sporting icons have had to say about your new favourite sport.
Football goes padel crazy
What do England's top football teams Manchester City and Liverpool have in common? Two managers who are passionate about padel.
City's Pep Guardiola, for example, has had padel courts built at the team's training facilities so he and the players can get on court during training. Meanwhile, Jurgen Klopp has taken his love for the sport to a new level, working with Wilson on his own equipment line.
"Padel is, besides football, the best game I've ever played," says the former Premier League and Champions League winner, Klopp.
"I've only known it in the last five years or so, but since then, I'm really addicted to it. You make big steps in a short period of time. It's really fun to play'.
"The game has been a nice distraction from our daily routine. And yet, sometimes we come up with the best ideas to solve issues during these games."
Former England captain and Manchester United legend, David Beckham, is also a huge advocate for the sport having recently discovered some of the many benefits that padel has to offer.
"It's a sport that I got hooked on very suddenly. I train and have fun at the same time, it's fantastic," says one of Britain's sporting icons.
"You can play at any level, whether you're a child or an adult. It's growing a lot, even within the clubs I already know many friends and former teammates who are hooked and that's incredible."
But it doesn't stop there, there's a whole host of current players who are hooked on the sport. Lionel Messi is quoted as a keen player and Zlatan Ibrahimovic has opened a whole host of venues in his home country of Sweden. Add to the mix Mohammed Salah, Neymar and Luis Suarez – among many more – and it's hard to argue that the footballing world has gone padel mad.
Love tennis? Love padel
It might sound obvious, given the similarities, but there are many top tennis players who enjoy nothing more than picking up a padel bat and heading out on court.
Britain's very own Andy Murray has invested in the sport over the years and sees the potential for huge growth in Britain for years to come. The former world No.1 tennis player has put backing behind a British-based company looking to develop a network of facilities.
Murray was recently involved in an exhibition at the Westfields shopping centre in Shepherds Bush, alongside brother Jamie, Annabel Croft, Andrew Castle and British No.1 Tia Norton.
Seven-time Grand Slam doubles champion, Jamie Murray, has also been vocal in his love for the sport as well. "I've played a lot of Padel over the last few years, and I think it's a great sport," said the eldest of the Murray brothers.
"It's a very social sport that can be played with friends and family of all ages and abilities. I think it's a great addition for clubs as a way to engage current members and attract new members into their respective clubs."
Former British star Croft has also been on record in saying that she thinks padel has a big opportunity to attract non-tennis audiences in picking up a bat.
"There is a lot of momentum behind it now," says Croft. "You hear more and more people talking about it. I hear lots of young people talking about padel and wanting to get into it.
"It really feels like the game is on an upward curve. It can engage with people who might find tennis too difficult and that's the beauty of padel. Each time I play padel, I come off with a big smile on my face."
From one former British No.1 to another, Olympic silver medallist Laura Robson is also an avid padel player and is set to compete in the upcoming London Padel Open.
From the rugby pitch to the race track
Even Olympians are getting involved. Speaking to Female First a couple of years ago, British athletics legend Denise Lewis revealed her new passion for the sport having been an avid tennis player since retirement.
"I love a game of tennis and we have been members at Stoke Park for a few years now, so having padel courts added to the fantastic facilities they already had here is wonderful," she says. "I would encourage anyone who has not tried it to have a go at padel."
Heading over the world of rugby now and former Scottish international Max Evans discovered the sport while he was in Portugal and instantly found the scratch to his professional sporting itch.
"My rugby career came to an end and it was tough to take," he said, speaking to Tennis365. "There is no match, no target to aim at. How do you get your head around that? Then I fell in love with this wonderful new sport I discovered called padel.
"What struck me about padel is that you can make rapid progress in your development. It is not as technical as tennis, there are fewer nuances in the shots you play and the basics of the sport are similar to what we have all done on a beach with a bat and ball.
"Padel is also great from a fitness perspective. You may not feel like you are running as much as you might on a tennis court, yet you covering a lot of ground in short distances and it ticks all the boxes for me."
Moving to the race track now and Ferrari's racing teammates Carlos Sainz and Charles Leclerc regularly compete against each other on the padel court.
"Since we spend a lot of time together it's important to get along personally as well, and that's definitely the case with us. We do a lot of things together: play chess and padel," says Sainz in an interview with Esquire.
Sainz also featured in the coveted documentary series 'Drive to Survive' playing padel with his father.