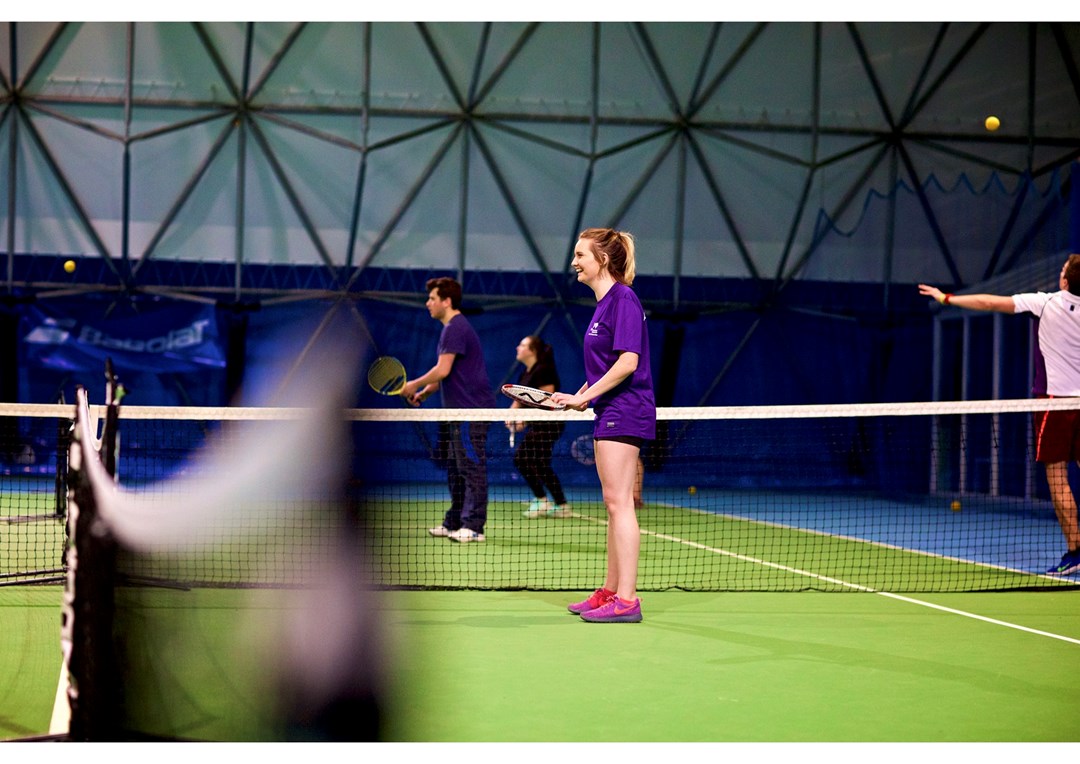 Community
Emma's Story: How the Student Tennis Network has helped her forge a future career in tennis
• 4 MINUTE READ
Emma Boucher, a University of Portsmouth student, will complete her time as part of the Student Tennis Network programme this month with an expansive skillset now under her belt.
The Student Tennis Network is an innovative scheme set up by the Tennis Foundation with the intention of providing college and university students with the opportunity to develop a career within the sport.
The programme, for which students are selected by the Tennis Foundation following an ap-plication process, allows participants to engage with employees from within British Tennis to gain an insight into their roles. They also receive mentoring and other unique career development opportunities and trips, creating the future British Tennis workforce.
Emma has been involved with the scheme for four years, having applied to join the Student Tennis Network in 2014 with the goal of forging a career in tennis, and failing that, within sport. For the past two of those years, she has been performed the role of Portsmouth's University Tennis Coordinator.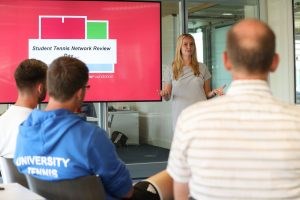 Reflecting on her time as part of the programme, Emma is now looking to capitalise on the platform the experience has given her.
"I want a career in this sport and I saw it as a good opportunity to professionalise myself, and to meet people who already work within the industry," she explained.
"I got involved as a tennis ambassador in the second year of my sports development degree. I had been involved with a tennis club in my first year but I didn't do much with the development side, so I sent why I wanted to join the Network along with my CV to the Tennis Foundation following an annual training day at Loughborough University.
Highlighting events management as one of the areas within tennis that she would like to work in, Emma revealed that it was a Student Tennis Network trip to Lille that helped her find her focus.
The four-day trip to northern Franceat the end of 2017 saw the group travel to get a behind the scenes look at what it takes to put on the world's biggest annual student team tennis competition, the BNP Paribas Master'U. The trip delivered a number of experiences that were valuable to those in attendance, including an insight into events management from an international perspective.
"A few of us went to Lille and it was all about the university working with the local authorities to create a tennis event in the area," Emma revealed.
"BNP Paribas were the official sponsor so we had to see why they wanted to be associated with the event and analyse it. We were able to learn from the French Tennis Federation, to take from it and be able to see what opportunities are available to us.
"The trip also gave me the opportunity to talk to Paul Cummins [Further Education and Pro-jects Manager at the Tennis Foundation] more on a one-to-one basis, as well as others. Paul has been really good and I've built a relationship with him over the past year – if I have a question, I can ring him any time."
It is clear that Emma has enjoyed her four-year involvement with the Student Tennis Network, and as she prepares to complete her time at university, she is continuing to go above and beyond.
"I leave my role this month and someone new will take over, so I am working on a five-year plan to outline a strategic vision ready for them to take what I have put into place over the last four years forward, and keeping it sustainable.