Emma Raducanu US Open success drives record coverage of tennis
• 6 MINUTE READ
Not just rewriting the record books on the court, Emma Raducanu's sensational victory at the US Open has also set new records off the court – and it will deliver even greater benefit for others too after a commitment from Amazon Prime Video to reinvest the rights fees it received from Channel 4 straight back in to British women's tennis.
The final itself saw Britain's new teenage sporting superstar become the first qualifier, male or female, to win a Grand Slam title – and the first British player to win a women's singles major title since Virginia Wade in 1977 – with broadcasters Amazon Prime Video, Channel 4, Radio 5 Live and BBC Sport Online bringing the match to the nation and helping to generate unprecedented coverage of tennis.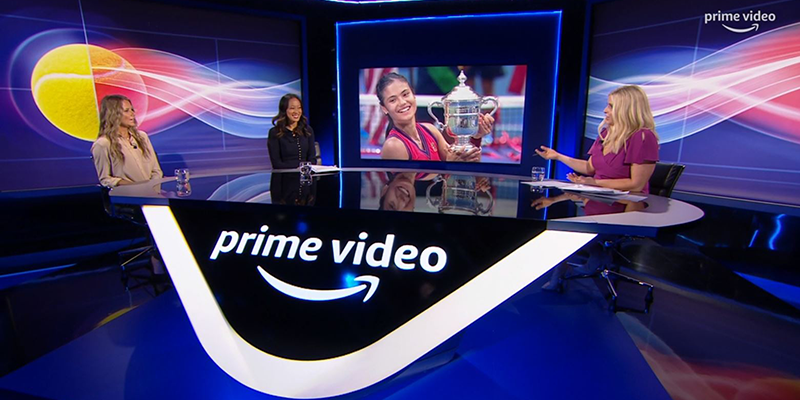 Amazon has held the exclusive UK TV rights to covering the US Open tennis tournament since its deal with the tournament organisers in 2018. Alongside an agreement to cover ATP Tour events, the deal is one part of a significant investment in the sport by Amazon with an ambition to becoming a destination for tennis coverage in the UK.
Saturday night's women's singles final however delivered what is the most streamed tennis match on Prime Video ever. The match was the culmination of Amazon's coverage of three weeks of tennis in New York, bringing Raducanu's unprecedented journey through the rounds from qualifying to lifting the trophy into homes around the UK.
The broadcaster also streamed the successes of other Brits at Flushing Meadows to fans across the country, including Joe Salisbury's double doubles wins in both the men's and mixed draws, and Alfie Hewett and Gordon Reid's historic completion of the calendar year Grand Slam in the men's wheelchair doubles.
The most watched women's tennis match in Britain in at least 30 years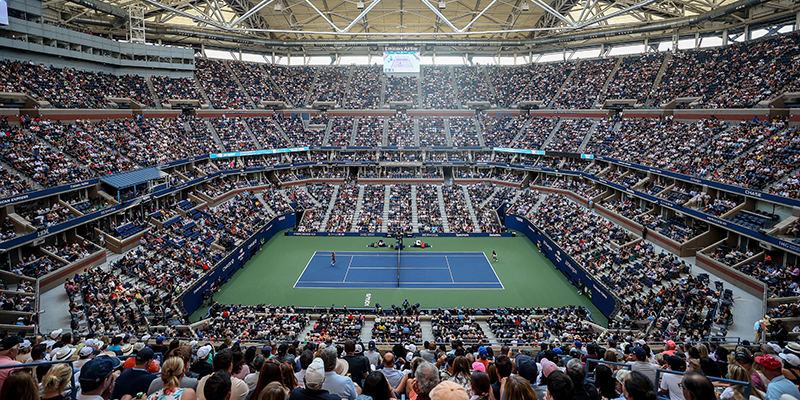 Thanks to a brilliant partnership between Amazon Prime Video and Channel 4, the final also generated what is potentially the highest TV audience for any women's tennis match in this country in at least the last 30 years if not far longer.
With support from the LTA, the All England Lawn Tennis Club and Government, the last minute agreement for Amazon to allow the broadcast across both Prime Video and Channel 4 was reached in order to give as many people as possible the opportunity to watch the historic match, and reflected the tremendous interest in Raducanu's quest to win the US Open in communities right across Britain.
The arrangement only came about after Raducanu's semi-final win, with Amazon Prime Video and Channel 4 pulling out all the stops and going above and beyond to get it on air.
Their efforts to do so were certainly appreciated by the British public. Alongside the new record for Amazon's own platform, 12.5 million people tuned in to Channel 4 for the coverage, and saw them claim a 40% share of the total TV audience on Saturday night, including 48% of 16-34 year olds and a 50:50 gender split among viewers. The audience peaked at 9.2 million at around 11:10pm as Raducanu served for the match.
Following the final, Alex Green, Managing Director, Amazon Prime Video - Sport, Europe at Amazon, said: "It was a counter-commercial decision to offer this match outside Prime to a free to air partner but we felt that this was a national moment that deserved the widest possible access. Thank you to Channel 4 for being an excellent partner, showing great responsiveness and flexibility."
Alex Mahon, CEO of Channel 4, said: "We are all so very proud that we could play a part in allowing so much of the UK to enjoy a night of sporting history. It was an extraordinary show and we were delighted to partner with Amazon to make this happen. Emma is young, diverse, fighting against the odds and she is over delivering every time. That description is exactly what we love at Channel 4! For us this was all about what a purpose driven organisation can achieve."
Amazon to reinvest rights fees back in to British women's tennis
The deal agreed between Channel 4 and Amazon that allowed the free-to-air channel to broadcast the match also will also have a longer-term, direct impact, with Amazon committing to reinvest all fees from the agreement with Channel 4 back into British women's tennis to support the next generation of talent.
Richard Daish, Marketing & Commercial Director at the LTA, said: "We'd like to thank Amazon Prime Video, Channel 4, and BBC Radio 5 Live for their tremendous coverage of what was a brilliant weekend for tennis in Britain, and their commitment to showcasing our sport to as large an audience as possible.
"Beyond the match itself, that Amazon have committed to reinvesting the rights fees back into British women's tennis is fantastic, and we look forward to working with them and our range of other broadcast and digital partners to continue to open tennis in Britain up to many more people."
Dominating the news agenda

Raducanu has featured across the front pages and dominated the conversation of the nation in the build up to and following her win in New York. Coverage and interest has continued far beyond the match itself, with news crews and journalists descending on tennis venues across the country to capture how the win has inspired the next generation.
The National Tennis Centre itself has hosted reporters from all the major news organisations, showcasing the new and innovative LTA Youth junior programme – which Raducanu became an Ambassador for earlier this year – aimed at kids aged 4-18 and created to help more children enjoy the benefits of playing and staying in tennis, whatever their age, gender, ability, disability or background.
With her prominence in the news, LTA Youth is also helping primary school teachers across the country use Raducanu's performances at the US Open as a platform to engage with their pupils. The LTA Youth Schools assembly & classroom challenge resources cover some of the character qualities she's shown over the last fortnight and help inspire pupils aged 4 - 11 to get more involved in tennis.
A surge in digital engagement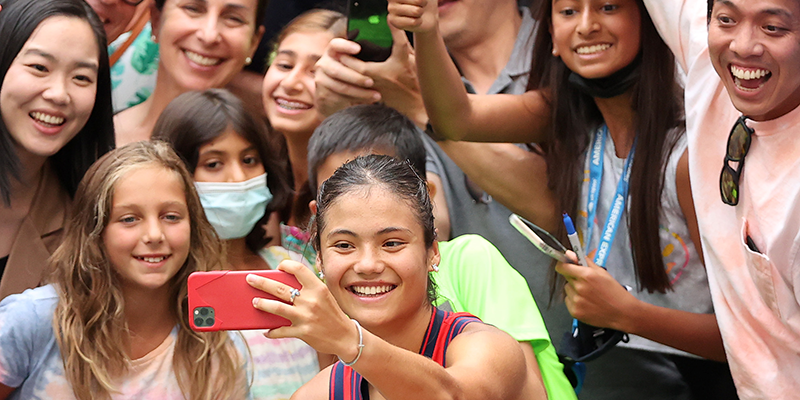 The widespread interest in match, boosted further by the live coverage across TV and radio, also resulted in fans taking to digital media in huge numbers. The LTA's own social media channels generated record breaking engagement figures across Twitter, Facebook and Instagram, which there has been a surge in website traffic – including a feature on Raducanu's tennis journey having an average time on the page of over 20 minutes.
The 'Raducanu effect' was also evident across sports media too, with the likes of Telegraph Sport reporting reaching its biggest ever online audience over the weekend.
Raducanu's own social media channels have also seen a significant surge. The LTA Pro-Scholarship Programme player unsurprisingly attracted more new Twitter and Instagram followers during the US Open than any other player in the tournament, while a day after becoming the new British No.1, Raducanu also overtook Sir Andy Murray as the most followed British tennis player on Instagram, with 1.8m followers. She is now only behind Naomi Osaka (2.9m) among all tennis players in the world under 30.