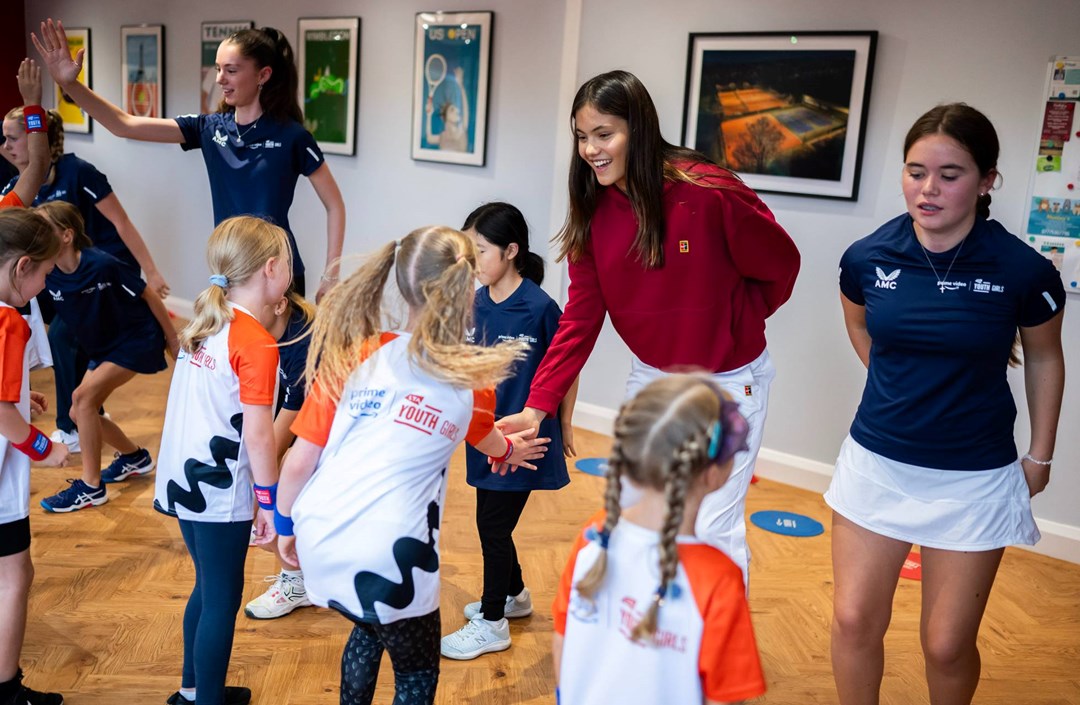 LTA Youth
Emma Raducanu joins next generation of tennis stars to support Prime Video LTA Youth Girls Programme
• 3 MINUTE READ
Grand Slam champion and LTA Youth ambassador Emma Raducanu grabbed her tennis racket and returned to the courts to deliver a fun-filled coaching session for a group of aspiring tennis players, as part of Prime Video LTA Youth Girls Programme – a grassroots initiative funded by her historic US Open final on Prime Video in 2021.
Raducanu worked alongside tennis coach, Tessa Bass to deliver the coaching session to 15 girls at Preston Lawn Tennis Club in Brighton last week. The Prime Video LTA Youth Girls Programme, which was designed by Prime Video and the LTA to introduce young girls to tennis and motivate them to stay in the sport, has already inspired over 3000 girls to pick up a racket and try tennis for the first time.
Preston Lawn Tennis Club is just one of hundreds of bespoke sessions being delivered nationwide as part of the multi-year programme, which offers the next generation of female players the chance to play tennis in a fun and pressure-free environment. In February of this year, we trained over 250 coaches across the country on the tailored curriculum of the programme, with the coaches then going on to launch their own local sessions.
Speaking about taking part in the programme, Raducanu said, "I've been involved for over two years now and it's a really fun initiative for me to give back and hopefully inspire young kids and coaches to get involved in tennis. Some of the stats that I've seen are incredible, with over 3,000 girls who've joined to play tennis because of this campaign.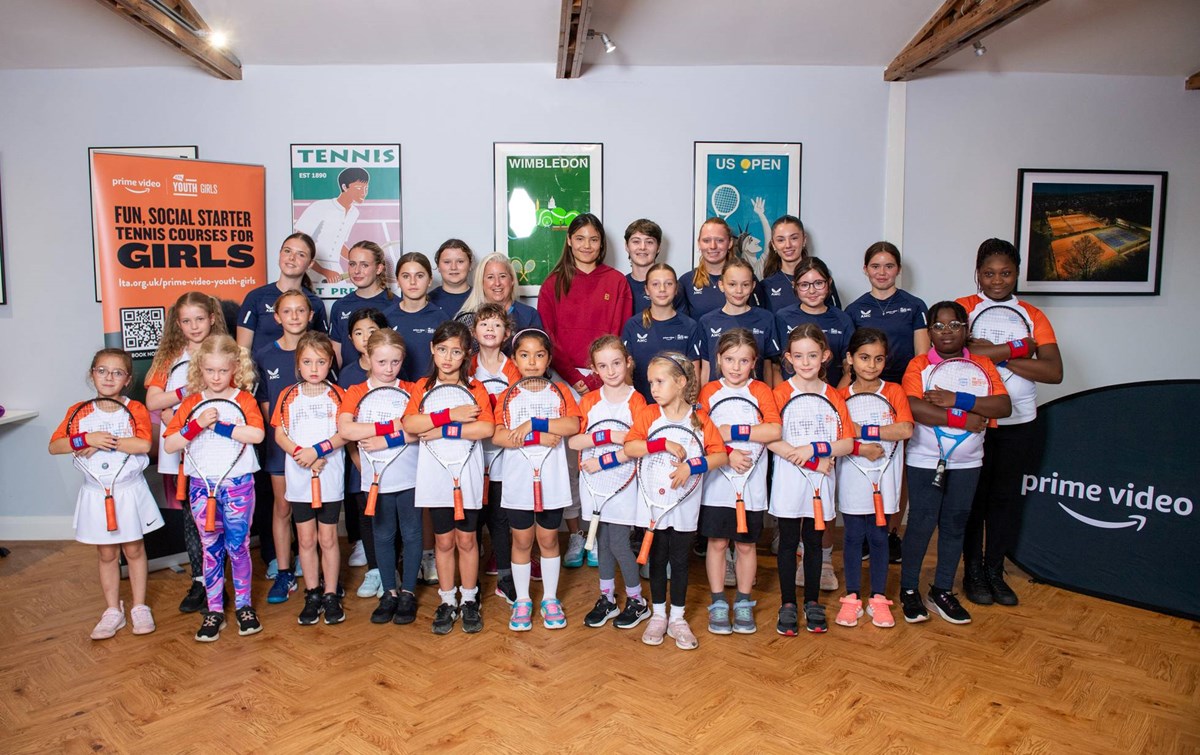 "In a group you feel less on the spot, less pressure, less eyes on you and sometimes you want that. It's always good to mix up who you're playing with but when you're just starting out it's a really fun and interactive way for young kids to learn new skills and especially social skills.
"Speaking to some of the children and hearing them say 'we picked up a racket because of you' is really nice to hear".
Bass, an LTA Level 3 accredited coach and part of the Prime Video LTA Youth Girls programme said, "As a female coach I feel that it's my role to engage, inspire and retain girls in tennis. It's really important to create a friendly energy on court so that the girls get to know each other and become friends.
"My experience has shown that if new friends are made on the court, then the girls are more likely to keep going."
The Prime Video LTA Youth Girls initiative has not only provided the opportunity for girls to find an entryway into tennis, but it has also encouraged young, existing players to become coaches on the programme and work to develop the next generation of talent.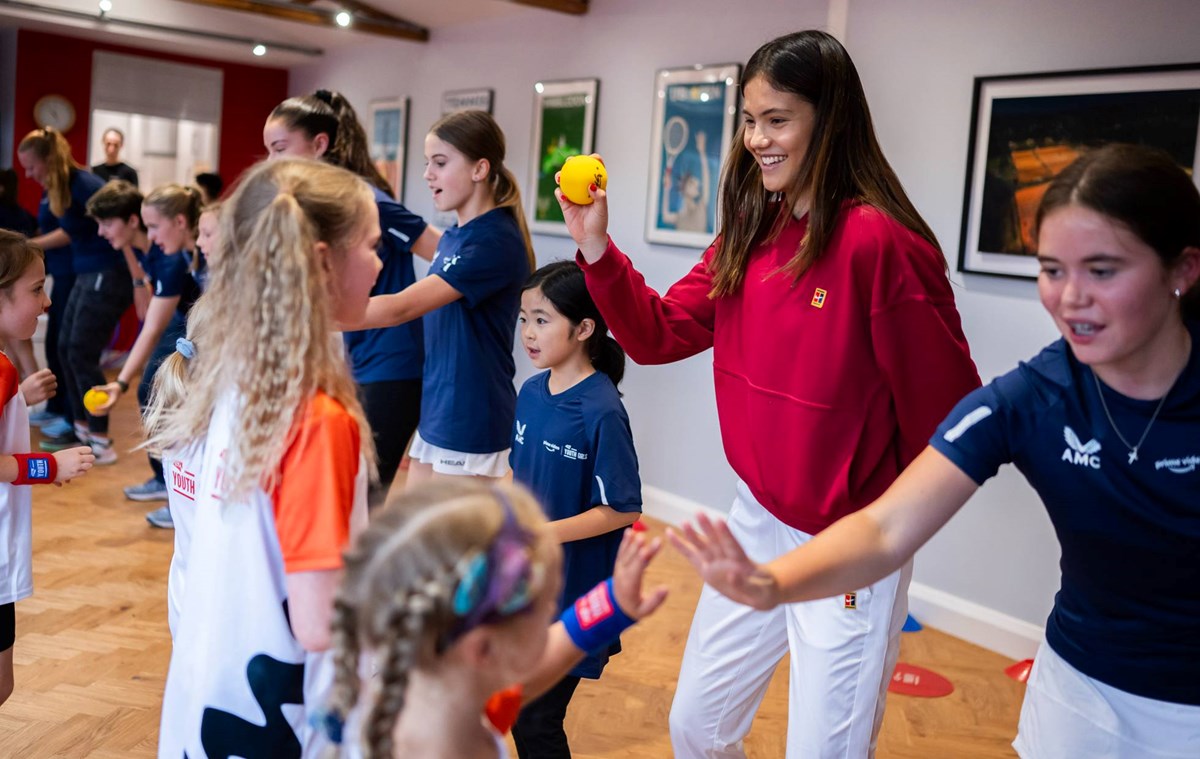 "I've been coaching with them for a month now" said Sara, a life-long tennis player who attended the session at Preston Lawn Tennis Club, "It's been really cool to meet the girls and see how they've developed in bringing more girls into tennis because there aren't as many when you get to our age.
Meanwhile, 16-year-old Izzy added, "I used to train with all boys. It was good but you don't get the same experience as if you were with just girls. It's important to keep these girls playing because if they stop, then everyone else around them stops. It's key to encourage them to keep playing and keep going."
Prime Video's investment in the programme was fully funded by the redistribution of broadcast fees from Raducanu's historic US Open final 2021 and is used to train the coaches, produce training kits, support for hosting school roadshows and promotion events, as well as being used to provide rackets, balls and t-shirts for all girls who sign up to the programme to ensure that equipment and kit is not a barrier to participation for families across the UK.
Prime Video LTA Youth Girls
Learn more about the programme and find classes near you.