Players News
Emma Raducanu headlines tennis recognition in 2022 New Year Honours list
• 5 MINUTE READ
The outstanding contributions of figures in British tennis have been recognised by The Queen in her 2022 New Year Honours List which was published today.
Emma Raducanu has capped off her remarkable year with receiving an MBE for services to tennis. She is joined on the honours list by LTA Senior Performance Advisor and doubles coaching supremo Louis Cayer, and Marshall Thomas, who has been at the forefront of promoting wheelchair tennis and deaf tennis for over 25 years. Tim Lawler, Chief Executive of the Sports Aid charity and a Trustee of the Tennis Foundation is also honoured, as is LTA Councillor and Chief Executive of the Activity Alliance, Barry Horne.
Chief Executive of the LTA, Scott Lloyd said: "We are delighted for Emma, Louis, Marshall and Tim that their respective contributions to tennis in Britain have been recognised. It has been a tremendous year for our sport, and this is a fantastic way to finish. On behalf of the LTA and the whole tennis community, we send them all our warmest congratulations for these well-deserved awards."
Quick Links
Emma Raducanu MBE - Services to tennis

Emma Raducanu has been awarded an MBE following a sensational 2021 that has seen her become a global superstar.
Being named in the Honours list caps an incredible 12 months for Emma. The 19-year-old LTA Pro-Scholarship Programme player from Bromley made tennis history in September, becoming the first ever player to come through qualifying to win the US Open title – a remarkable run of 10 wins without dropping a set. In doing so she claimed Britain's first women's singles major title for 44 years and captured the hearts of the nation in a way few have done before.
Prior to the US Open, Emma had already made her mark on Britain's sporting consciousness, emerging as a star at Wimbledon in defying her then world ranking of 338 to reach the fourth round, all while awaiting her A-level results.

Despite only bursting onto the international sporting stage this year, Emma's success has been more than a decade in the making, dating back to when she first picked up a racket as a young child.
Her success has been built on years of hard work honing her shots on the practice courts of Bromley, working her way through the age groups and regularly testing herself in LTA national and then international competitions. More recently she became part of the LTA Pro-Scholarship Programme, the highest level of support provided to developing players. She was regularly selected by the LTA to be part of Great Britain junior teams through the age groups, graduating last year to join the GB Billie Jean King Cup squad under captain Anne Keothavong.
For those who have kept a close eye on her development, the name Emma Raducanu is one that has been talked about as an exciting prospect within British tennis for the last decade. However, while it had long been hoped that Raducanu could one day go far in the game, in the words of Keothavong ahead of her semi-final in New York, no one could have dreamt that the young player from Bromley in Kent would make such a spectacular impact this year in what were just the first two Grand Slams of her career.

Speaking following the announcement of her honour, Emma said:
"It makes me immensely proud and grateful to be listed to receive an MBE fom Her Majesty The Queen. This year has been full of amazing surprises for me, so the end 2021 with this appointment is very."
The magnitude of Emma's performances this year was also reflected in her recently being crowned 2021 BBC Sports Personality of the Year, joining the likes of Andy Murray and Virginia Wade in having done so, as well as Sunday Times Sportswoman of the Year and the British Tennis Journalists' Association Player of the Year.
Read more: The Remarkable Rise of Emma Raducanu
Louis Cayer MBE - Services to tennis

Louis Cayer has been honoured for his work as a tennis coach in revolutionising the doubles landscape in Great Britain since he started working for the LTA in 2007, transforming Britain into arguably the world's leading nation for men's doubles, as illustrated by current rankings and number of direct entries into Grand Slam tournaments.
Louis, who is the LTA Senior Performance Adviser as part of the governing body's Performance Team, as well as a Performance Adviser to the National Academy in Loughborough, is widely accepted as one of the best coaches in the world. He has played a leading role in nurturing a generation of players, using his exceptional knowledge and experience to coach multiple British men, women and juniors into the world's Top 100 in both disciplines, including six doubles world No.1s.
The Canadian worked in his home country for many years and captained their Davis Cup team from 1994 to 2000. In 2006, Louis started helping Jamie Murray, who at the time was aged 20 and ranked outside the Top 200. Jamie has since won seven Grand Slam titles and spent nine weeks as world No.1.
Louis currently works with all British doubles players and their personal coaches; not only does he excel in working with players practically but he is also proficient in passing on his knowledge to other coaches. His impact was demonstrated with 10 British men earning direct entry to the US Open doubles draw this year – a new Open Era record. Louis was instrumental in helping Jonny Marray to win the 2012 Wimbledon men's doubles title, Joe Salisbury to claim the 2020 men's Australian and 2021 US Open titles, as well as two mixed doubles titles this year, with Neal Skupski also winning the Wimbledon mixed doubles title in 2021.

He has advised British doubles players at Davis Cup and Billie Jean King Cup ties, and since starting to work with the British Davis Cup team in 2010, the doubles team has amassed a 20-7 win-loss record, including helping the British team claim their historic Davis Cup title in 2015.
A published author of 'Doubles Tennis Tactics', Louis is analytical in his approach and supports everything he does with clips, stats and teaching aids. He is incredibly hard-working and frequently puts in extensive hours scrutinising tennis matches and making notes. He has played a key role in revolutionising player analysis at the LTA, teaching analysts how to accurately tag and code matches.
He is a perfectionist with an innate ability to make players believe in themselves and has, over time, worked with and supported many of the current elite players in British tennis.
"What a surprise and unexpected honour to receive an MBE, recognising the work I do with British players, which is something that has been made possible because of my role with the LTA"
Louis Cayer MBE
While Leon Smith added: "I've had the privilege to work alongside Louis in the LTA Men's Team and Davis Cup for over a decade. Players and coaches have learnt so much from his vast experience and gained so much from the doubles system he has implemented that we are very grateful for his commitment to the British game."

The honour is the latest recognition for Louis' contribution to tennis, having already been awarded the International Tennis Federation's Service to the Game award in recognition of his remarkable contribution to tennis and in December received the award for Services to British Tennis from the British Tennis Journalists' Association.
Marshall Thomas BEM – Services to disability tennis
Marshall Thomas from the Wirral, Cheshire, has been recognised with a British Empire Medal for the significant and unique role he has played in helping to grow the sport of wheelchair tennis at both a national and international level over the past quarter of a century. In that time he has been at the heart of driving coverage and exposure of the sport, helping to establish it as an integral part of tennis and make it one of the highest profile disability sports.
Marshall has both a tremendous passion and an unparalleled knowledge of wheelchair tennis, and is regarded as one of the world's foremost authorities on the sport. Whether it be any of the countless local and national news stories about a wheelchair tennis player, engaging audiences through website and social media posts, or TV commentators speaking about the sport at Grand Slams such as Wimbledon, it can almost always be traced back to Marshall. His commitment and dedication behind the scenes have undoubtedly been of huge benefit to the sport.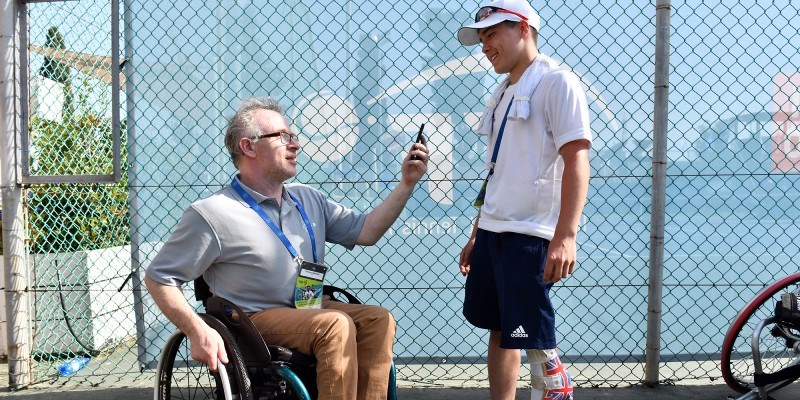 Having first started reporting on wheelchair tennis in the 1990s when he was appointed editor of disability sport newspaper 'Challenge', Marshall has now completed over 25 years of service to the sport. For the past 20 years he has worked for the sport's leading bodies at the centre of efforts to promote wheelchair tennis and open up the sport to more people, including the LTA, Tennis Foundation, and ITF.
In that time Marshall has reported on every Grand Slam to have featured wheelchair tennis, all World Team Cup events (the wheelchair tennis equivalent of the Davis Cup and Billie Jean King Cup), and every wheelchair tennis event at the Paralympic Games. Alongside this, he covers players' performances on the ITF Wheelchair Tennis World Tour throughout the year, as well as the LTA's series of regional and national domestic events.
The growth of wheelchair tennis over the past 25 has been fantastic, but in that time no one has contributed more hours to the sport in helping to drive that progress than Marshall. In doing so, he continues to help raise awareness of disability tennis, and inspire yet more people to pick up a racket and play.
Alongside wheelchair tennis, Marshall has a passion for deaf tennis and has covered the sport since the 1990s, including reporting on the national championships and international events such as the World Deaf Tennis Championships. In addition, he has worked for UK Deaf Sport covering the Deaflympics and has contributed to books on deaf tennis.
Marshall is also a keen supporter of disability tennis charities, and fundraiser for them, in particular the Dan Maskell Tennis Trust.
Speaking about his award, Marshall said: "I am both humbled and very grateful to have even been proposed for a British Empire Medal in the first place and honoured to receive such recognition. I consider myself very fortunate to have realised a boyhood ambition and to have been able to write about sport for the majority of my adult life, and to see Great Britain become one of the world's most successful nations across all major forms of disability tennis has been a privilege.
"I would like to dedicate this award to my family and also recognise all the Tennis Foundation and LTA performance and communications colleagues past and present who have supported me in this journey, but I would particularly like to pay tribute to Sue Wolstenholme and Lynn Parker, who gave me the opportunities to start this career path in the 1990s. Of course, at the heart of the last 25 years are several generations of players and their tremendous on-court successes have driven me on. I look forward to 2022 and the challenges ahead."
Tim Lawler MBE - Services to sport for young people
Tim Lawler is a Trustee of the Tennis Foundation. The Tennis Foundation is a charity that is integrated into the LTA's work, with an aligned vision to open tennis up.
Tim is also Chief Executive of SportsAid, the national charity that provides help and recognition to Britain's next generation of sporting talent. SportsAid supports over 1,000 athletes each year – the vast majority aged 12 to 18 – by providing them with a financial award to help towards training and competition costs.
Tim was also a charity Trustee with the Sylvia Adams Charitable Trust and was Chair of Pro-Active Camden, the Borough's health and physical activity network. He is also a member of Sport England's Talent Inclusion Advisory Group. All his roles are directly linked to championing community sport and providing opportunities for young people, especially those facing barriers and disadvantage, to provide them with the best possible platform to fulfil their potential.
Tim said: "Of the many reflections I've had on hearing this exciting and surprising news, I mostly find myself thinking of the incredible individuals I've worked with and had help from over the years. I've worked in sport for over 25 years and there must be hundreds of people who've helped to steer my path, knowingly or otherwise. It might feel quite vicarious, but there are many people who will share some of the recognition this wonderful Honour brings – including my family and friends. Thank you."
Barry Horne MBE - Services to inclusivity in sport
Barry Horne is an LTA Councillor and Chief Executive at Activity Alliance. Barry joined the LTA Council in 2015 and he has served on the Tennis Development Committee Inclusion & Diversity workstream.
In his role as Activity Alliance's Chief Executive, Barry has helped to transform the organisation into a strong national charity and leading voice for disabled people in sport and activity. Now, a team of almost 30, changing attitudes and embedding inclusive practice across the country.
During his tenure, he has shaped powerful strategies and secured significant funding. With his passion to truly make a difference, he continues to ensure more disabled people are genuinely represented at every level.
Among his many notable achievements, is the ground-breaking programme, Get Out Get Active (GOGA). He was the key player in driving the consortium of organisations together to create a multi-million-pound inclusive programme.
Barry said: "What makes this Honour really special for me is that it's about success in including people. I'm so lucky to work with a fantastic team of talented and dedicated people. But just as importantly, I've had the chance to meet and spend time with people in communities right across the country. People who tell incredible stories about how their lives have changed for the better. For me, there's no greater reward than knowing that."