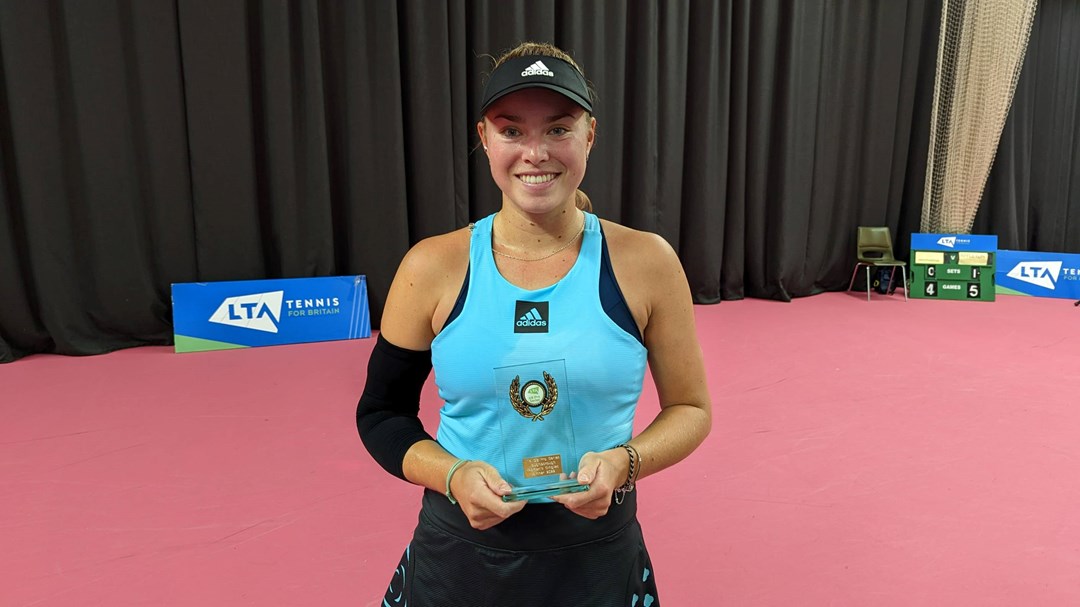 Players News
Emily Appleton wins ITF W25 Loughborough title
• 3 MINUTE READ
Britain's Emily Appleton has defeated the No. 1 seed, Nigina Abduraimova from Uzbekistan 6-4 6-4 in the final of the ITF W25 Loughborough to win the biggest title of her career.
Appleton came through qualifying to enter the main draw of the tournament and defeated the No. 7 seed and two fellow British players Eden Silva and Eliz Maloney on her way to the final.
Speaking after her win, Appleton said: "I was just happy to qualify! I think I've only got past the first round in a $25k or above once so win it is just mind-blowing."
"I thought I played great tennis. Just came out strong, didn't feel too much pressure, and was just hitting free. Nigina played a great final and made it tough for me, especially at the end, so just happy to come through."
Malygina also fell short in the women's doubles final, which took place on Friday. Joanna Garland from Chinese Taipei and Czech Republic's Gabriela Knutson defeated Malygina and her Polish partner Maryna Kubka 6-3 6-3 to take the title.
Emily Appleton will be moving straight on to compete at W100 Shrewsbury next week. The tournament, being held at The Shrewsbury Club, will be the biggest indoor women's tennis tournament in the UK since the 1990s with many of Britain's top players in the draw. Live streaming will be available on the LTA's website and YouTube channel.
This is the latest tournament on the LTA's Performance Competition Calendar that has provided more opportunities for players to compete regularly at a higher level and make progressive ranking gains at the formative stages of their careers across 2022.
These tournaments have already paid dividends for British players in the first half of this year. The increased calendar means that there will be over 40 weeks of either international ranking point or prize money earning opportunities in Great Britain this year.
Across these events, the LTA has introduced progression through wild card feed-ups into higher-level competitions and retained the LTA Tournament Bonus Scheme in addition to prize money earned.
Get your Billie Jean King Cup tickets NOW!
The Billie Jean King Cup by Gainbridge Finals, the women's world cup of tennis, take place at the Emirates Arena, Glasgow, from 8-13 November. Tickets, starting from £5 for children and £10 for adults. For further information. For further information...