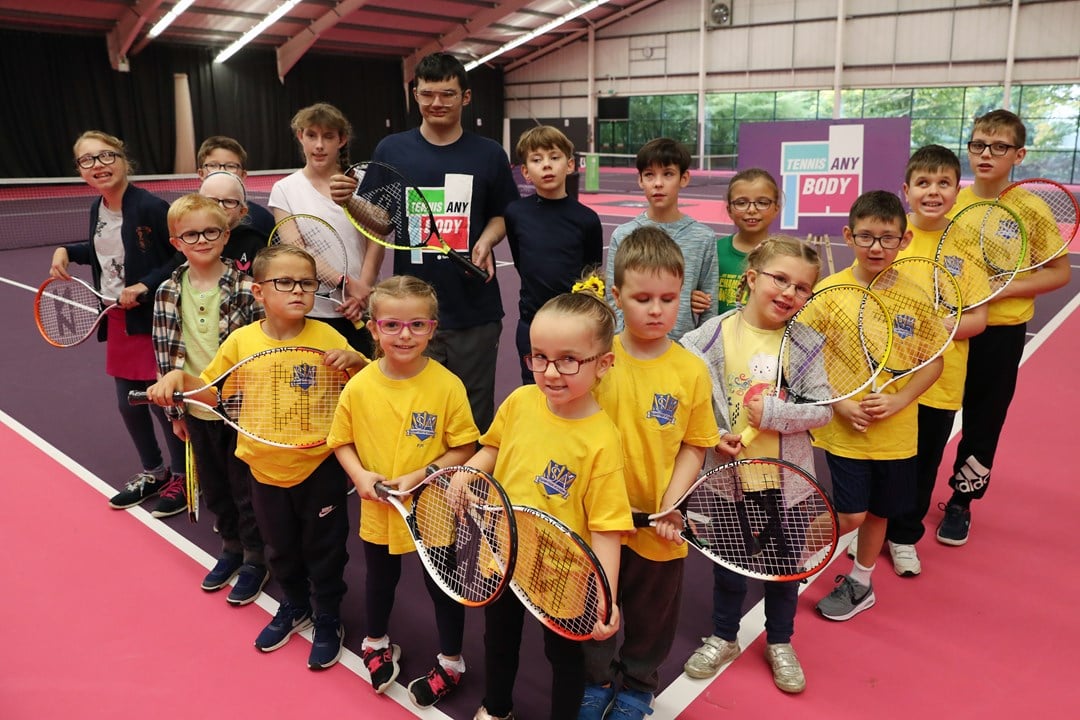 Diversity and Inclusion
The East Midlands is playing a key role in the growth of disability tennis
• 3 MINUTE READ
As a town recognised the world over for sporting excellence, Loughborough was a natural choice for this season's NEC Wheelchair Tennis Masters. After three years at London's Queen Elizabeth Olympic Park, the event has moved to the East Midlands – a region that has continued to be at at the forefront of disability tennis this year.
Nearby Nottingham is the established home of the British Open Wheelchair Tennis Championships, while Nottingham Tennis Centre also hosted the Tennis Foundation's inspirational Learning Disability National Championships this year. Loughborough itself has already been the venue for the Tennis Foundation's inaugural Junior Visually Impaired Tennis Festival, the National Visually Impaired Tennis Championships and a round of the Roma Sport Wheelchair Tennis National Series.
It is not just disability tennis competitions that have attracted attention to the region though. Record numbers of disabled people across the country are now picking up a racket and playing on a regular basis, and some of the leading examples of what is being done at a grassroots level to make the sport inclusive and accessible can be found here in the East Midlands. A number of local tennis clubs are working hard to ensure participation continues to increase, helping to fulfill the Tennis Foundation's vision to make tennis a sport for all people and communities.
One such club setting the standards is Grantham Tennis Club, winners of Disability Programme of the Year award at last year's Aegon British Tennis Awards – who were rewarded for doubling the number of players attending the weekly sessions between September 2015 and September 2016.
"We have 10 wheelchair players, and we run a number of sessions for them. They tend to come to more than one of them too," revealed Tim Martin, who is involved with driving interest levels in the scheme in the local area. "We also run a mental health project, and that can attract up to 20, so we can fill five courts. There are also more than 30 players involved in our learning disability sessions.
"The majority of people are mainly from Lincolnshire: we have players from Sleaford, one from Lincoln and the rest are Grantham based. We are actively seeking to grow those numbers and raise further awareness by speaking regularly to organisations, trying to get them to come down and then we go from there. Most of the time it's a free taster session we provide to see if they fancy it, and then we look to build regular sessions.
"If we can keep on doing what we're doing and improving things at the tennis club, we'll hopefully see results. It's rewarding to know that I've been at the first stages of a journey which is going to keep getting better."
With engagement on an upwards trajectory, and a desire to capitalise on the spike in interest the a high profile international competition like the NEC Masters brings, Matt Elkington, the Tennis Foundation's Regional Disability Tennis Manager for the North, is excited about the benefits a Midlands staged competition offers.
"It's important that we started the conversations early enough to get people thinking about it, so we could link in and make the most of this opportunity as it isn't always going to be coming through Loughborough," he explained.
"There are a few challenges we faced regarding the time of year. It's not always what people would class as a tennis time of the year, but we're trying to engage new audiences and utilise the event to do that.
"Our network in the East Midlands is across seven venues delivering impairment-specific activities. Following on from this we'll hopefully increase that, which would be fantastic for Loughborough and Leicester.
"Sport England are funding us to do a six-week follow-on offer for each of these organisations, and we're hopeful of reaching around 100 people throughout that period.
"However, as part of an East Midlands disability tennis network, we'll be looking longer term than that."
While the East Midland's has played a big role in disability tennis in 2017, the development of the sport here is a reflection of the success being seen nationally, with Elkington's colleagues in the Tennis Foundation's Disability Development and Competitions teams helping to drive both greater participation and more competition opportunities for disabled people.