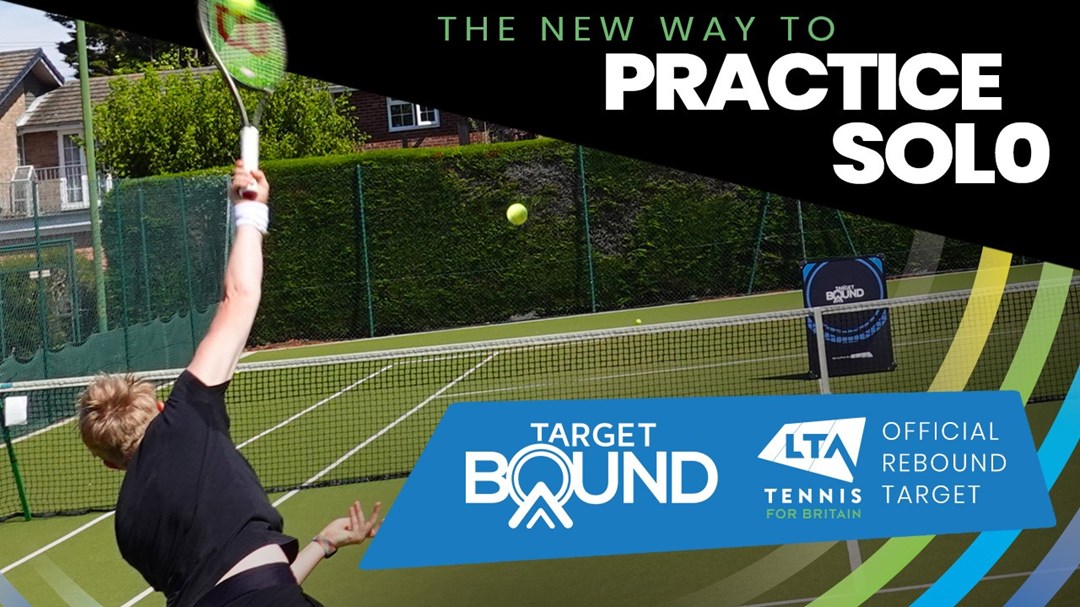 LTA
LTA helps drive improved performance with three-year partnership with TargetBound Sports
• 3 MINUTE READ
We have today announced a a three-year partnership with TargetBound Sports to help players improve the quality of their serving.
TargetBound is a rebound target coaching aid created as a training tool to enable players to practice their serve plus the next shot and win more games.
We are launching Targetbound to Advantage members and coaches today. As a result of the partnership, there will be 12% off for all LTA Advantage Play and Play+ members and 20% off for all accredited coaches and LTA Advantage Compete members.
Sign up or log in to Advantage to get your discount
With TargetBound, coaches can energise and engage players on serve practise, develop serve plus 1 routines and bring in new drills. Venues can also use the targets to allow players at all levels to enjoy practicing the serve plus 1 on their own. The design is adjustable to deliver different return balls and speed serves, encouraging the player to prepare early.
The product comes with free access to 'Discover', a suite of on-demand classes with ideas for drills and challenges.
LTA Product & Programme Manager Jo-Anne Downing said: "One of our key strategies is to find new ways to get people to play tennis and find innovative new ways to connect people to the sport and enjoy the game.
"Tournament statistics show that 70% of points are won or lost in the server's first and second shot. This product gives players new ways to develop their serve and transition to the next shot. It creates measurable practice sessions for players at all levels of the game with the aim to ultimately improve performance in matches."
TargetBound Sports was founded by Shane Deacon, a tennis coach working in the USA and UK since 1993. "Having seen first-hand the difficulty players and coaches have in engaging quality practice for the serve and serve plus 1, I decided to do something about it. After working on various tools and techniques, I came up with the idea for TargetBound and developed it with the help of Sheffield Hallam University Centre for Sports. We are so excited to make this product available to coaches and Advantage members, having seen the energy and excitement it brings to serve practice."
Targetbound sports discounts on Advantage
We have some amazing offers for our Advantage members on products at TargetBound Sports - including 12% off for Play and Play+ members and 20% off all accredited coaches and LTA Advantage Compete members.
Log in or sign up to Advantage to claim your discount.