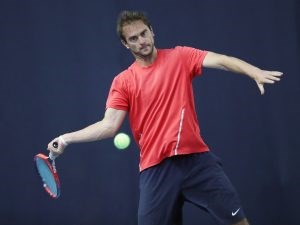 National
Peter Willcox and Phoebe Suthers claim National Deaf Tennis Championships titles
• 6 MINUTE READ
Peter Willcox and Phoebe Suthers clinched the Open Singles and Women's Singles titles as a fascinating 2018 National Deaf Tennis Championships drew to a close on Sunday at the National Tennis Centre in London.
Farnham's Willcox claimed his 13th National singles titles after defeating East Finchley's Esah Hayat 7-5, 6-2 in a rematch of the 2016 Open Singles final.
"It feels really good, especially as I had two previous attempts to win my 13th, so it's third time lucky, I guess," said Willcox.
"I thought I played really, really well, especially in the final against Esah. He's improved dramatically in the last year. He's a very, very good player and I thought I played well against him, particularly at the end of the first set, when it was close."
Meanwhile, with Suthers and Valerie Copenhagen having started the weekend by taking on their male counterparts in the Open Singles, 15-year-old Suthers, from Elland in Yorkshire won Sunday's Women's Singles play-off 6-0, 6-1. Suthers started the second day of competition among the four semi-finalists for the Open Singles.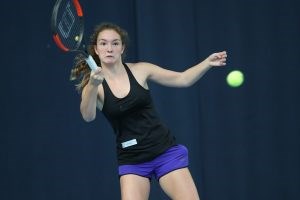 It was a second National Women's Singles title for Suthers following her 2016 victory.
Although unable to claim his second senior National Championships singles title, Hayat did manage to go on and win his second National doubles title. Fellow singles semi-finalist Lewis Fletcher partnered Hayat to victory in the Open Doubles final, the top seeds defeating three-time former champions Daniel Tunstall and Willcox 6-3, 6-2.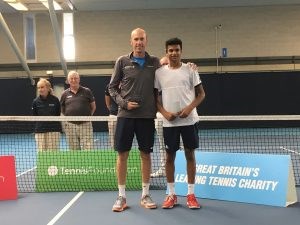 Windsor's Nathan Carmody completed the Junior round-robin events with two titles after winning all of his singles and doubles matches. Carmody clinched two deciding match tie-breaks among his five round-robin singles wins and Sunday's second day of competition saw him also partner Maisie O'Shea to two straight sets wins in their Junior Doubles round-robin matches.
FINAL MATCH RESULTS
For all the final match results and online draws please click here.
Day 2 – Sunday, 16th September
Open Singles Semi-Finals
Peter Willcox beat Phoebe Suthers 6-1, 6-1
Esah Hayat beat Lewis Fletcher 6-3, 6-4
Open Singles Final
Peter Willcox beat Esah Hayat 7-5, 6-2
Women's Singles Final
Phoebe Suthers beat Valerie Copenhagen 6-0, 6-1
Open Doubles Final
Lewis Fletcher & Esah Hayat beat Daniel Tunstall & Peter Willcox 6-3, 6-2

Day 1 – Saturday 15th September
Three of the four seeded players will contest Sunday morning's Open Singles semi-finals at the 2018 National Deaf Tennis Championships after two matches on Saturday for some of the players competing for honours at the National Tennis Centre in Roehampton, London.
With the tournament seeding based on players' LTA Ratings, top seed and 12-time National Champion Peter Willcox will play third seed Phoebe Suthers for a place in Sunday's Open Singles final, while second seed and 2016 champion Esah Hayat will play former two-time champion Lewis Fletcher.
Suthers and fellow Great Britain international Valerie Copenhagen took on the male players in the Open Singles, Copenhagen losing out to Toby Clifton 6-2, 6-2 before 2016 women's singles champion Suthers, 15, defeated Toby Clifton 6-0, 6-0 to book her place in the semi-finals. After a first round bye Willcox also dominated his opening singles match to defeat Ciaran McCarthy 6-1, 6-0.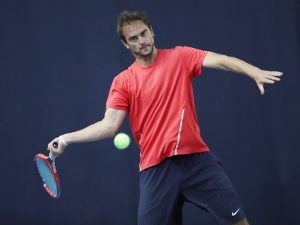 The bottom half of the Open Singles draw saw deaf tennis newcomer Ewan Allman edge a thrilling deciding match tie-break win against Bradley Wilson to join his coach Fletcher in the quarter-finals. Allman beat Wilson 3-6, 6-4, (10-8) after coming from 8-5 down in the match tie-break and playing a 'tweener' (shot between the legs) during his match point rally. However, Allman's challenge came to an end in the last eight when he was beaten 6-2, 6-0 by 16-year-old Hayat, who won 11 games in a row to complete his victory.
Straightforward first round wins for Fletcher and Daniel Tunstall saw two-time former National champion Tunstall end the challenge of third seed Jack Clifton 6-1, 6-1. That set up a quarter-final between two dual champions and it was a contest that Fletcher was to win 6-4, 6-2 ahead of playing his doubles partner Hayat.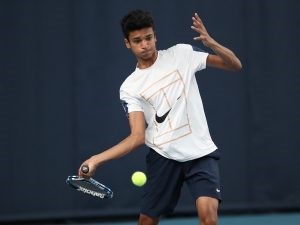 The Open Doubles final will be between top seeds Fletcher and Hayat and second seeds Tunstall and Willcox, who are already three-time National champions together. Both sets of finalists won their semi-final 6-2, 6-0 after Fletcher and Hayat beat Nicholas Ansell and Jack Clifton and Tunstall and Willcox beat defeated Copenhagen and Suthers.
Sunday's second and last day of competition will also see the Junior Singles title decided after the remaining round-robin matches and all three-round robin matches being played to decide the Junior Doubles title.
Nathan Carmody goes into his last Junior Singles round-robin match unbeaten in four matches so far after beating both Ethan Carter and Charlie Denton in deciding match tie-breaks. Denton currently lies in second place courtesy of a deciding match tie-break win over Carter.
DRAWS AND SCHEDULE
Order of Play – Sunday, 16 September
PREVIEW
Organised by the Tennis Foundation, Great Britain's leading tennis charity, the National Deaf Championships also incorporates a Deaf Tennis Festival on Saturday 15th, which offers a range of fun events and competitions to ensure there is an activity for everyone to enjoy.
With the National Deaf Championships returning to the National Tennis Centre for the first time since 2009, 16-year-old Esah Hayat will be aiming to secure a local London victory after the East Finchley player won his first senior men's singles titles in 2016, finishing the event with a hat-trick of titles after adding the men's doubles and mixed doubles crowns.
On that occasion Hayat beat Devon-born and Surrey-based Peter Willcox, the most prolific National Champion in recent years, Willcox won the most recent of his 12 men's singles National titles in 2014.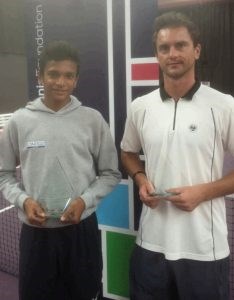 Hayat has enjoyed tremendous success in recent years, becoming the inaugural boys' singles gold medallist at the 1st World Deaf Tennis Championships in Nottingham in 2015 before winning a full set of gold, silver and bronze medals at the European Junior Championships in Slovenia in 2016.
Brothers Jack and Toby Clifton, from Croydon, add to the local London entry, with both players having also returned from the 2016 European Championships with medals in senior and junior events.
Two-time champions Daniel Tunstall and Lewis Fletcher are also among a strong entry for the men's singles. It's 20 years this year that Tunstall, the brother of singer-songwriter KT Tunstall, won the second of his two National titles, while Fletcher claimed the most recent of his two National titles in 2015.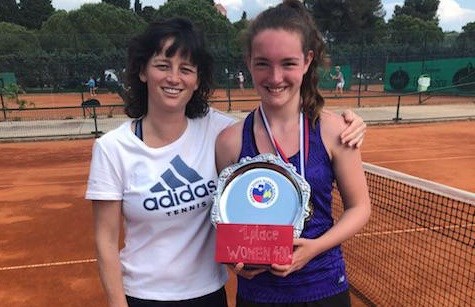 Yorkshire 15-year-old Phoebe Suthers will face opposition from Middlesex player Valerie Copenhagen for the women's singles title, with Suthers arriving for the National Championships in fine form after winning her first international senior titles with women's singles and doubles gold medals at the Slovenia Deaf Open in May. Suthers also won the women's National title in 2016 before partnering Hayat to win the junior mixed doubles title at the European Championships.
Prior to winning his first men's singles National title in 2016 Hayat was among the players to have previously won the junior event at the National Deaf Tennis Championships and this year's junior event will once again feature a number of potential future stars.
Get involved with our Deaf Tennis Festival!
Saturday's Deaf Tennis Festival will provide beginners with the opportunity to try tennis in a fun environment, learn new skills and take part with friends, siblings and parents in a range of activities for everyone, not just those who are deaf. For more details, click here.
Tennis Foundation National Deaf Tennis Coach and six-time National Champion Catherine Fletcher said: