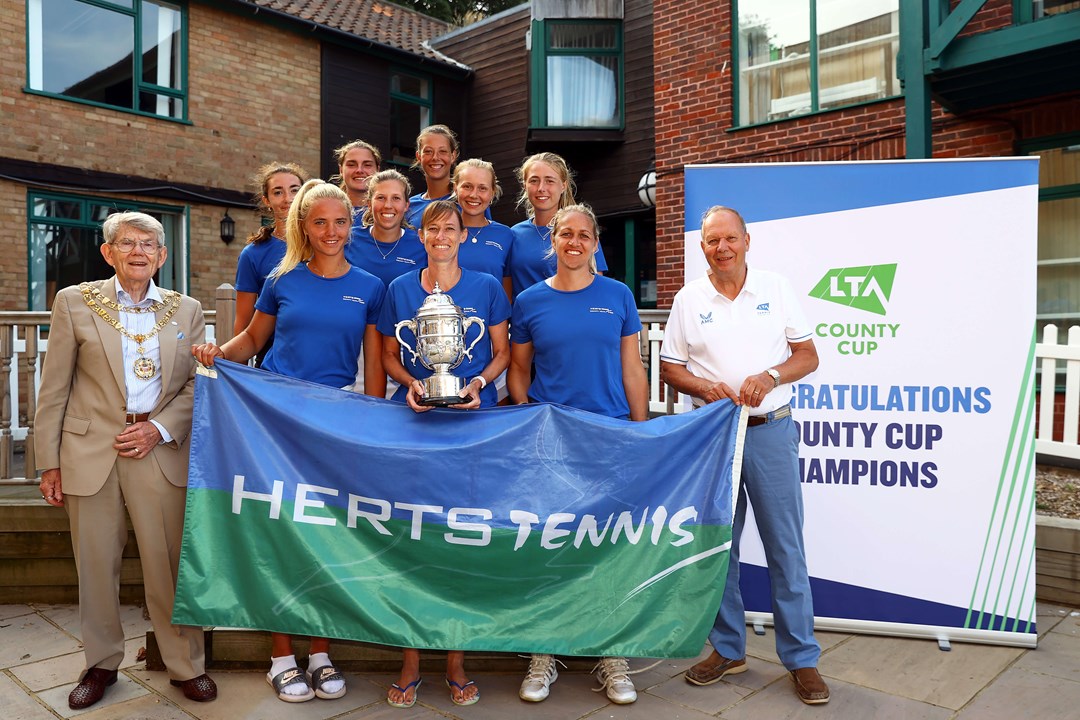 Domestic Competition
Summer County Cup 2021: Kent Men and Hertfordshire Ladies crowned County Cup champions as they retain their titles
• 2 MINUTE READ
Kent Men and Hertfordshire Ladies are still the leading counties for men's and women's Tennis as they retained their Summer County Cup titles from 2019, following the conclusion of the 125th County Week.
The tennis courts at Eastbourne International Tennis Centre, Devonshire Park were bathed in sunshine across the week, with matches played from Monday 19 to Friday 23 July.
Six men's and six ladies' teams competed at Devonshire Park, representing their counties in the premier group of the County Cup.
The competition concluded with Hertfordshire Ladies defeating Surrey and Kent Men securing the trophy having got the better of Essex.
Middlesex Ladies and Leicestershire Ladies were relegated from Group One, whilst Suffolk Men and Essex Men will also contest the 2022 Summer County Cup in Group Two.
The seven groups for men's and ladies' saw 44 counties compete across 13 grass court venues up and down the nation.
This year saw over 200 ties and almost 2,000 rubbers played throughout the week, as counties battled to earn promotion and avoid relegation from their respective groups.
In its milestone 125th year, the doubles-only tournament saw some fantastic tennis played in competitive and friendly spirit.
Who said what?
Julie Piper, LTA Tournament Director
"There have been some terrific matches on court this week with plenty of commitment and passion shown from all the players. It was an extra special occasion this week as we celebrated 125 years of County Cup tennis and the matches were all played in very good spirits. I would like to thank all the venues, volunteers, officials, and players for their continued support of County Cup tennis, and we look forward to seeing everyone again in 2022.
Alissa Ayling, Team Captain for Hertfordshire Ladies'
"We weren't sure if we were going to come back this year, so that, in itself, was a bonus. There's been some incredible tennis, and the sportsmanship across the whole week has been amazing and we are really thrilled to take the trophy home once again.

Andy Burgoyne, Team Captain for Kent Men picked up his fourth County Cup as Captain and seventh in total
"It has been amazing and was really an achievement we wanted to do, because we haven't retained the title in my time and it was the last of my goals as captain, so it has been absolutely incredible, and the team have just done an amazing job.
"When I took over, trying to retain it was the thing that had never happened in my time and, being my last one, everything seemed to happen right this week, so it is as good as it gets for me."
Yorkshire Men, Cambridgeshire Men, Kent Ladies and Northumberland Ladies finished top of Group 2, which means they will be promoted to Group 1 in 2022.
To see all the results from County Week 2021, please click here.