Players News
Cameron Norrie: The making of Britain's No.1
• 4 MINUTE READ
From starting to play tennis at the age of eight using a sawn-off squash racket, to being ranked inside the top 10 in the world and becoming the British men's No.1, Cam Norrie's journey to the top of the sport has not been a typical one.
Having been born to British parents in Johannesburg and then spent his childhood in New Zealand, Norrie has been representing Great Britain on the international stage since 2013 – a period during which he has progressed from promising junior to one of the leading players in the world.
As much as Norrie's progress has been about his development as a player, it has also been about his development as a person. Here we pick out the key moments of that journey, and the path Norrie has taken from living and training at the National Tennis Centre, being supported by the LTA's pathway through university in the US before turning professional and becoming the first player to graduate from the LTA's Pro-Scholarship Programme for players with the highest potential
An introduction to tennis
Picking up a racket for the first time
Born in South Africa to a Welsh mum, Helen, and Scottish dad, David, Norrie and his family relocated to Auckland when he was three years old. His parents, both microbiologists, had been university level squash players, and it was with a repurposed squash racket that Norrie first started playing tennis as a six-year-old on his front drive. The young Norrie also enjoyed playing cricket, rugby and football, but he joined a local tennis club and that soon become his sport of choice.
2009 – Making progress in the junior rankings
Making his debut in international level junior tournaments as a 13-year-old in 2009, Norrie initially struggled to make an impact, not winning a set and failing to progress past the first round in his first three events. His first big breakthrough would come as a 15-year-old towards the end of 2010, finishing as runner-up in the New Zealand 18 & Under Indoor Championships. He then won his first junior international title as a 16-year-old at the Waikato 18 & Under Championships, later adding the New Zealand 18 & Under Summer Championships title.
After some success at tournaments in and around New Zealand, Norrie started competing on the ITF junior Circuit in Europe, including coming through qualifying to reach the second round of the Junior International at Roehampton in 2012.
Moving to Great Britain
2013 – Competing for Great Britain at Junior Grand Slams
Increasingly testing himself in higher-grade events, Norrie climbed the ITF junior rankings, reaching a high of No.10 in March 2013.
After making his junior Grand Slam debut at the Australian Open in 2013, losing to Nick Kyrgios in the second round, Norrie moved to London, where he would train and initially also live at the LTA's National Tennis Centre in Roehampton. Having confirmed his desire to represent Great Britain, the young Norrie then did so in the junior draws at Roland Garros, Wimbledon and the US Open, but failed to progress past the first rounds.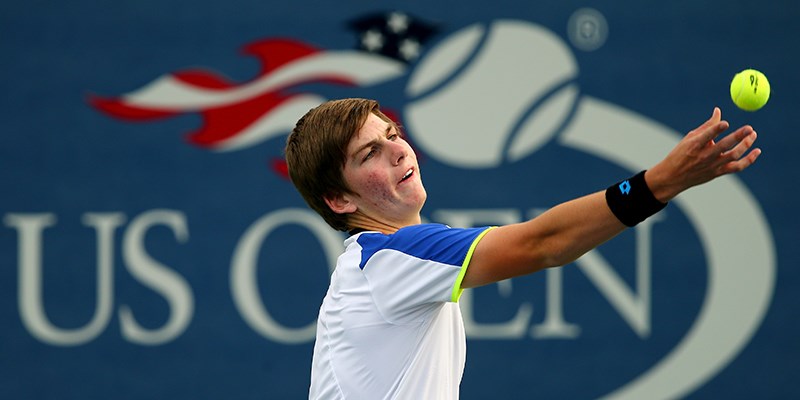 One thing that has been evident throughout Norrie's development however, is his desire to learn and improve, and his appetite for hard work. Speaking after that defeat to Kyrgios, Norrie was described as being furious with himself and said: "I didn't take my chances. It was a good experience and I learnt a lot, but I served really badly and couldn't construct the points, but I'll take a lot from this."
2013 – Mixed results from first steps on the professional international circuit
Before finishing his junior career, Norrie had already made his debut on the senior international circuit – losing to the Netherlands' Matwe Middelkoop at an ATP250 event in Auckland before then claiming his first senior match win at an ITF Futures event in Bournemouth, going on to reach the quarter-finals.
May 2013 saw Norrie make his first appearance on the ATP world rankings list, debuting at 1396, and the next 12 months would see him steadily rise up to reach 637 in June 2014. His first year on tour however, delivered mixed results, with semi-final and final appearances alongside early round defeats.
Joining the LTA's US College pathway
2014 – Moving to university in Texas
Realising he still needed to develop both as a player and person, and wanting to rediscover a love of tennis, the talented teenager was supported by the LTA to follow its pathway route through university, joining Texas Christian University (TCU) as a Freshman in 2014.
It was a decision which would prove to be just what the young Brit needed and a transformational moment in his career. Norrie thrived in the US College environment at TCU, earning All-American status in his first year to become only the second freshman and first since 2001 to earn All-America honours in singles – a title given to outstanding US College athletes in a specific sport in a given year.
2015 – A first international tour win
Combining his studies and university competition Norrie would make limited tour appearances during his first year at Texas, with his ATP ranking dropping to 1114 as a result. However, at the start of his second year at TCU Norrie claimed his first ITF title at the Futures event in Mansfield, Texas – thanks to a little help from a lucky towel donated by Andy Murray - a run that saw him defeat fellow Brit Liam Broady in the last eight and propel him back up the ATP rankings, climbing to 706.
2016 – Big steps forward with series of summer wins
After finishing his second year in the States, Norrie earned back-to-back ITF Futures titles in Oklahoma and then Kansas in July, taking him to 422 in the world rankings. Another big leap would soon follow, with the young Brit finishing as runner-up to Dan Evans at the ATP Challenger event at Aptos, California in August to see him break into the top 300 in the world for the first time at 298.
2017 - Becoming the No. 1 collegiate player in the USA
Norrie finished off his university tennis career by helping his TCU team, nicknamed the Horned Frogs, secure a third straight top-10 team finish, as well as himself becoming the number one ranked US college player in singles, winning 21 of his 22 matches during his final season. That earned Norrie the No. 1 seed in the end of year NCAA Singles Championship, but he chose instead to join the professional ranks.
Turning professional
Having returned from the US, Norrie resumed full time life on the tour with support from the LTA through the Pro-Scholarship Programme, the highest level of support offered to developing players by the national governing body.
Launched in 2016, the Pro-Scholarship Programme provides access to world class coaching, science and medicine support from the LTA Performance team, as well as financial support (up to £80,000) for players aged between 16 and 24 with genuine potential to reach the ATP/WTA top 100 within five years. It is a key stage of support of the LTA Player Pathway, with other players currently on the PSP programme including the likes of Emma Raducanu, Jay Clarke, Jack Draper and Harriet Dart.
Norrie drew on the support provided by the PSP programme to form a team around him to support his full time return to the tour – including coaching duo Facundo Lugones, who was a TCU senior when Norrie was a freshman, and LTA Coach James Trotman, who has worked with Norrie since the age of 16 and whose role sees him support players on the Pro-Scholarship Programme.
2017 – A Grand Slam debut
It was nevertheless a challenging start to life as a pro for Norrie as he embarked on his first full grass court season, having had little experience of playing on the surface during his time in the States and facing a step up in quality. Though he lost in the first round at Nottingham and Queens and the second round at Surbiton and Eastbourne, he defeated Horacio Zeballos at the later event to claim his first win over a top-50 player. Making his main draw debut in a Grand Slam at Wimbledon through a wild card, he could not repeat that performance, losing in straight sets to world No.10 Jo-Wilfried Tsonga.
It wasn't long though before he was back to winning ways, lifting his first ATP Challenger title in Binghamton, New York in July – a title previously won by Andy Murray (2005) and Kyle Edmund (2015).
Further success on the American hard courts would follow, with him coming through qualifying to reach the second round of the US Open at Flushing Meadows. That performance was swiftly followed by a runner-up spot and two more ATP Challenger title wins from his next three tournaments (Tiburon and Stockton) to take him to 110 in the ATP rankings – a rise of 1,000 places in just two years.
Continuing his development, Norrie spent the end of the year training with Juan Martin Del Potro and Diego Schwartzman in Argentina, before joining up with the Great Britain Davis Cup team as a hitting partner.
2018 – An outstanding GB Davis Cup debut & becoming a top 100 player
Sitting just outside the world's top 100 and having reached the second round of the Australian Open, Captain Leon Smith then handed Norrie his first call up to Great Britain's Davis Cup squad for their tie against Spain in February
Billed by the BBC ahead of that tie as 'The best British tennis player you've never heard of', Norrie wasted little time on making his mark on the Davis Cup stage. Despite having not played on clay since 2013, Norrie came from two sets down to win a five-set thriller against world No. 23 Roberto Bautista Agut – a performance described by Andy Murray as "one of the most amazing wins/results/upsets I've seen in a long time on a tennis court", and by former Davis Cup captain John Lloyd said was "one of the most impressive debuts of all time".
Back on tour, having taken a set off world no.6 Dominic Thiem at an ATP500 event in Acapulco, Norrie then won through qualifying to make his main draw debut in an ATP Masters 1000 tournament at Indian Wells – a title he would go on to win just three years later.
Continuing to be guided by coaches Lugones and Trotman, Norrie was becoming a regular in the latter stages of ATP250 tournaments, and in May secured what was the biggest win of his career in defeating world no.10 John Isner to reach the quarter-finals in Lyon and break in to the world's top 100 for the first time. Though Grand Slam progress beyond the early rounds would still elude him, reaching the second rounds at Roland Garros and the US Open and bowing out in the first round at Wimbledon, Norrie's consistency on tour saw him finish the year ranked world No.90.
2019 – Graduating from the LTA Pro-Scholarship Programme
Norrie started the year with his first appearance in an ATP Tour final – finishing as runner-up in Auckland. He then showed good form on clay, earning his first ATP Masters 1000 main draw wins in Monte Carlo and Rome.
While there were round defeats at the Australian Open, Roland Garros and US Open, there was a first main draw win at Wimbledon, with Norrie defeating Denis Istomin before losing to world No.7 Kei Nishikori in the second round.
Norrie would finish 2019 ranked world no.53 – having been as high as 41 in May. Now firmly established within the world's top 100, Norrie became the first player to graduate from the LTA's Pro-Scholarship Programme – moving on to the LTA's programme of elite player support, offered to those who have established themselves in the ATP/WTA top 100 singles or top 30 doubles.
Speaking after graduating from the Pro-Scholarship Programme, the then 24-year-old Norrie said: "It's a phenomenal scheme... I was lucky, coming out of college, to have that support and have some financial support to help build a team around me and help get myself settled in so I'm not out there by myself. It was a great scheme and I used it to the best of my ability so I'm thankful for that."
Emerging from lockdown with a renewed focus
2020 – Hard work & Grand Slam progress
Norrie had a disappointing start to 2020, with a series of defeats to lower ranked opponents –. However, the suspension of the international tours presented an opportunity to put in hard work in training which Norrie grasped with both hands.
He went into lockdown ranked at 58 in the world but having hovered between 50-100 for the past two years – to make the next step Norrie would need to do something more. The hiatus from playing tour matches provided him with the chance to reflect on what he needed to do to progress, and he would return to the tour as a player with a new sense of self-ownership over his career and a drive to take the next step. At the heart of that was a focus on building his fitness, running hilly 10k's every day for two months, recording an impressive 36.45 for 10k and a 17.20 for 5k.
That fitness, combined with hard work back on the practice court and a renewed mindset, provided the basis for an impressive return to competition for Norrie once restrictions allowed, with him winning the LTA British Tour tournament staged by the LTA at the National Tennis Centre, as well as being arguably the standout performer in the Battle of the Brits Team Tennis event with six wins out of seven.
His good form continued, with him reaching the third round of a Grand Slam for the first time in his career at the US Open. That run included defeating eighth seed Diego Schwartzman in a thrilling five-set encounter where there were 58 break points – the most in any match in US Open history – drawing on his fitness to come from two sets down and save two match points.
Norrie would carry his form and fitness from 2020 into 2021 for what has become a sensational year for the 26-year-old. A win over the USA's world no.299 JC Aragone in the first round of the Delray Beach ATP250 tournament in January attracted little attention, but it would be the first of a remarkable 47 wins racked up by Norrie so far in 2021 – that's more than world no.1 Novak Djokovic.
Among those wins have been some outstanding performances – including claiming his first ATP Tour title at the Los Cabos Open in his fifth appearance in a final at this level, defeating Brandon Nakashima 6-2, 6-2 to lift the title. Other impressive wins that demonstrated the progress Norrie had made including beating World No.4 Dominic Thiem in straight sets in an ATP 250 event in Lyon, and reaching the ATP 250 San Diego final, beating three players inside the top-25, before losing to second seed Casper Ruud in the championship match.
He also enjoyed a brilliant grass court season on home soil - progressing to his third final of the year at the cinch Championships at The Queen's Club and lost in three sets against Italy's Matteo Berrettini.
Off the back of his run to the third round at the US Open in 2020, Norrie also reached the third round for the first time at each of the other three Grand Slam events, only losing to Rafael Nadal at both the Australian Open and Roland Garros, and to Roger Federer at Wimbledon.
Norrie's consistent form was such that he was now a threat against even the very top players. At the BNP Paribas Open at the weekend, he then shocked the world to become the first ever Briton to win the title in Indian Wells. His incredible run saw him saw him defeat Diego Schwartzman, Grigor Dimitrov and Nikoloz Basilashvili to lift his first ATP Masters 1000 trophy, rise to World No.15 and become only the 18th man since ATP rankings were introduced in 1973 to earn the title of British No.1.
Norrie claimed his third career title at Delray Beach - beating Reilly Opelka in the final - and went on to reach the final in Acapulco only a week later. He reached four quarter-finals in five events - including Indian Wells and Miami Open - to climb up the rankings and broke into the world's top 10 for the first time in his career.