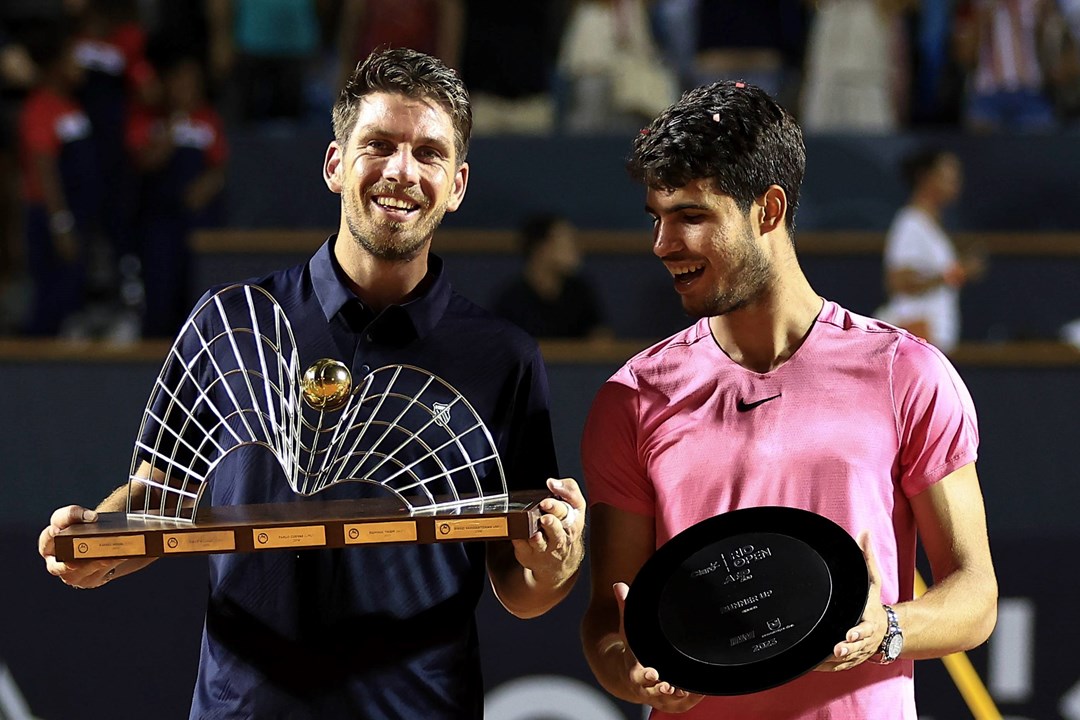 Players News
Cam Norrie crowned Rio Open champion with comeback win over Carlos Alcaraz
• 3 MINUTE READ
British No.1 Cam Norrie is the new Rio Open champion - coming back from 7-5, 3-0 0-30 down to defeat reigning champion and US Open titleholder, Carlos Alcaraz.
In the second final meeting between the players in just two weeks, second seed Norrie showed his resilience against the former world No.1 to win 5-7, 6-4, 7-5 and lift his fifth career title in two hours and 42 minutes.
"It's so special to win this one especially after losing a couple of finals already this year," said Rio Open champion, Norrie.
"I had to do it the tough way, I was a set and a break down and 0-30 on my serve. Especially on a surface that I'm not too comfortable with.
"I had to battle a lot of demons the last couple weeks, but I managed to just play well in the big moments and that's what it took today."
Cam Norrie's career titles
2023 – Rio (ATP 500)
2022 – Delray Beach (ATP 250), Lyon (ATP 250)
2021 – Los Cabos (ATP 250), Indian Wells (ATP 1000)
The win marked Norrie's first championship of the season, despite already reaching three finals. The Brit currently boasts a 18-3 winning record on tour, with four more wins than any other player in the world.
Norrie's recent results have seen him rise to world No.12 as he heads to his final event of the South American swing in Acapulco – a tournament where he made the final in 2022.
Having lost the opening set, Norrie's frustration appeared clear as he gave up his first service game of the second to Alcaraz, signalling a likely repeat of their final in Argentina last week. However, the Brit quickly refocused and found both his energy and consistency once again.
Alcaraz appeared to be suffering from a slight injury to his right leg and quickly changed his tactics to tr and keep the points short. For all the Spaniards power and aggressive hitting, Norrie stayed equal and managed to grind down his opponent in the long rallies.
Having levelled the scores at one set apiece, Norrie quickly recovered a one break deficit in the decider and looked increasingly comfortable against the onslaught on crushing groundstrokes from Alcaraz. With the title in the balance at 5-5, Norrie showed his iron will and mental strength to clinch the all-important break and eventually went on to seal his fifth title with an ace.