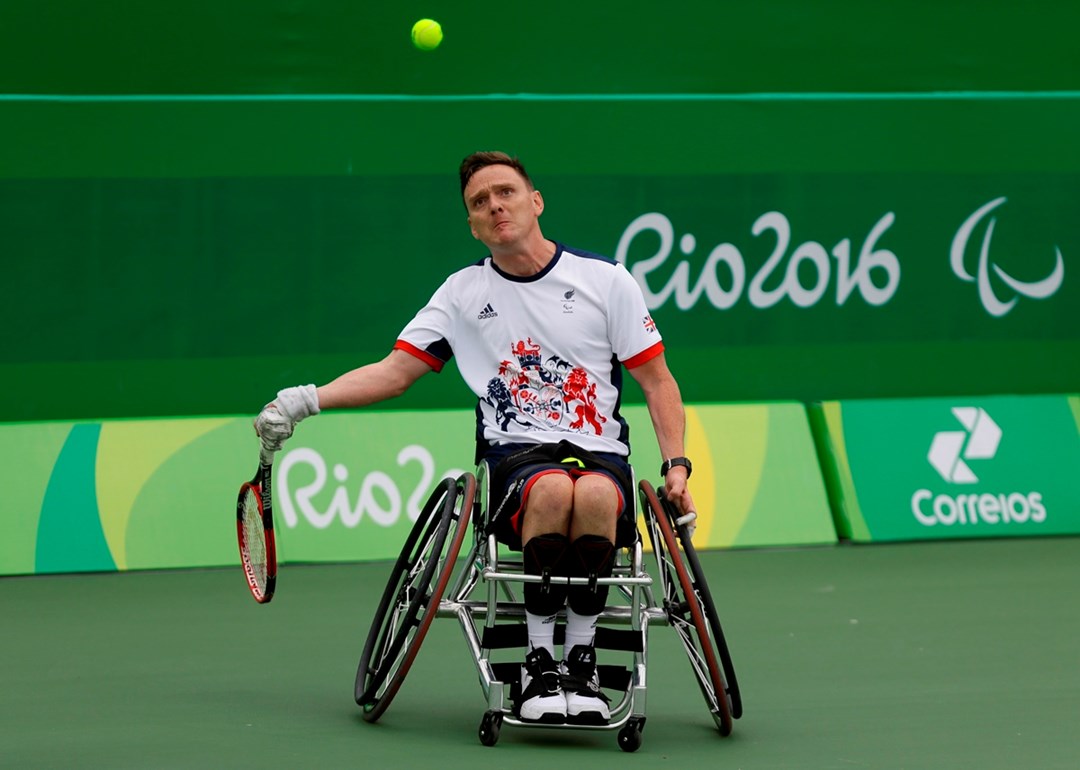 Diversity and Inclusion
Burdekin, McCarroll and Phillipson retire from wheelchair tennis after glittering careers
• 5 MINUTE READ
Six months on from the most successful Paralympics ever for Great Britain's wheelchair tennis team, Jamie Burdekin, Marc McCarroll and David Phillipson - three of the players who represented ParalympicsGB in Rio – are retiring from the elite level of the sport.
The trio depart from the Tennis Foundation Wheelchair Tennis World Class Programme after glittering careers that saw all three achieve success on the international stage.
Geraint Richards, the Tennis Foundation's Head of Disability Player Performance, said:
"The sport in this country is in a much stronger position than it ever has been. We returned from Rio with more wheelchair tennis medals than any other nation, while, inspired by that success, we now have a record number of people playing at a grassroots level.
"On behalf of the Tennis Foundation, I'd like to thank Jamie, Marc and David for their contributions to wheelchair tennis in Great Britain over the past few years and would like to wish them all the best as they embark on the next exciting chapters of their careers."
Jamie Burdekin
A former Royal Marine, Burdekin, 37, took up wheelchair tennis after being introduced to the sport at a Tennis Foundation Camp for new players in 2003, having been injured in a car accident in 2000.
Among his many achievements Burdekin won the quad doubles bronze medal with Peter Norfolk at the Beijing Paralympics in 2008.
Burdekin went on to represent his country at London 2012 and Rio 2016, the final match of his career earning him a place in the Paralympic record books after Burdekin and Andy Lapthorne also gained the quad doubles bronze medal at Rio 2016 following the longest wheelchair tennis match in Paralympic history.
Among his career highlights three-time National champion Burdekin was also part of the Great Britain teams that won the World Team Cup quad title in 2009 and in 2014, while also winning several more medals in the Davis Cup-style event.
Burdekin won a total of 13 singles and doubles titles during his career, most notably the 2014 ITF 1 Cajun Classic quad singles tltle and four quad doubles Super Series titles. He reached a career-best quad singles world ranking of No. 4 in 2014.
Burdekin said: "After a lot of thought and speaking with the closest people around me I have decided now is the time to hang up my rackets. Wheelchair tennis opened so many doors for me and gave me so many opportunities for which I am really grateful for. I have met some wonderful people and travelled to some amazing places.
"Looking back over the last fourteen years I have achieved more than I ever thought I would - winning three national titles, two world titles and two Paralympic bronze medals. Representing my country in the Beijing, London and Rio Paralympic Games and so many other occasions has been a massive honour for me and I consider myself really lucky.
"It has been a long journey involving long periods of time away from my family Kelly, Charlie and Beau, and obviously they take priority in my life and I am really looking forward to spending quality time being home with them.
"Thank you to my team for all of the support over the years and most importantly my family and friends, I'm forever indebted. So it's onto pastures new, it's time to close this chapter in my life and move onto the next which I am very excited about."
Marc McCarroll
A former semi-professional footballer, 32-year-old McCarroll first tried wheelchair tennis at the 2005 Spinal Unit Games after being injured in a car accident in 2003.
McCarroll represented his country at the London 2012 and Rio 2016 Paralympics and was a member of the Great Britain World Team Cup team that won the men's World Group title in 2015 for the first time in the event's history.
A former British men's No.1, McCarroll also won 15 career singles titles and 36 career doubles titles, including the first ever all-Brit ITF 1 Series men's singles final at the 2012 South African Open, when McCarroll defeated Gordon Reid. He won his most recent international singles title at the Preston indoor in February this year. McCarroll reached a career-best men's singles world ranking of No.11 in 2014 and competed in the men's doubles at Wimbledon in 2012.
McCarroll said: "I have had many fantastic years of playing wheelchair tennis as a part of the Tennis Foundation's performance programme and it has been an honour to represent my country in two Paralympic Games, but I now feel it is time for me to explore other areas of my career.
"My passion is coaching and I am now dedicating my time to gain my qualifications and use them to find and help new wheelchair tennis players achieve their goals. I would like to thank the Tennis Foundation and UK Sport for all their support during my time as an athlete."
David Phillipson
Born with Brittle Bone Disease, 28-year-old Phillipson represented ParalympicsGB at the Beijing 2008, London 2012 and Rio 2016 Paralympics.
A former world No.2 junior player and British men's No.1, in 2007 he was a member of the Great Britain team that won the junior event at the World Team Cup and was also a member of the 2008 and 2015 men's teams that win gold in World Group 2 and, most recently, the men's World Group.
Men's singles National champion in 2008 and again in 2016, Phillipson won a total of seven international career singles titles and 14 career doubles titles, reaching a career-best men's singles world ranking of No.11 in 2010. Phillipson also completed in the men's doubles at Wimbledon in 2008.
As part of its disability work, the Tennis Foundation acts as the national governing body for wheelchair tennis in Great Britain and runs the Wheelchair Tennis World Class Programme.
The Tennis Foundation is Great Britain's leading tennis charity and aims to make tennis a sport which is inclusive and accessible to people from every community. The charity works to open up tennis to its priority audiences of disabled people, young people in education and people in lower socio-economic communities, making it possible for them to enjoy the many health and social benefits of the sport whilst maximising their personal potential.