International
Brits Klugman, Bartram and Ward flying the flag at Junior World Champs in France
• 3 MINUTE READ
There was British success this weekend at the 40th edition of the prestigious junior world championships in Tarbes, France.
Twelve-year-old Hannah Klugman (Surrey) finished as runner-up in the girl's singles of Les Petits As Mondial Lacoste, becoming just the sixth British player ever to reach the singles final. The event for players U-14 can boast Rafael Nadal, Martina Hingis, Kim Clijsters, Juan Carlos-Ferrero, Dinara Safina and Bianca Andreescu as former champions. In the concurrent Cruyff Foundation Wheelchair Junior Masters, for the first time ever there was an all-British boys final in the wheelchair draw, with top seed Ben Bartram (Norfolk) defeating second seed Dahnon Ward (Derbyshire).
'An exciting experience' for Klugman
Klugman, a wildcard entry this year having also reached the semi-finals last year in Tarbes, was impressive all week defeating the No.15 and 5 seeds, dropping only 16 games in eight sets to reach the title match against Germany's Julia Stusek. In the final, Klugman, who won't turn 13 until next month, took a 3-1 lead in the first set but her elder opponent fought back to claim a 6-3, 6-3 win.
In reaching the final in Tarbes, Klugman joins a select list of British players to have done so. The only British player to have previously won the singles was Matt Smith in 1998, while Andy Murray (2001), Dan Cox (2004), Laura Robson & Liam Broady (both 2008) all finished as runners-up.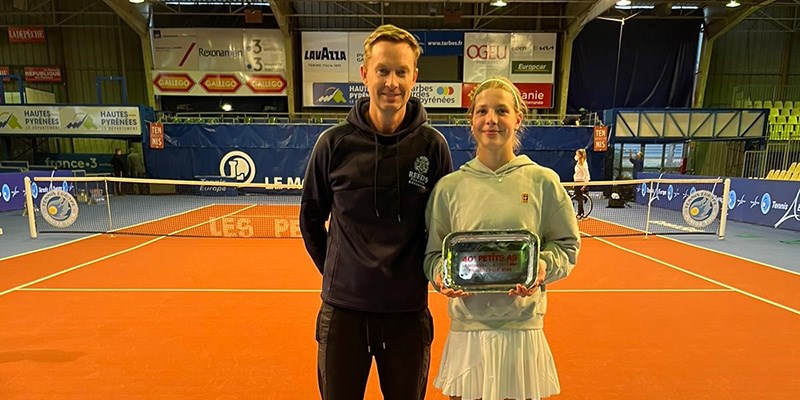 Reacting after the final, Klugman, pictured above with her coach Ben Haran after receiving her runners-up trophy, said, "This week has been such an exciting experience, and I'm very proud of my efforts. I've loved the atmosphere and the buzz of playing on such a big stage. I learnt a lot from losing in the semis last year, and I'm going to try to do the same again. I'm aware of the history of Tarbes and how many great players have competed in the finals and I now hope I can go on to follow in their footsteps."
Klugman's tennis journey
The young Brit has been demonstrating her potential for a number of years now. She hit her first balls at Wimbledon's Westside Tennis Club and was originally guided by Alison Taylor, who she still sees once a week. Since 2019, Klugman has been working with Haran, Head Coach at Reed's (an LTA Regional Player Development Centre), training both there and at the National Tennis Centre in Roehampton.
Klugman has spent three years on the LTA's National Age Group Programme before recently being elevated to the LTA's Men's and Women's Programme (MWP) - the support rung of the Player Pathway that sits just beneath the Pro Scholarship Progamme (PSP). When players start to prepare themselves for life as an elite professional athlete, as part of the MWP they will have access to the National Tennis Centre, Junior Grand Slam Grants, and be supported on LTA Official Trips, National Camps or avail of Travel Grants. They will also be eligible for the LTA's Tournament Bonus Scheme and be considered for wildcard/entry for British Tour, Domestic Pro Series and ITF, ATP & WTA events staged by the LTA.
In 2020, Klugman was part of LTA's GB team (captained by Hollie Bambridge) that won the 12&U Tennis Europe Winter Cup in Sunderland, alongside Sophie Bekker and Amalia Widdowson to become the first British girls team to do so. The competition is the biggest indoor junior team competition in tennis, with almost 200 national teams competing across three age categories – 12&U, 14&U and 16&U.
Bartram and Ward dominate in premier junior wheelchair event

Meanwhile, 16 year olds Ben Bartram and Dahnon Ward dominated the boys' wheelchair singles and doubles at the Cruyff Foundation Junior Masters, the premier international wheelchair tennis event for players aged 18 and under with previous British winners of the tournament including Alfie Hewett, Gordon Reid and Jordanne Whiley.
Both junior Brits finished top of their respective round-robin pools before advancing through to set up the first ever all-British boys final. A break of serve in the ninth game was enough to give Ward the upper hand in the first set of the final before Bartram took a commanding 5-0 lead in the second set.
Ward battled back from 3-1 down to level the final set, but with both players hitting an array of impressive winners and testing each other in all areas of the court, Bartram re-established a two-game cushion and wrapped up the title on the first of three successive match points to earn the title with a 4-6 6-1 6-4 win.
Bartram and Ward, who are both supported by the LTA's Wheelchair Tennis Performance Pathway, also combined to win Saturday's doubles final in a deciding match-tie-break, winning 6-1 5-7 [10-7].
Currently No.2 in the ITF's Junior Wheelchair Tennis Ranking, Bartram said: "It feels great. I played very good today in the second and third sets and I'm happy with my overall performance. In the first set I wasn't really thinking about how I was playing and for the next two sets I used my brain a bit more, was a bit more tactical and had more of a structured game plan on every point."
"In the doubles, me and Dahnon started off really well, we were very solid and applying a really good amount of pressure on them. In the second set we started making a few more errors, so in the match tie-break we just needed to lockdown and be more solid and get the job done."
Progressing along the LTA Player Pathway
The British team in Tarbes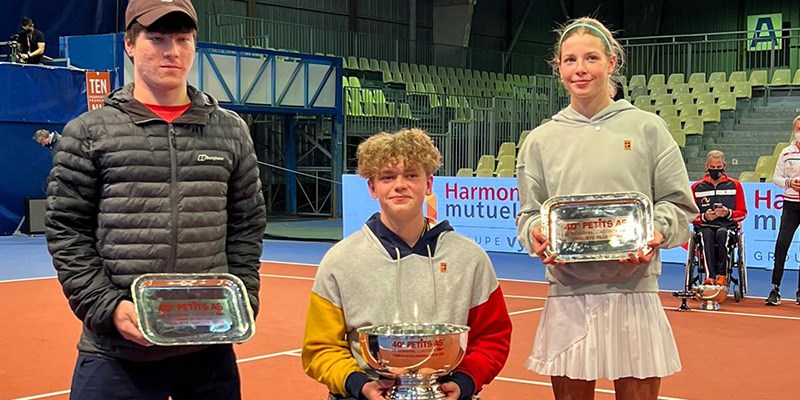 Competing in Tarbes this week, Klugman, Bartram and Ward were part of a contingent of ten young British players taking part:
Hannah Klugman & Georgiana Mititelu (Arabella Loftus & Leticia Romanova fell in qualifying)
Mark Ceban & Liam Channon (both came through qualifying)
Ben Bartram, Andrew Penney, Dahnon Ward
Klugman, Mititelu & Loftus
Bartram, Bishop, Penney & Ward