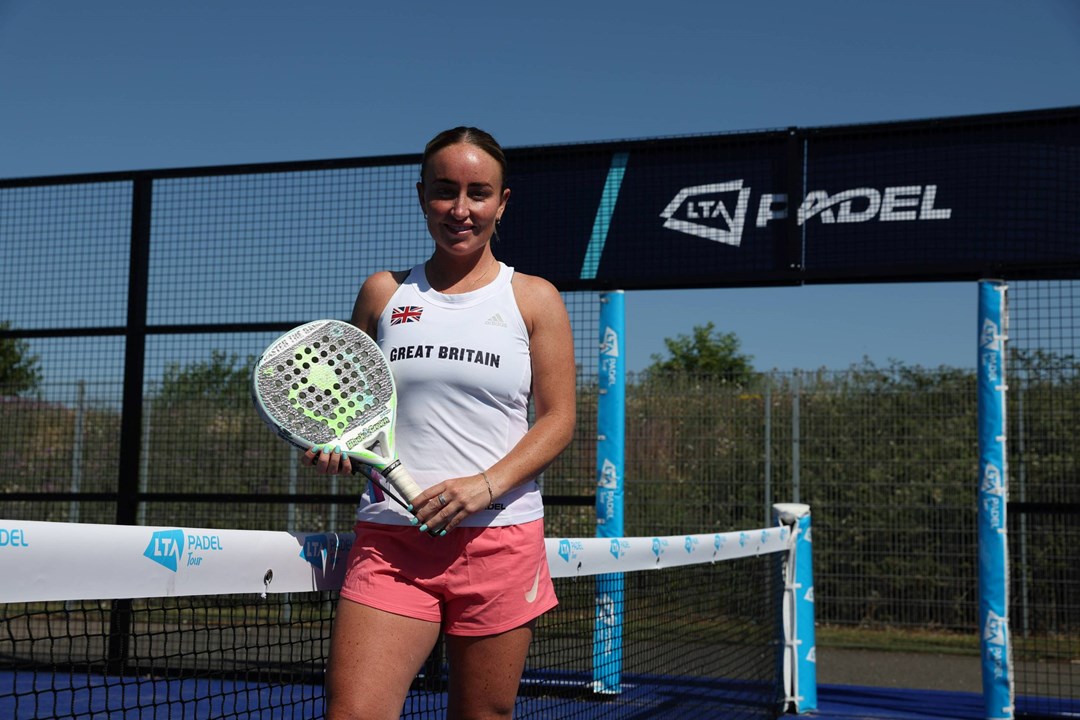 Padel
British Padel No.3 Aimee Gibson on her rise to the pro tour, a new training base in Barcelona & ambitions for 2024
• 3 MINUTE READ
2023 has been another huge year for British padel and the players at the top of the game – none more so than Aimee Gibson.
Having only started to play the sport around a year and a half ago, Gibson made the decision back in June to turn professional and take her talents across the world, competing in international events.
Now, less than six months on from turning pro, Gibson has set her sights on success at the last FIP RISE event in the UK this year – at the Stratford Padel Club – as well as continued progress going into 2024.
Like many of her British counterparts in the sport, Gibson's journey to get to the international padel stage began with tennis.
"I always played tennis when I was younger and got to a decent leveI," Gibson said, "but I stopped when I was 24 and decided to do my coaching qualifications before going out to coach in Dubai. It was there that I first got the chance to play padel as its grown massively in Dubai.
"I changed jobs while I was out there and took on a role where I was actually in charge of a padel club, before I eventually moved back home. When I got back, I started looking for a club near me, found a coach and just started training regularly from there.
"There's obviously a lot of similarities (with tennis) to do with being at the net like the volleys and forehand and backhand, which I kind of already had which was good.
"The hardest part was learning how to use the glass because that's a completely different game. In tennis you kind of want to take the ball nice and early or like you're not really letting the ball go past you, so I had to get used to that. That took me around six months to really get used to.
"Padel is very, it's a strategic game, so I had to learn all the tactics – how to use the glass, learn how to defend and everything like that."
Having made the natural transition to playing padel, it wasn't long before Gibson felt ready to test herself on the big stage – starting with the LTA British Padel Tour. It was her success here that gave her the confidence and skills she needed to make the decision to go pro.
"I started playing tournaments a year ago," she said. "I didn't really give myself much expectation. I played an event at the highest level in Great Britain, which is the LTA British Padel Tour Grade One and ended up winning the title on my first go.
"I decided to play more and more and earlier this year I won six events in a row. I actually played a few of them with Tia Norton, who's the British No.1, and I learned a lot from her because she's got a lot of experience. I think those tournaments helped get me ready for the international events.
"I was finding it difficult to juggle full-time coaching and training for padel, so I just thought to myself, why not, while I'm still at an age where I can do it, have a go on the professional tour."
As well as taking advantage of the three FIP RISE events in the UK this year – the most international events held in Great Britain to date – Gibson has now started touring the world competing against some of the top players in the game, and recently competed at a FIP PLATINUM event in Sardegna.
"It's been good so far – I've taken a few losses and I've had some tough matches along the way. At the London Padel Open we played against the second seeds and just lost out in three sets.
"Playing at this level is obviously a big step up because you're playing against people from across the world who have been playing their whole lives.
"I think the hardest part for me has been trying to find a regular partner. I've been out in Spain a lot this year playing with lots of different people and trying to find different partners to see what works."
As part of her development, Gibson has been able to take advantage of a state-of-the-art academy in Barcelona for her training alongside other British stars such as Norton – supported by the team at the LTA.
"The LTA have supported me in training in Spain and being able to get on court with those players and coaches, I've learnt so much so much in just a few months already," Gibson said.
"I've been able to go to an academy in Barcelona and the world No.1 trains there, so I've been able to watch and learn from her, which has been amazing, and there's so many great players there.
"In Stratford I'm playing with Elodie Invernon and she actually trains in Barcelona as well and that's where we met. Not many people really know who I am yet, so having that chance to train there means that more players get to know you and see how you play."
While this year has been a season of many firsts for Gibson and has primarily been focused on establishing herself in the pro game, the British star has no ambitions of slowing down.
"Next year I want to be in Spain as much as I can just training and getting more experience," she explained enthusiastically.
"I would love to try and get into the top 200 by like summer next year. I think just trying to increase my ranking as much as I can is the main goal I would say. Keep gaining experience playing different players, playing in different countries and enjoying myself as well."