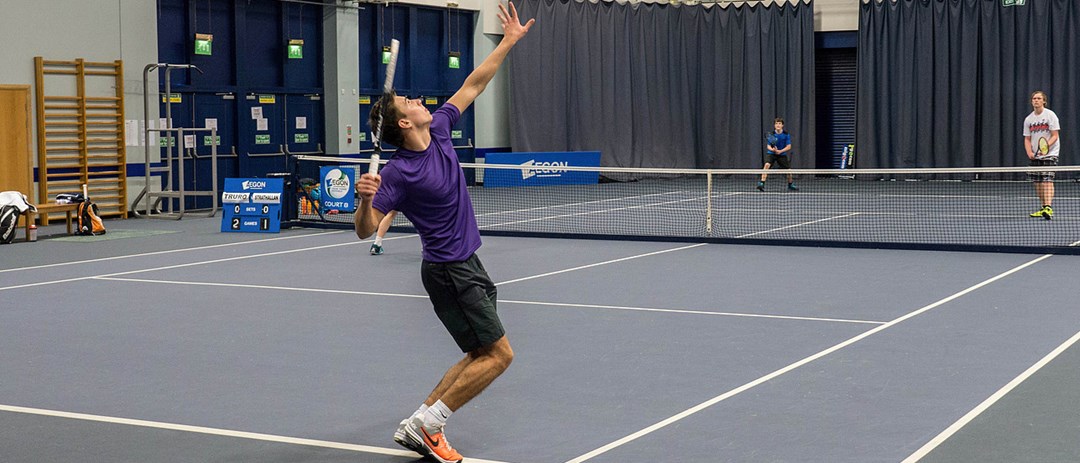 Juniors
Winners crowned in Bolton at the Team Tennis Schools Senior Students Finals
• 3 MINUTE READ
The 2016 Team Tennis Schools Senior Student Finals took place last weekend at the USN Bolton Arena with Exeter College, Truro College Boys and Rugby School picking up the titles.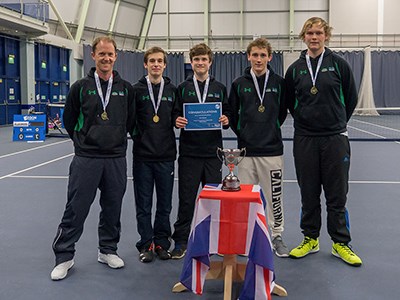 Across the 3 events: Boys, Girls and Mixed, over 1,500 students took part in 2015-16 with more than 300 teams competing in October and November.
The Senior Students competition aims to encourage lower, or non-rated senior students aged 16-18 to play competitive tennis in a team environment.
After the regional knockout stage in January and February, the top teams contested the Finals last weekend with success for the South West, with wins for Exeter College Girls and Truro College Boys (left).
Truro College upset the Boys' top seeds, King's School Grantham in the round robin stage en route to the Finals, where they met defending champions Strathallan School from Scotland. The team from Cornwall made up of Henry Cornish, Charlie Newman, Nicholas Peters and Kieran Trewhella, claimed very close wins at Number 1 Singles, Number 2 Singles and Number 1 Doubles to edge past Strathallan to claim the title.
No.2 seeds Exeter College Girls (below) claimed the Girls title. The team is made up of two pairs of sisters: Aisling and Amber Massey and Katie and Molly Wiltshire and the team were emphatic throughout the weekend. Aisling Massey proved to be one of the stars of the tournament and the Final itself, with very tight 7-6 wins in both her singles and doubles rubber to allow Exeter College to defeat Benenden School from Kent, 10-2 in the Final.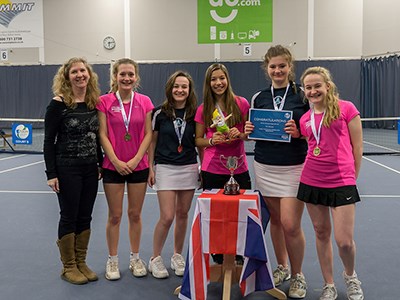 Steve Ashton, Director of Tennis for Exeter College remarked: "I am very proud of the effort our girls team have put into their tennis this year, it was not only fantastic in itself that they qualified for the Senior Students National Finals, but it was an added bonus and a credit to them all for going on to win the event to become Champions. It has been a pleasure to work with the girls all year and to be part of this fantastic team."
The mixed title went to Rugby School from Warwickshire (below). The Boys Champions of 2013-14 got their hands back on Senior Students silverware with a team made up of boys Philip Garthwaite and Ewan Rowlands and girls Lydia Norton and Ocky Spray. The team confidently won Group B with three straight wins to setup a Final versus the top seeds, Ellesmere College. Ocky Spray and Ewan Rowlands proved to be a formidable pair throughout the weekend and maintained their unbeaten run in the Finals to force a shootout against Ellesmere, which was won by the Rugby team.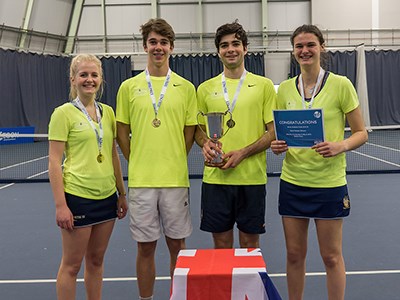 Matt Byford, Circuit Director for the Team Tennis Schools series said: "I would like to congratulate Exeter College, Truro College and Rugby School on their success at the weekend and throughout the competition. The Finals once again saw some great matches played out and I hope all of the finalists and teaching staff left the event feeling inspired to play more tennis. A personal thank you from me to all of the tournament team, particularly Tournament Director Julie Piper and Tournament Referee Peter Grimsdale who delivered a great Finals."