Players News
Andy Murray's 2016 – Game, set, match!
• 3 MINUTE READ
Andy Murray has dominated the tennis stage in 2016 with a total of 78 wins in 17 tournaments, reaching 13 finals and taking 9 titles.
British Tennis looks back at a momentous year for the Brit.
15-0 – Aegon Championships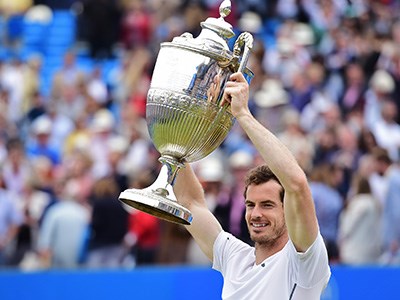 Andy kick-started the year by reaching the final of the Australian Open for a fifth time, but was defeated by regular foe Novak Djokovic 6-1, 7-5, 7-6.
After a slow few months, and following the birth of his daughter Sophia, Andy burst into action at the Rome Masters in May, taking his first title of the year.
Buoyed by this triumph, Murray went on to win the Aegon Championships for a record fifth time, making him the first man to do so and thereby overtaking the likes of Boris Becker and John McEnroe with his victory. "Coming out here to try and win for the fifth time I was really motivated," said Murray.
Fun fact
Andy lifted the trophy for a fifth time, making him the most successful player at The Queen's Club. He moved ahead of a group of seven individuals (including John McEnroe and Boris Becker who have both held the trophy four times), with his tally of five.
30-0 – Wimbledon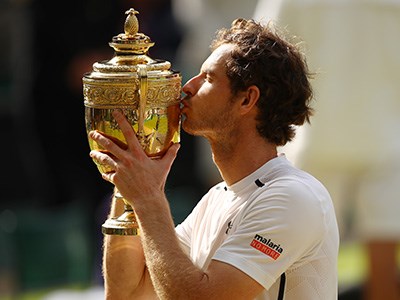 Next stop was Wimbledon, where Andy had been a previous winner in 2013 but had not reached the finals since.
Andy shot off to a fantastic start to the tournament, dropping only two sets throughout the main draw, before reaching the finals for just the third time in his career.
Andy went on to capture the title for a second time becoming the first British man since Fred Perry in 1935 to win multiple Wimbledon singles titles. "I'm proud to have my hands on the trophy again," said Murray.
Fun fact
By winning Wimbledon again, Murray's victory elevated him to the list of just 12 people who have won the tournament twice.
40-0 – Rio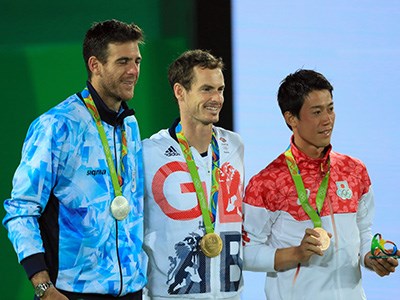 After Wimbledon came the Rio de Janeiro Olympic Games. Andy was given the honour of flag-bearer for Great Britain and led the way for his fellow athletes during the opening ceremony. "The privilege of being the flag-bearer is a moment I will remember for the rest of my life…"
After a gruelling four-set final against Juan Martin Del Potro, Murray made history by defending his Olympic title, making him the first tennis player ever to win two singles gold medals. "I had to fight unbelievably hard tonight to get it."
Despite a disappointing US Open, Andy's fighting spirit continued as he took the China Open title in Beijing, beating Grigor Dimitrov in straight sets. This was the start of his unbeaten run.
Propelled by his performance, Murray collected his sixth title at the Shanghai Masters and another in Vienna just weeks later.
Murray's golden streak was far from over as he defeated John Isner to win his first Paris Masters, bringing his title count up to eight.
Fun fact
Andy was about to go to sleep when the Chef de Mission called to ask him to be flagbearer. He had to get out of bed and get changed before being briefed.
Game, set, match – Year-end World No.1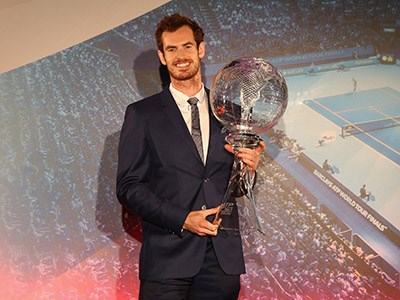 With a run of 19 consecutive wins, Andy now had his sights set on the ATP World Tour Finals and retaining his World No.1 title.
After making it to the final, Andy beat Novak Djokovic in straight sets, claiming his ninth title of the year and joined his brother Jamie in ending the year as World No.1 in the rankings. "Andy is definitely number one in the world," said Djokovic. "He deserved to win. He is the best player."
Fun fact
Winning the ATP World Tour Finals extended Murray's career-best winning run to 24 matches. It also ended Djokovic's four-year run of success at the tournament (and therefore his bid to equal Federer's record of six titles).