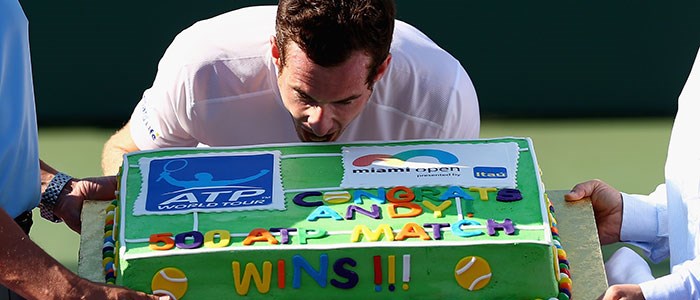 Players News
Andy Murray creates history with career win number 500
• 7 MINUTE READ
Andy Murray became the first British player to ever win 500 career matches after overcoming big-serving Kevin Anderson in the fourth round of the Miami Open.
Murray, who won his first ATP match in 2005, joins 45 other men who have reached the impressive landmark since tennis entered the open era in 1968.
The British No.1 set up a last eight clash with Dominic Thiem with the 6-4, 3-6, 6-3 win and said afterwards: "It's an amazing feeling, winning matches these days is extremely tough. I hope I can use this as motivation to win some more.
"There's different ways of judging the success of someone's career, but winning 800-900 matches is something that's happened very rarely and a difficult thing to do - so it gives you something to aim at."
To commemorate the achievement, we have put together some memorable 'Magic Murray' moments of the past ten years.
2013 Wimbledon – Novak Djokovic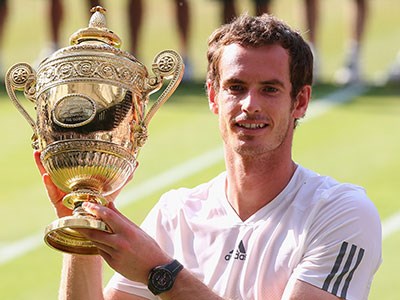 A day that will live long in the memory of the Centre Court crowd and the 17.3 million people watching on BBC One. The 77-year wait was over when Murray clinched the Wimbledon title with a 6-4, 7-5, 6-4 win over world No.1 Djokovic.
A shocked Murray said after: "Winning Wimbledon is the pinnacle of tennis. Mentally, that last game will be the toughest game I'll play in my career."
Watch Murray seal the win over the Serbian to lift one of the most prestigious trophies in sport.
2012 Olympics win – Roger Federer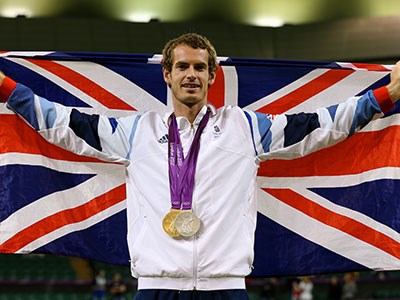 Less than a month after breaking down in tears after losing to Federer in the Wimbledon final, Murray won the then biggest title of his career by overcoming the Swiss star to win an Olympic gold medal.
After powering to a 6-2, 6-1, 6-4 victory during a special summer for British sport, Murray said: "It is number one for me - the biggest win of my life."
Watch a Q&A with the newly crowned Olympic Champion.
2012 US Open – Novak Djokovic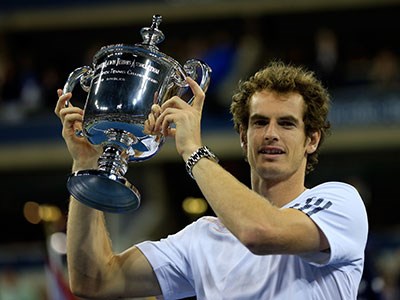 The epic first Grand Slam win. After four previous defeats in Grand Slam finals, Murray silenced the doubters with a mesmerising 7-6 (10), 7-5, 2-6, 3-6, 6-2 win over Djokovic in four hours 54 minutes.
After ending the 76-year wait for a male British Grand Slam winner, Murray said: "It was an incredibly tough match and obviously it felt great at the end, 'relief' is probably the best word I would use to describe how I'm feeling just now."
2005 Queen's Club – Santiago Ventura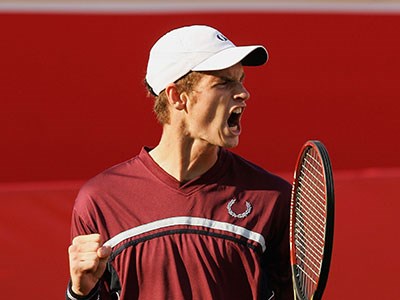 The start of an illustrious career. Handed a wildcard, Murray thrashed Ventura 6-1, 6-2 to win his first ever ATP match. He said after: "This was a very important match for me - one of the biggest of my career."
Following a win over Taylor Dent, Murray went to Wimbledon and reached the third round with a win over Radek Stepanek before falling in five sets to former finalist David Nalbandian.
Watch Murray reminisce about his first match.
2006 Pacific Coast Championships – Lleyton Hewitt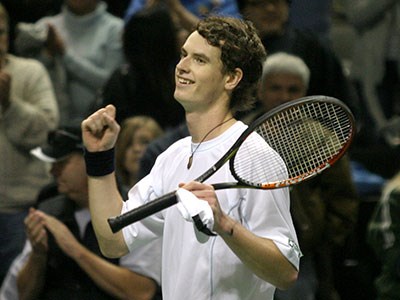 Murray beat his first top ten player in Andy Roddick on route to landing his first big title in San Jose which he described as a "dream come true".
He beat Hewitt 2-6, 6-1, 7-6(3) in the final of the ATP World Tour 250 event and sealed the win with a kiss from girlfriend Kim Sears which put him on the front and back pages of the newspapers in Britain.
2008 Wimbledon – Richard Gasquet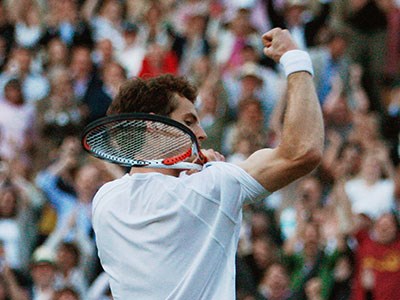 Such an action packed thriller you can buy a DVD of it on Amazon. With darkness approaching, Murray battled back from two sets to love down for the first time in his career to beat the flamboyant Frenchman 5-7, 3-6, 7-6(3), 6-2, 6-4.
After the crowd had stopped cheering his name, Murray said: "That was the best moment I've ever had on a tennis court.
2014/2015 Davis Cup by BNP Paribas tie v USA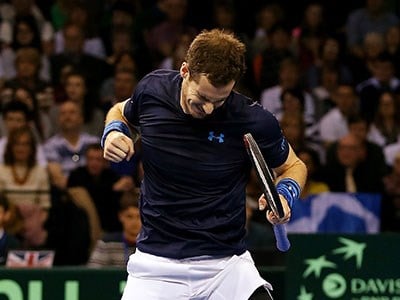 Murray's exceptional Davis Cup singles record stands at 21 wins and two defeats.
Wins over Donald Young and Sam Querrey in San Diego last year helped send the Aegon GB Davis Cup team to the quarter-finals for the first time since 1986.
In March, Murray repeated the feat with wins over Young and John Isner to help set up a home quarter-final clash with France in July.
Watch highlights from the 2015 tie at the Emirates Arena.
2008 US Open – Rafael Nadal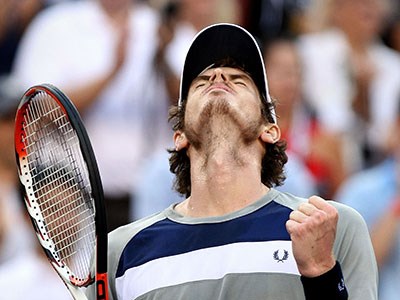 A first Grand Slam final was secured with an important first big win over Nadal, who had beaten Murray five times in a row. The rain-delayed match was held over two days and on two different courts but nothing could stop the British No.1 from downing the Spaniard 6–2, 7–6(5), 4–6, 6–4.
2008 Cincinnati Masters – Novak Djokovic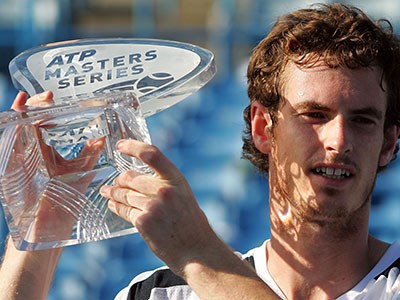 Murray, then aged 21, won his first elite Masters Series title with a stunning 7-6(4), 7-6(5) win over Djokovic which prompted people to say he had joined the 'big four' of men's tennis.
2011 Aegon Championships – Jo-Wilfried Tsonga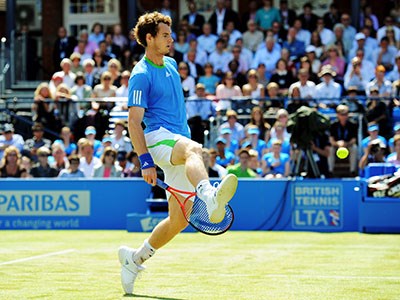 The scene of his most famous shot? On route to his second Queen's Club crown with a 3-6, 7-6 (2), 6-4 win over Tsonga, Murray thrilled the crowd with an outrageous through the legs winner to make the score 5-3 in the third set.
2015 Australian Open – Tomas Berdych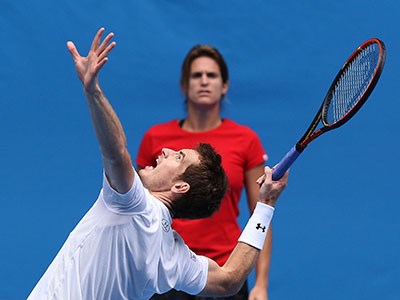 After beating Berdych 6-7, 6-0, 6-3, 7-5 to reach his fourth Australian Open final, Murray showed his class by paying tribute to his coach Amelie Mauresmo.
He said: "A lot of people criticised me working with her and we've shown this week that women can be very good coaches as well."
2005 US Open – Andrei Pavel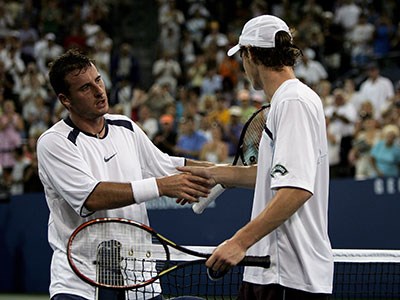 Despite being sick on court in the stifling heat, Murray won his first five-set match 6-3, 3-6, 3-6, 6-1, 6-4 against Romania's Pavel to reach the second round as a wildcard.
"I feel like I've proved a lot of people wrong," said Murray afterwards.