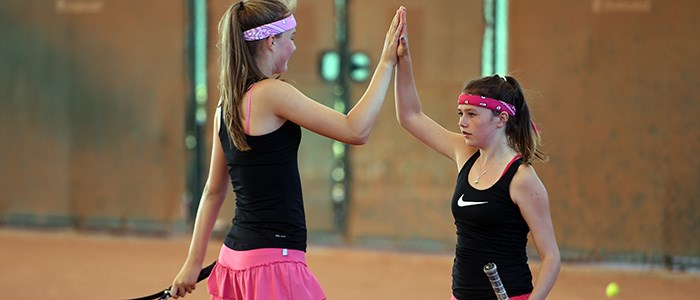 Juniors
Aegon Team Tennis Premier 12-18&U Finals 2015: Tournament Review
• 2 MINUTE READ
A fantastic Aegon Team Tennis Premier 12-18&U season came to an end at the weekend with the winners decided over two highly exciting days at the National Tennis Centre.
Aegon Team Tennis 2015 saw over 5,900 teams competing across events from 8&U to Open (adult) in more than 40 leagues.
24 of these teams, who had all won their respective Tier 1 Region between April and June, were present in Roehampton to battle it out for the boys' and girls' 12U, 14U and 18U titles.
Aegon Team Tennis Premier 12&U – 18&U Winners 2015
| | | |
| --- | --- | --- |
| Age group | Team | Players |
| 12&U Girls | University of Bath Tennis Centre | Amelia Bissett, Jess Doerr, Sophia Hurrion, Amy Leather, Eleanor Nobbs |
| 12&U Boys | Northumberland Tennis Academy | Harry Cookson, William Gray, Ronan Lunn, Matthew Nice, Gareth Rickaby |
| 14&U Girls | Halton Tennis Centre | Lauren Armstrong, Alexandra Hildreth, Scarlett Hutchinson, Isabelle Marshall, Alexa Wilson |
| 14&U Boys | The Edgbaston Priory Club | Daniel Bird, Charley Gregory, Alex Griffiths, Alex Maggs |
| 18&U Girls | Cumberland LTC | Jasmine Dedakia, Katie Dyson, Martina Paladini Jennings, Mizuki Sakurai, Nanami Yamaguchi, Jessica Zeynel |
| 18&U Boys | Reed's Tennis Academy | Ben Draper, Louis Newman, Julian Robinson, Damian Rodriguez |
12U
One of the most enthralling matches of the weekend occurred on Sunday as Sutton Tennis Academy and Northumberland Tennis Academy clashed in the boys' final.
Northumberland battled to land the first three singles rubbers on match tie-breaks but their opponents fought back to win the fourth and both the doubles to force a deciding shootout. The tense match ended with the North East side holding their nerve to regain the advantage and claim the title.
The final event to conclude over the weekend was the 12&U Girls who provided some excellent tennis and entertainment for the spectators with Gosling Tennis Centre and University of Bath Tennis Centre having to be decided by a shootout.
In a see-saw tussle, the teams found themselves level after the singles and doubles rubbers but it was the team from Bath who edged it to come out on top.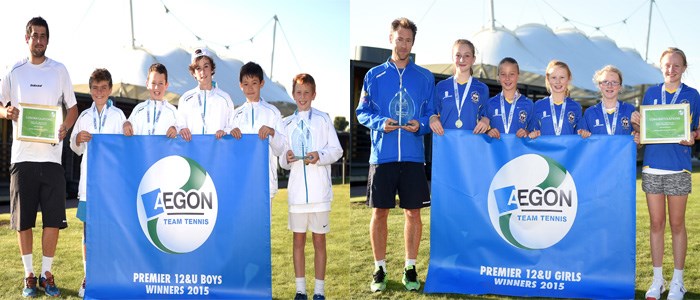 14U
The 14&U Boys event was won by a very impressive Edgbaston Priory Club team who, as top seeds, defeated Bromley Tennis Centre on Saturday before earning an 8-2 win over USN Bolton Arena in Sunday's Final.
In the girls' event, it was a strong Halton Tennis Centre team who lived up to their No.1 seed status by taking the title with a tough 8-4 win over USN Bolton Arena in the final which saw four of the six rubbers decided by match tie-breaks.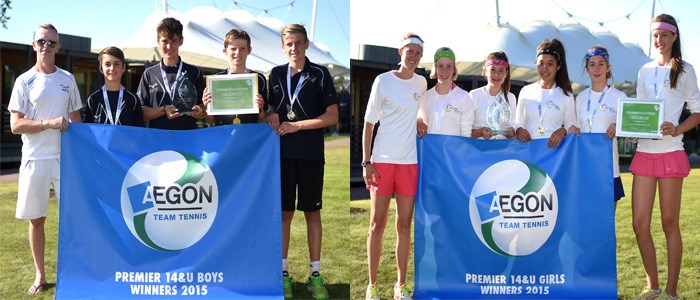 18U
The 18&U Boys event was another event where the top seeds proved to be too strong for their opposition as Reed's Tennis Academy earned a convincing 12-0 win over Nottingham Tennis Centre on Saturday before defeating Millfield School Tennis Club in the final.
In the girls' category, the title was claimed by Cumberland LTC who earned impressive wins over defending champions The West Hants Club in the semi-finals before overcoming Nottingham Tennis Centre 8-2 in the final. Cumberland led 3-1 after the singles with Nanami Yamaguchi and Jessica Zeynel landing the decisive doubles rubber.