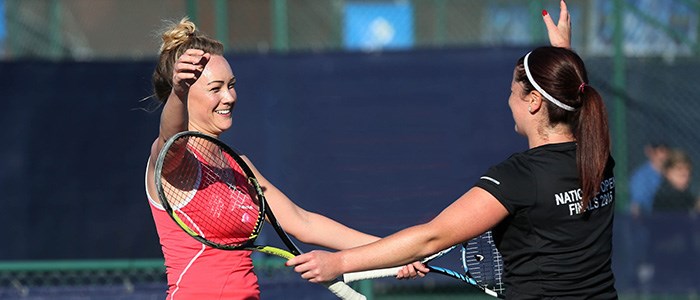 National
Aegon Team Tennis National Open Finals: Tournament Review 2015
• 3 MINUTE READ
An enthralling weekend of action at the Aegon Team Tennis National Open Finals came to an end on Sunday with A1 Pharmaceuticals LTC defending their men's title and Wilton Tennis Club claiming the women's crown for the first ever time.
The West Hants Club in Bournemouth played host to 16 high-quality teams with many players currently holding world rankings on the ATP and WTA Tour.
Both winning teams had come through the play-offs earlier in the year to reach the finals weekend after finishing second in their respective regions.
Route to Glory
| | |
| --- | --- |
| | |
| QF: Mackintosh LTC 8-0 | QF: West Hants LTC 8-4 |
| SF: Bromley LTC 8-0 | SF: Edgbaston Priory Club 10-2 |
| F: David Lloyd Raynes Park 8-4 | F: Holcombe Brook 7-6 |

Men's Finals
A1 Pharmaceuticals LTC squad: Peter Bothwell, Piers Herfet-Jones, Matthew Illingworth, Toby Martin, Harry Meehan, Joe Moore, Neil Pauffley, Marcus Willis
Completed Men's Draw
After comfortably beating their first two opponents without losing a rubber, the final got off to a flying start with the four singles ties being split after some high quality tennis with eight players who all currently hold an ATP singles ranking. It came down to the doubles, which were running side by side, and it was A1 who came through to earn the title with both matches finishing within a minute of each other.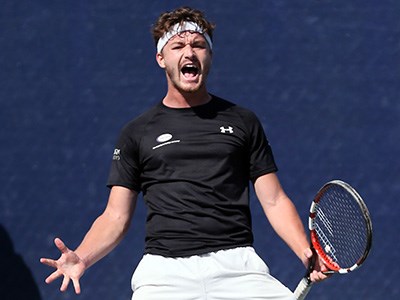 Neil Pauffley and Marcus Willis overcame Jonny O'Mara (pictured) and James Marsalek in a Super Tie-break while Peter Bothwell and Toby Martin beat Colin Beecher and Lewis Burton to ensure the title heads back to Kent for the second successive year.
Gary Lewis, club captain of A1 Pharmaceuticals LTC, said: "I would like to congratulate all my players. Individuals are never perfect but carefully selected and well lead teams can get close to perfection.
"Special thanks to all those involved with A1 Pharmaceuticals LTC that make the sponsorship and management of the team possible. I would also like to thank Tournament Director Matt Byford, Referee Bill Perkins and their team of LTA officials who put on an incredible tournament."
View the men's final results
Women's Finals
Wilton Tennis Club squad: Beth Askew, Aimee Gibson, Michaela Ince, Olivia Nicholls, Crystal Sutar, Lisa Sutton, Tatiana Zheleznyak
Completed Women's Draw
Wilton Tennis Club, a four court venue in South West London, were the No.2 seeds and successfully navigated their way past the strong teams of West Hants LTC and Edgbaston Priory Club.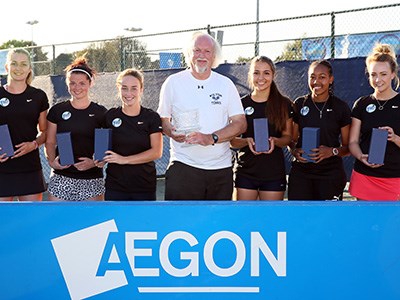 The final was closely contested with 2011 champions Holcombe Brook Sports Club lining up across the court looking to recapture the trophy. After four singles and two doubles, the sides could not be split with them each landing three rubbers.
This resulted in a tie-break shootout taking place. Aimee Gibson won the No.3/4 singles shoot before teammate Olivia Nichols saved a series of match points to reverse a 5-9 deficit and claim the title in exciting and intense fashion.
Wilton Tennis Club Team Manager, Terry Oakes, said: "I've been lucky enough to go to several Olympic Games and to the finals of the World Cup and Wimbledon. None of these, however, were anywhere near as exciting as Wilton versus Holcombe Brook!
"I am so proud of a group of young ladies who displayed phenomenal skill, determination and, above all, team spirit. I should also like to commend all at Holcombe Brook for their graciousness and their part in what was a magnificent advert for the concept of Team Tennis."
View the women's final results.