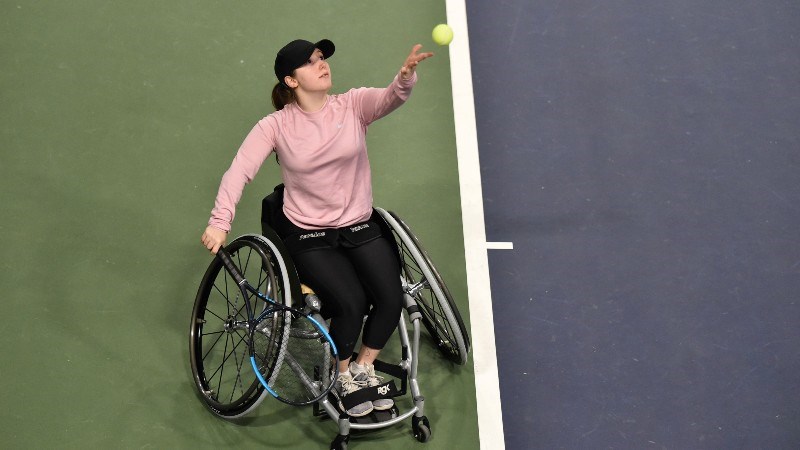 Diversity and Inclusion
2021 Domestic Wheelchair Tennis season concludes with successful LTA Wheelchair Tennis National Finals in Shrewsbury
• 3 MINUTE READ
Andrew Penney and Martha Harris became the first pair of teenagers to win both the men's and women's singles titles at the year-end LTA Wheelchair Tennis National Finals, while Gary Cox claimed his second quad singles title over the weekend as four days of competition hosted by Tennis Shropshire came to a close at the Shrewsbury Club.
Forty-three players vied for five singles and five doubles title at the culmination of the 2021 domestic wheelchair tennis season, with Hampshire 17-year-old Penney closing out an impressive season with four straight sets wins in the men's singles. Penney, who only took up wheelchair tennis in 2019, beat 2018 champion Ruairi Logan 6-4, 6-4 in the men's final, having recovered from 4-1 down in the opening set but building on his own 4-1 lead in the second set.
Check out all the results, scores and draws from the 2021 LTA Wheelchair Tennis National Finals
His winners' trophy was one of two awards that Penney collected over the weekend, having already sealed victory in the LTA Wheelchair Tennis National Series points accumulator after men's singles victories this year in tournaments in Newport, Grantham and Leeds.

Harris left Shrewsbury with four trophies, having arrived at the National Finals with National Series victories already secured in women's singles and doubles after another highly consistent and successful season. She continued her success at the Shrewsbury Club, joining fellow 17-year-old Ellie Robertson in reaching the final with back-to-back straight sets wins, but it was Nottinghamshire's Harris that proved strongest in the final, winning 6-2, 6-4.
Harris and Robertson went on to combine to win the women's doubles with few problems, while the men's doubles final brought the National Finals to a thrilling end as Tony Heslop and Kevin Lewis edged out Gary Cox and Philip Fielding 7-6(7), 3-6, (11-9) after a deciding math tie-break.

Victory for Heslop ensured that the South Wales player left Shrewsbury with two winners' trophies, having already won the men's doubles points accumulator across this season's Wheelchair Tennis National Series tournaments.
Northamptonshire's Cox added the men's doubles runners-up trophy to winners' trophies in both the quad singles and quad doubles. Winner of the quad singles at the 2018 National Finals, Cox won all three of his round-robin matches this year for the loss of just one game throughout the four days of competition, while he partnered Worcestershire's Dan Pennington-Bridges to a 6-0, 6-0 win in the quad doubles final.

While Harris and Robertson dominated the women's singles and doubles draws, there was further success for players on the LTA's Wheelchair National Age Group Programme in the Under 18 junior singles and doubles.
Oxfordshire's Oliver Cox claimed the singles title after a stirring comeback in the decisive match to beat Ruben Harris 1-4, 4-1, (10-6) and finish the round-robin draw with four wins from four matches. After his three wins from four matches in the singles, Harris partnered Cox to drop just one game in the Under 18 doubles decider.
The novice singles title went back to Devon as Josh Pritchard outlasted Pembrokeshire's Harry Thomas for a 6-4, 6-2 victory in the final, while also partnering Nathan Freeman to remain unbeaten in both of their novice doubles round-robin matches.
There was an additional novice division award presented over the weekend and that went to Mariam Ayeni, who won the novice section of the LTA National Wheelchair Tennis Series.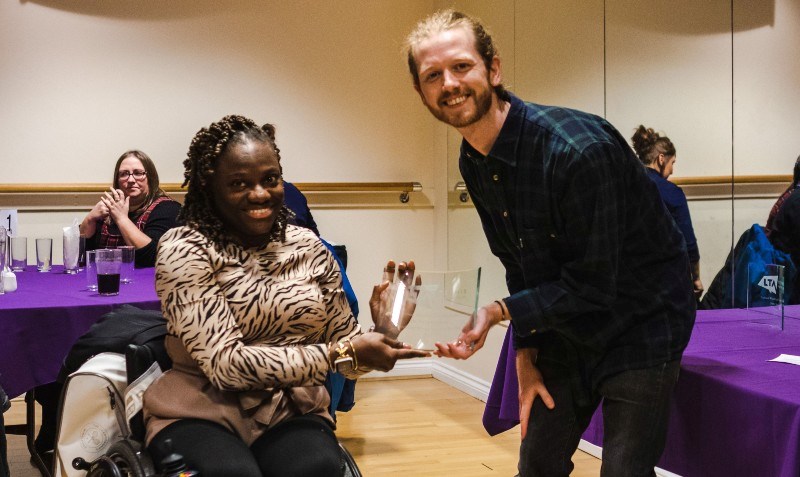 Mariam received the award named in memory of Val Fisher, a stalwart of wheelchair tennis in her native Shropshire and a hugely popular player on the national and international tours, who passed away earlier this year. Val was passionate about encouraging new players to take up wheelchair tennis and the new novice award named in her memory was presented by members of Val's family.
Wheelchair tennis is part of the LTA's Open Court programme, which is one of the biggest disability-specific sports development programmes in the country. The programme is delivered at a local level made up of a collaboration of key partners actively promoting and delivering opportunities for disables people to get involved in tennis through a customer focused approach. To find out more about the Open Court programme and wheelchair tennis, please click here.