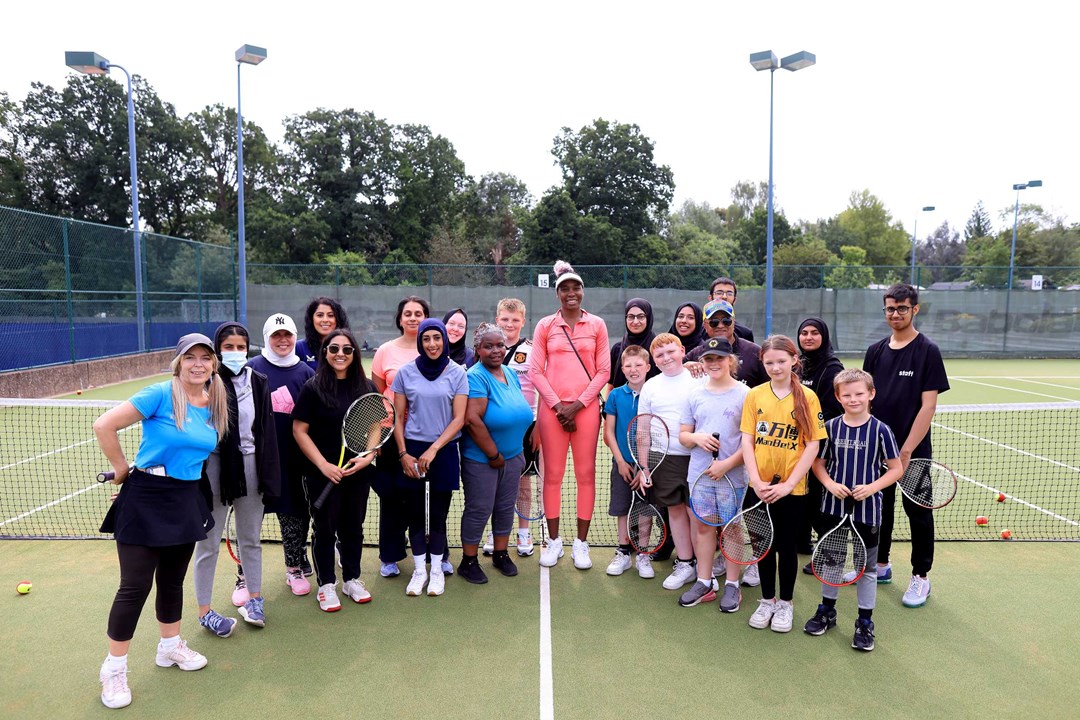 Community
Venus Williams and Elina Svitolina make surprise visit to community groups at the Rothesay Classic Birmingham
• 3 MINUTE READ
The second day of the Rothesay Classic Birmingham marked a memorable day for three community groups, including Carolle and Iman tennis, Sunnah Sports, and Achieving Goalz and Dreams, all who were invited to the Edgbaston Priory Club.
The LTA SERVES programme is an industry leading sport for development programme aimed at children and young people from underserved communities across Great Britain – taking tennis into the heart of communities delivering tennis sessions in non-traditional venues such as community centres, youth clubs and faith centres.
Prior to stepping onto court, group members were under the assumption that they would first undergo a session with LTA SERVES Tennis Activator Nalette Tucker, and two LTA Assistant Level 1 coaches Carolle Forde-Garcia and Iman Mahmood, before taking to the stands to watch some of the action. Little did they know that an unforgettable surprise was awaiting them on the side lines; one that would be sure to not disappoint.
Recently voted as one of the inspiring individuals to make up Radio 4's Woman's Hour Power List 2023, Nalette travelled in from Bradford to join LTA Level One Coaches Carolle and Iman - two inspiring women that deliver free tennis to women and children from diverse backgrounds in Birmingham.
All the groups involved people of diverse backgrounds, ages, and ethnicities as they united on court, dialling into their inner tennis player as they immersed themselves in the games and activities, gradually becoming ever-more buoyed with their rackets.
Rumbles of the seven-time singles Grand Slam champion, Venus Williams, partaking at the tournament began to circulate the group as they announced their surprise to see their tennis idol training on the practice courts. With excitement already coursing through the air, the sight of Venus herself prompted gasps of excitement and utter disbelief as she made her way onto court to surprise them while they all lined up to have their photo taken with tennis royalty.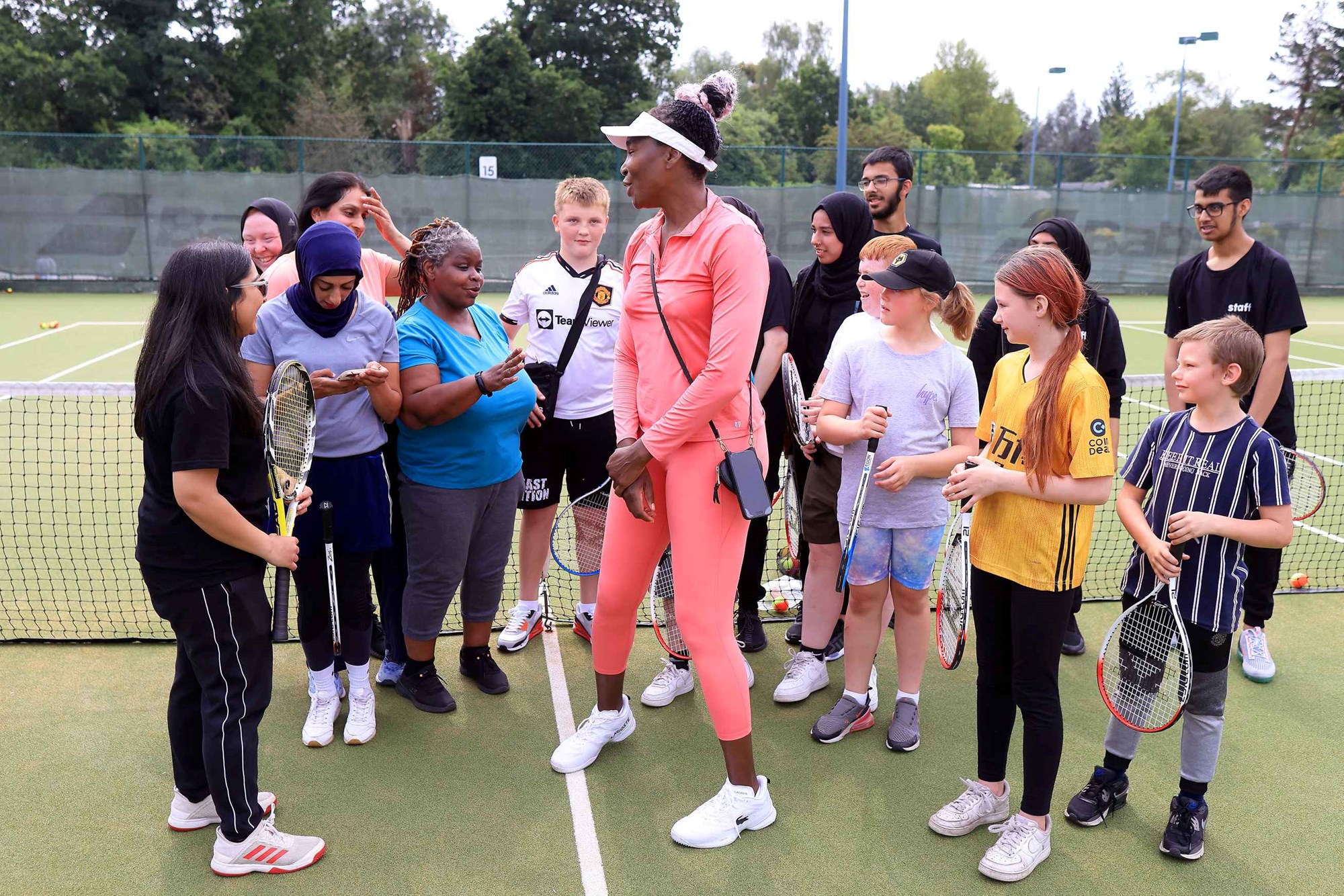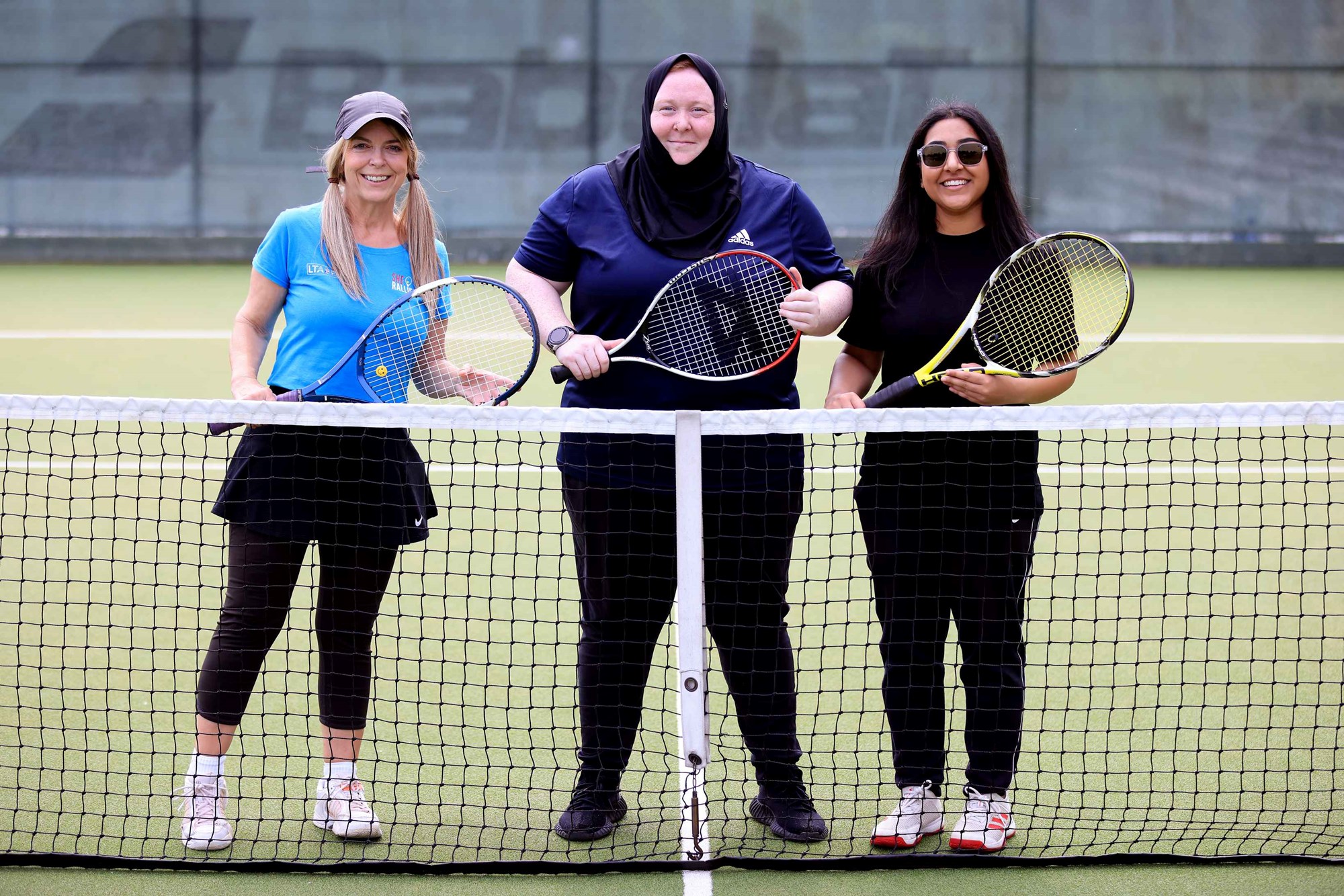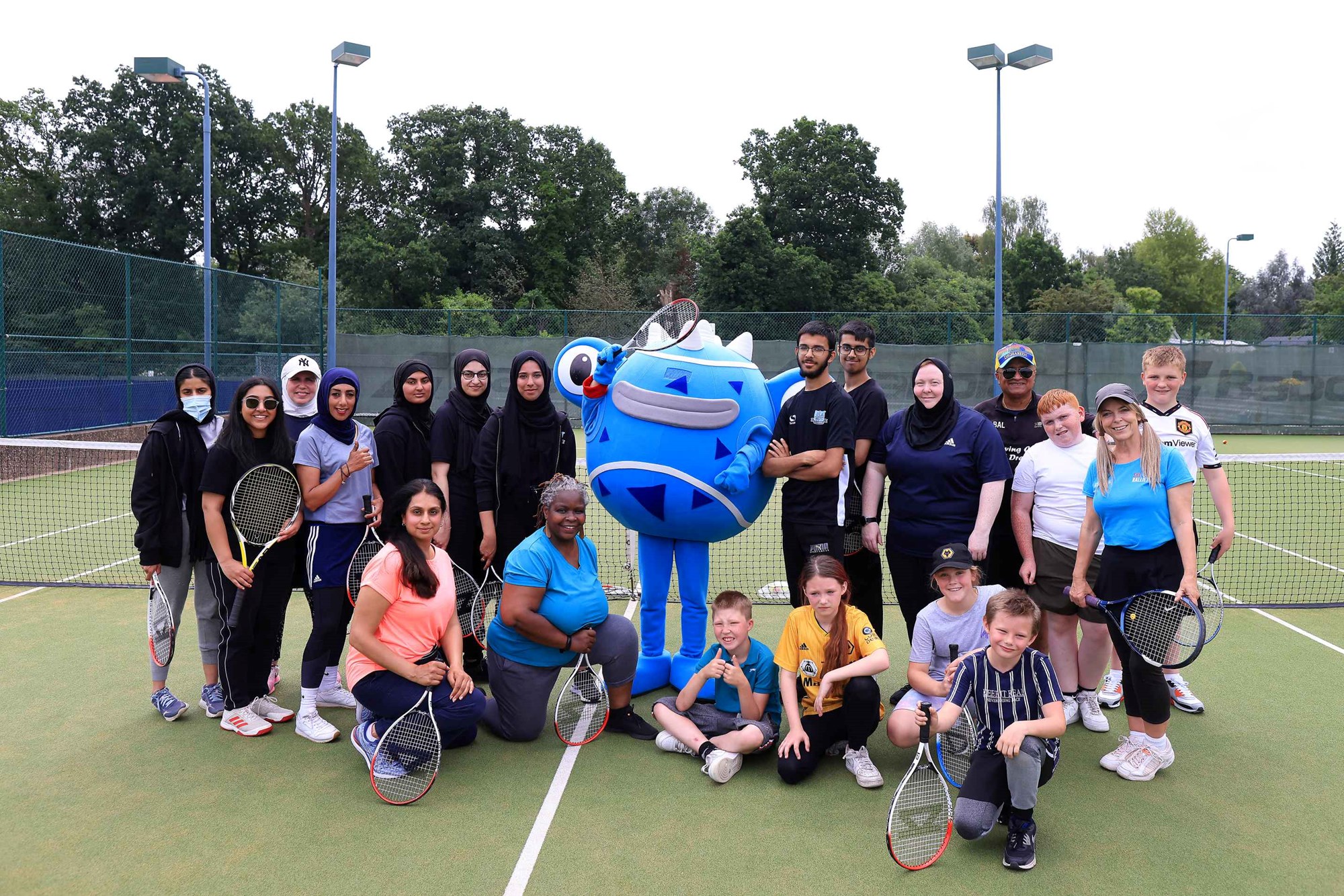 The Williams sisters changed the game. They created a tennis dynasty that, in turn, led to a long-lasting legacy. Having watched both Venus and Serena growing up, Paulette Hakeem, a member of Carolle and Iman's all female group, was left speechless as she stood shoulder to shoulder with someone who led the way for the Black community and beyond. Stood in awe, Paulette had just one question on her mind after meeting her tennis hero: "have you ever made anyone faint before?" she said in jest. "Not yet," Venus laughed.
With everyone still amazed after meeting a legend face-to-face, the community groups were given the opportunity to go on a behind the scenes tour of the entire site before peering through the lenses of a sports journalist, sitting in the press conference room and taking it in turns to sit in the hot seat. However, more surprises yet awaited them as another legend of the sport, former world No.3 and 17-time Tour-level winner Elina Svitolina, joined them for a Q+A where they discussed the inner strength and power of women.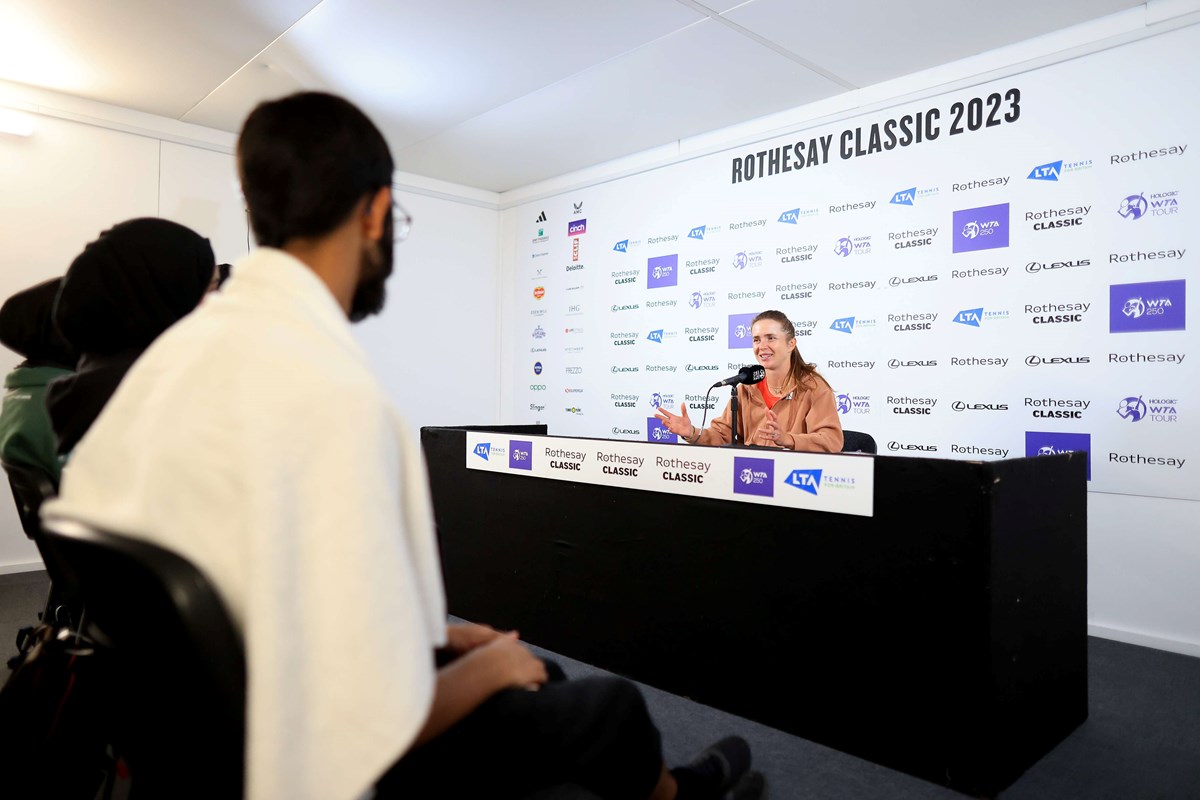 The Ukranian gradually returned to Tour life five months after giving birth, making her first appearance at a WTA 500 event in April before going onto win her first title since 2021 at the Internationaux de Strasbourg less than one month ago.
When asked about the challenges women and girls face in sport, Elina responded, "I think generally people underestimate girls and how strong we are. After giving birth to our first child eight months ago, I realised how much power and strength women have. I think, unless your female, it's difficult to understand what we really go through."
Carolle and Iman, who embody the ethos and spirt of She Rallies, have gone the extra mile in opening up tennis for women of all backgrounds, ages, and abilities, providing them with new opportunities as they look to close the gap and promote gender equality.
"A lot of women are labelled as a daughter, a wife, or a mother," Iman explained. "So, having a programme where there's no pressure on them is important; they can come as they are, they can come with their head scarves on, or however they want to dress. It's their time to get out of the house and be free of all these expectations and to prove to themselves that they can do something."
Following a jam-packed day at the Edgbaston Priory Club, Carolle reflected, "Our women all had a brilliant day! And meeting Venus and Elina was something they won't be forgetting in a hurry!"
Find out more about LTA SERVES & our 'Breaking Down Barriers' strategy
Learn more about our award-winning sport for development programme – taking tennis into the heart of local communities and helping kids aged 4-18 get active through our sport.