CAREER HIGH
21/01/2022 149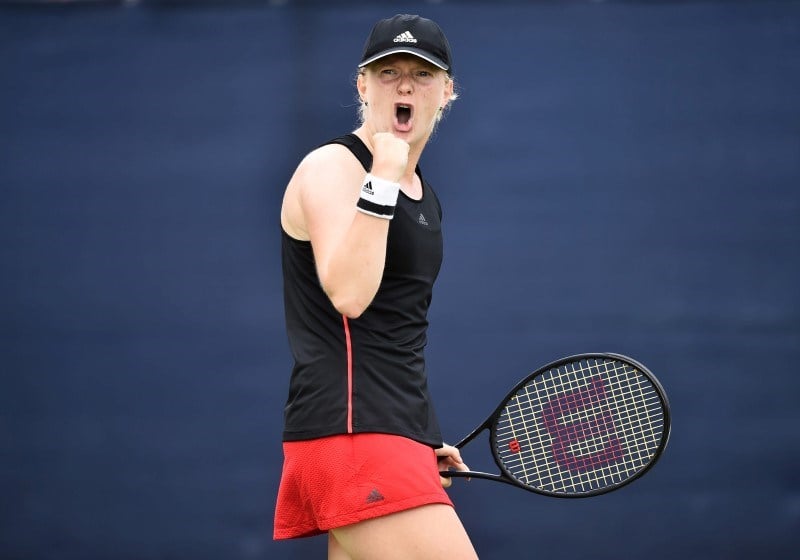 FAVOURITE
SURFACE: All surfaces
AGE23
HEIGHT173 cm
PLAYSRight-handed
BACKHANDTwo-handed
LTA SUPPORT Pro Scholarship Programme
FAVOURITE
SURFACE:All surfaces
About
Keen to find a way to keep three children active during the summer holidays, Simon Jones was driving along, saw a banner outside Heaton Tennis Club in Bradford advertising summer camps, and quickly signed up five-year-old Fran Jones and her older brother and sister. That was the start of her tennis journey.
At the age of nine, Fran Jones moved to Spain to train at the Sanchez Casal Tennis Academy to further her tennis career. At age 16, she moved to Ad-In Tennis Academy (also in Barcelona) where she was based for two years and met her current coach Andreu Giulera. Fran also works with coach Jordi Samper and her fitness trainer is Roberto Vavassori. 2021 marks her fourth year on the LTA's Pro Scholarship Programme, which provides support to the highest potential British players aged 16-24. She also works with the LTA's CMO Jo Larkin and LTA nutritionist Dan Ellis.
Fran Jones was born with a rare genetic condition: Ectrodactyly Ectodermal Dysplasia (EED) syndrome (missing one finger on each hand and three toes) which has required frequent surgeries over the years, but according to herself, never saw this as something that could prevent her from reaching her dreams.
Quick-fire facts
Place of birth: Born in Keighley in the city of Bradford, West Yorkshire. Grew up in Oxenhope until moving to Barcelona at the age of nine
Lives: Barcelona / Weybridge when in the UK
Trains: Trains at the LTA's NTC when in the UK
Likes: Enjoying good food (self-described foodie) – some favourite meals are a traditional paella cooked over a barbeque or Sunday Roast – but is reluctant to single out any dish and these can change! Music – loves everything – if had to pick a favourite album would be Mothership by Led Zepplin. Also interested in property and would like to attend university at Oxford or Cambridge once her tennis career is over (says she had to let go of that dream in order to pursue her tennis) Is also a big football (Manchester United supporter) fan.
Family: Mum – Adele, Dad – Simon – both financial advisors who now live in Weybridge. Brother Daniel (5 years older) and sister Chloe (3 years older).
Self described as: A perfectionist, determined, gritty and extremely competitive.
Tennis Career
April
April marked Jones' comeback to the tour, after being out for more than a year with a nerve issue.
Jones made her first career WTA semi-final at the Copa Colsanitas. The Brit knocked out third seed Nuria Parrizas Diaz in the opening round, before cruising through to the semi-finals where she bowed out to second seed Tatjana Maria 6-3, 6-4. This win saw Jones rise over 400 places to world No.386 as she aims to return to the top 150.
Fresh off the back of a first WTA semi-final on the clay in Bogota, Jones picked up where she left off with a runner-up finish at the W25 Guayaquill - just missing out on her first title since 2021 to top seed Julia Riera 6-2, 7-5.
January
In the first round of the 2022 Australian Open qualifying, Jones had to retire at the end of the first set due to an elbow injury.
This sparked the first in a series of injuries for Jones, who then went on to fracture her foot and suffer with a nerve issue around her playing arm that saw her miss out on the rest of the year on tour.
Made her Australian Open debut as she made her way through three rounds of qualifying to reach the main draw. Fran lost her first round main draw against Shelby Rogers. Fran has since reached the final in an ITF 25K in Argentina and quarter-finals at an ITF 60K in Portugal. After losing in the first rounds of the French Open and Wimbledon, Fran then finished runner-up at the W60 Biarritz and a semi-finalist at the W60 Olomouc - taking her to a new career high ranking of 167.