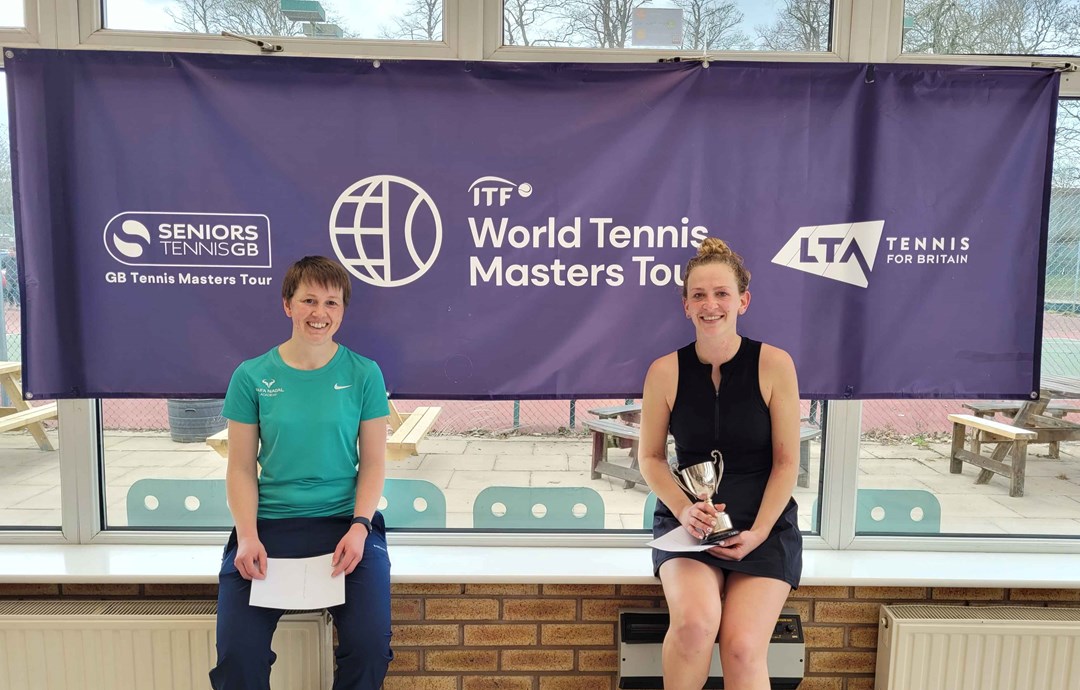 Seniors
The British Open Masters Indoor Tennis Championships 2023
• 7 MINUTE READ
Senior Tennis GB had a record entry in Wrexham this year, with 411 players entering the 38 age group events and a total of 436 matches scheduled across a very busy but successful week.
The first title to be decided was the Men's 85 Singles, which was played in round robin format and won by Leonard Phillips who had previously won the title in 2019, 2020 and 2021, followed by the inaugural Men's 30 Singles title - won by Charlie Swallow, who defeated top seed Joshua Oxley in straight sets.
Dan Cottier was a first-time winner of the Men's 40 Singles, defeating his doubles partner, Zane Cheeseman in a high-quality final. Another final featuring doubles partners was the Men's 80 Singles, where John Andrews defeated defending champion Julian Tatum in a final set match tie-break. Andrews and Tatum then joined forces to win the Men's 80 Doubles title over Cedric Egby & Roy Henderson, who had saved match points in their semi final to win the match tie-break 14-12.
The Men's 35 Singles final featured Simon Ferguson and Pedro Ocana, each playing in their first ITF Masters event - in a close, well fought match, Pedro emerged the victor in three sets.
In the Men's 35 Doubles final, there were three players aiming to 'do the double', but it was Seb Jackson and Pedro Ocano who emerged victorious against Zane Cheeseman and Dan Cottier in an entertaining and close match played on court one in front of an appreciative crowd. Jackson was playing down three age groups and was defending his Men's 50 Singles title this week.
Tom Wride continued his winning streak at the Indoor Championships, adding the Men's 45 Singles to the Men's 40 Singles title he clinched in 2022, when he defeated Jeremy Cross in a very high standard final.
Richard Tutt beat defending champion, John Spratt, to lift the Men's 75 Singles title and they faced each across the net in the Men's 75 Doubles final later in the day. Tutt completed the double, when he and partner Olly Rogger defeated Wilf Jessop and John Spratt.
Hafeez Hameed and Mark Tomlinson made it three titles in a row when they won the Men's 45 Doubles, getting the better of Scott Martin and Bernhard Struck in the final.
In the Men's 65 Singles, top seed Martin Cornish was aiming for a third title in a row, but Bruce Young followed up his win over Paul French in the semi-finals, in an enthralling final. Paul and his partner, Steve Alger took on Tony Alexander and Peter Whitehead in the Men's 65 Doubles final, emerging victorious in a deciding match tie-break.
In the Men's 70 Doubles Final, Boyd Brackstone successfully defended his title with a different partner, teaming up with Jasper Cooper to defeat Alan Rayner and David Willan in straight sets. Cooper then went on to complete the double the following day, after he defeated Niall Sweeney in a tight three-set battle, to take the Men's 70 Singles trophy.
Seb Jackson was aiming to retain his Men's 50 Singles trophy and add it to the Men's 35 Doubles title he won earlier in the week but was foiled by Nick Adams in a very high standard, competitive final, which could easily have gone to three sets.
Graeme Adams and Rajiv Batra reached the Men's 60 Doubles final for the third year in a row, but it wasn't to be, losing to top seeds Anthony Illingworth and Alan Jordan. Later in the day, Neil Howitt and Andrew Hutchinson retained their Men's 55 Doubles title, with a straight sets victory over Greg Kraushar and Roger Kuhlmann.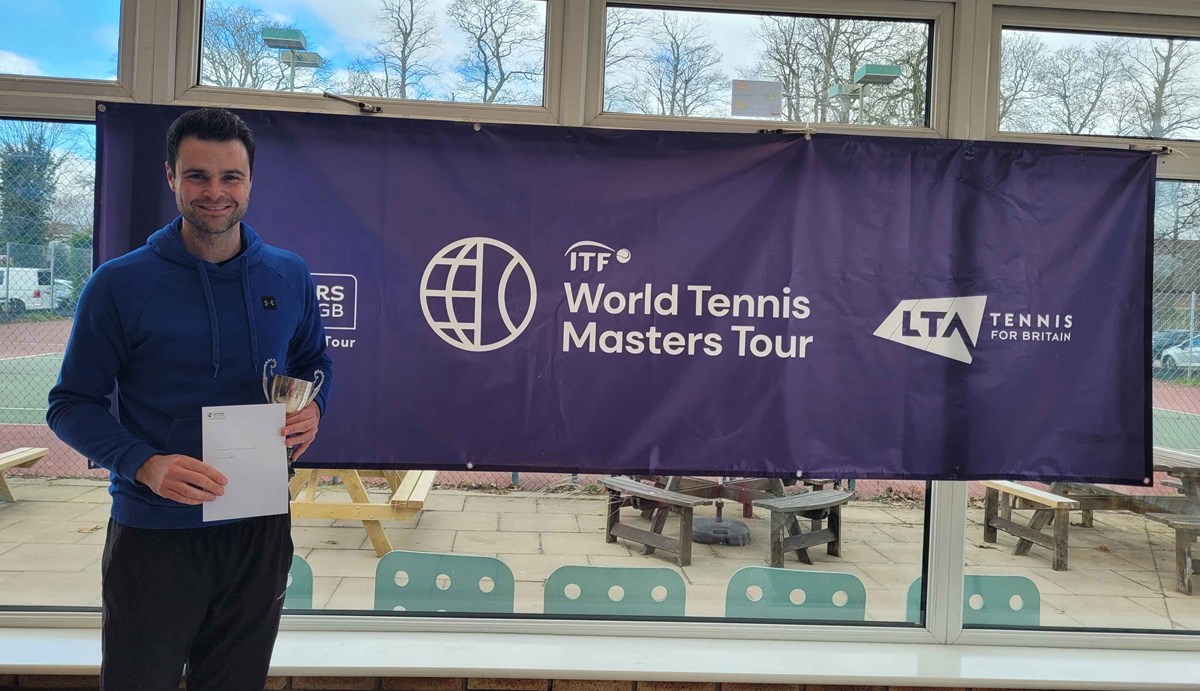 Sadly, the Women's Singles 85 title was decided on a walkover, when Mary Walkerdine withdrew injured, which thereby handed the title to June Pearce.
The first final completed on Saturday was the Men's 55 Singles, with Matthew Coombes defeating defending Champion, Andrew Hutchinson in a clinical display.
On the same day, the 400th match of the tournament was played between Frances MacLennan and Judy Maitland in their Women's 80 Singles round robin encounter.
In a marathon final, lasting almost three and a half hours, defending champion Alistair Alexander overcame a strong challenge from Anthony Illingworth to retain his Men's 60 Singles trophy.
Top seeds Ann Brown and Diana Smith won the Women's 65 Doubles title, defeating second seeds Sue Bartlett and Patricia Wire in a deciding set tie-break. Another top seed pairing win was completed by Pauline Fisher and Shirley Fox, who took on Frances Maclennan and Rosemary Wilson to win the Women's 70 Doubles title.
The remaining two doubles titles to be decided on final Saturday were the Women's 60 Doubles and Women's 55 Doubles. Rosie Dennis and Jenny Hughes were the victors over Jackie Nesbitt and Lorraine Ristic for the Women's 60 Doubles title. In a battle of the top two seeds, it was top seeds Michelle Dutton and Sue Espley who overcame Jane Hunter & Alison Hannah-Taylor in straight sets in the last final of the day.
On the final day, there were 13 titles still left to be decided and the first result of the day was the Women's 80 Singles, with Frances Maclennan defeating defending champion Joan Hassell in straight sets, to add to the doubles title she won the previous day. The conclusion of this match was closely followed by the Women's 40 Singles, with Susie Azoulay adding the title she had won at the Grass Court Closed Championships in 2022 to her collection, when she beat Amy Harris. Shortly after, Sue Bartlett beat defending champion, Jane Rushby, to take the Women's 65 Singles title.
In a repeat of the 2022 Final, Gillian Brook took on Emma Bowen, with Gillian emerging victorious after a tight three-set match. Defending champion, Cath Davies, was unable to repeat the feat of 2022, losing to Jane Hart in a highly entertaining final of the Women's 55 Singles.
Our inaugural Women's 30 Singles event was won by Aimee Kaye, who overcame Hazel Coop in two close sets.
Belinda Blackurn took the Women's 75 Singles title, defeating Wendy Scalinger in the final. Eilidh Smith made it three Women's 45 Singles titles in a row, when she defeated Regina Balcune in a close straight sets win. Meanwhile, Michelle Oldham earned her maiden Women's 50 singles title when she defeated Barbara Griffiths in a tight win. They then faced each other over the net in the Women's 45 Doubles final, with three of the four players having the possibility of 'doing the double'.
In the Women's 70 Singles, Marjory Love also made it three titles in a row, with a win over Susan Winters in the final.
The final titles to be decided for the week were the Women's 35 Doubles, Women's 45 Doubles and Women's 80 Doubles.
In a very entertaining doubles final, which was met by applause from the watching crowd as the winners emerged from the court, Michelle Oldham and Eilidh Smith beat Barbara Griffiths and Jane Hart, thereby completing the 'double' for Oldham and Smith.
The Women's 35 Doubles was played in a round robin format and was won by Maia Dunn and Sarah Wright, who won their final match against Tesni Metcalfe and Joanne Price.
In a fitting end to the tournament, the Women's 80 Doubles final went to a third set match tie-break, with top seeds Dorothy Bamber & Carol Davies saving match points to win the title they last won in 2021, over Margaret French and Joan Hassell.
It was fabulous to see so many players competing at Wrexham and I look forward to seeing many of them again at the British Open Masters Clay Court Championships in Bournemouth from 27 May to 3 June. The Fact Sheet will shortly be available on the ITF IPIN site and entries open on Monday 13 March.