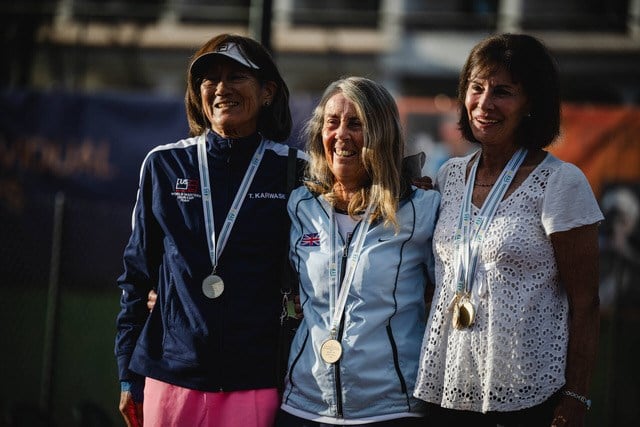 Seniors
Pauline Fisher wins gold at ITF Masters World Individual Championships
• 2 MINUTE READ
Great Britain's seniors tennis star Pauline Fisher came home with a gold medal at the latest ITF Masters World Individual Championships.
The ITF Masters Individual Championships brings together the top players at each age group to battle it out to become world champion in both singles and doubles.
Fisher became the new women's singles 70s champion after defeating long-standing world No.1 and former professional star Tina Karwasky 6-1, 6-4 in the final.
A silver-medallist in the ITF Masters World Team Championships this year alongside Marjory Love and Susan Winters, Fisher lost just one set en route to an historic victory.
The British star has now risen to world No.1 in the seniors 70s category.
There was further success for the Brits competing in Capdepera as men's 70s doubles duo Jasper Cooper and Boyd Brackstone won the gold medal.
Cooper and Brackstone defeated American team Dennis Engelbrecht and Rollin Rhone in the final 6-3, 6-4 to secure Great Britain's second gold of the competition.
The Brits also had representation in the finals of the women's singles 75s and 80s – with Belinda Blackburn and Frances Maclennan finishing the week as silver medallists. Maclennan also picked up another silver in the 80s doubles with Switzerland's Susy Burggraf.