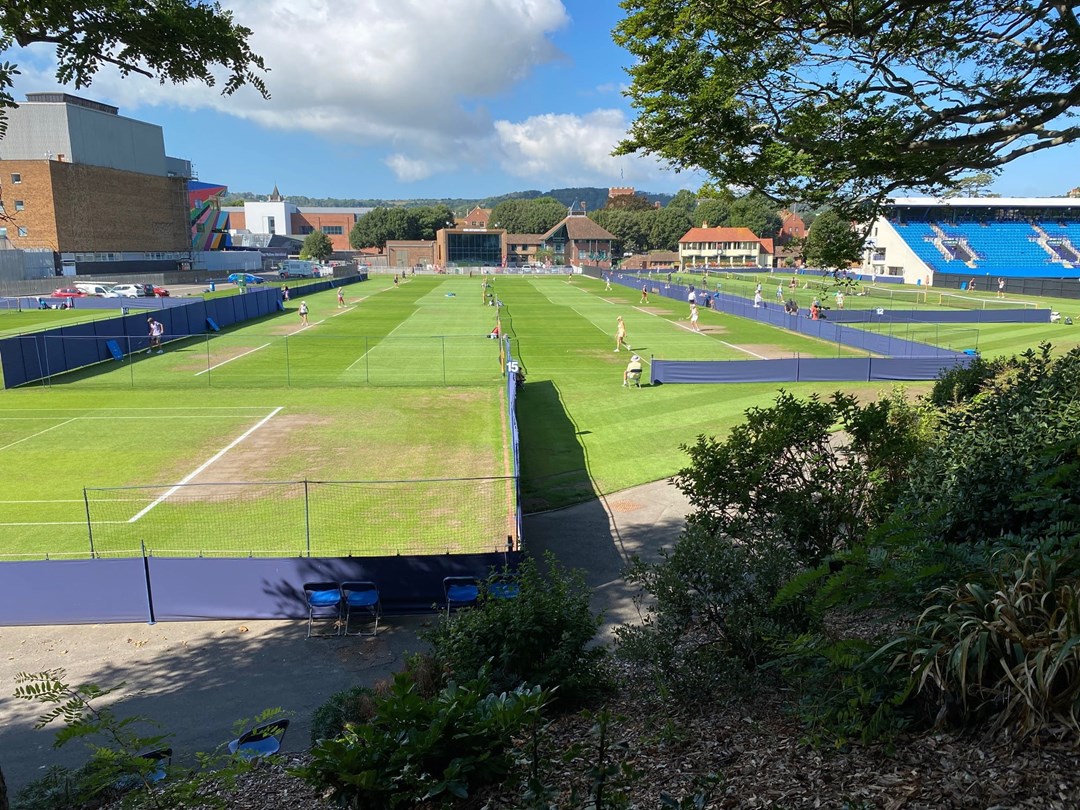 Seniors
British Open Masters Grass Court Championships 2022 Report
• 3 MINUTE READ
The British Open Masters Grass Court Championships, played on the lush grass courts of Eastbourne, took place from 22 to 27 August.
There was a bumper entry of 80 more players than in 2021, with a massive influx of female players at double the numbers last time. 58 overseas competitors arrived from 23 countries, keen to sample the grass courts - 11 of whom reached finals and eight of these carried off titles. What could go wrong?
Well, a shower on the Tuesday cost a three-hour delay and a thunderstorm overnight on the Wednesday washed out all play on Thursday. With an existing schedule of 95+ matches a day, singles matches were reduced to two sets and a match tie-break if needed. Some players needed to play three matches, singles and doubles, on Friday and Saturday to complete the tournament. Players well understood the necessity for this and there were few complaints or withdrawals.
The decision to accept all entries resulted in large draws at the Men's 50, 55 and 60 age levels, and respectable draw sizes in all other events. This meant that, unusually, there was only one round robin event, for the Women's 30 singles. The experiment of introducing ten-year age gaps in the doubles misfired because the draws became almost too large to be accommodated comfortably and this will be reviewed.
The loss of a full day meant that the popular Consolation events couldn't be held due to the lack of court time, but day-long availability of the three practice courts compensated.
It was sad to note the absence of older age group players, women of 70 upwards and men of 85 and 90, the conclusion being of their understandable reluctance to compete again so soon after the Closed championships at Wimbledon the week before.
It's difficult to pinpoint the most outstanding performances as the overall standard was high. The younger men's competitions provided some spectacular, well-fought matches. Zane Cheeseman repeated his success of the previous week in winning singles and doubles (with Stephen Weatherall) titles at the 35/40 level; Henk Nijeboer continued his dominance of the Men's 80; while Debbie-Louise Hale featured in the 35s singles, runner-up to Lauren English of Australia, and 40 doubles winner with Georgina Bartholomew; while Pauline Fisher was the winner of 65 singles, and doubles with Pat Wire.
Our overseas visitors all appeared to cope with the peculiarities of grass court play and we welcomed back Federico Lenzi of Italy, last seen as the 2016 Men's 55 winner, making it to the 60 singles final but bowing out to the clinical Austrian Hannes Lienbacher. Meanwhile Brian Clark from South Africa was successful in both the 55 singles and 50 doubles, with Alan Jordan.
Finally, after 6,552 games in 752 sets, it must be said that none of this was possible without the commitment and hard work of the team: Peter Grimsdale (referee); Angela Grimsdale (tournament secretary), Stacey Hartshorn (control table), Tony Grattan-Cooper and Michelle Barber back at base handling the cash. A big thank you to all.
The complete draws may be seen below: