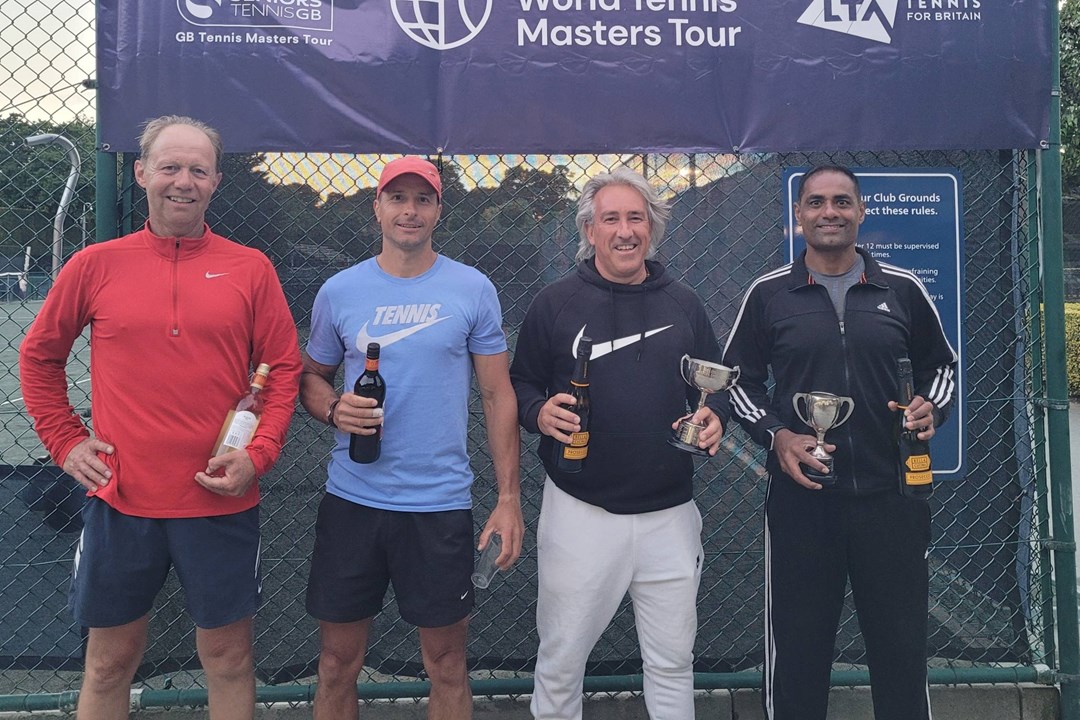 Seniors
2023 British Open Masters Clay Court Championships
• 5 MINUTE READ
The British Open Masters Clay Court Championships at the West Hants Club in Bournemouth was met with glorious sunshine for the whole week from 27 May to 3 June.
This year, there was a vastly increased entry list, resulting in 445 players competing in 473 matches over the 8 days, in all categories ranging from 30s to 90s.
The first title to be decided was the Women's 35 singles, which was played in a round robin format and won by Lucie Butler. Following swiftly after the conclusion of that match, Toby Churchill overcame Joshua Oxley in straight sets to win the inaugural Men's 30 singles title.
Ashley Wilson from New Zealand became the 1st New Zealand player to win a Men's 90 singles title overseas, when he beat Lennie Lawrence in the final match of their round robin.
The Women's 40 doubles was won by Debbie Hale and Sarah McFadyen.
The Men's 80 doubles was also played in a round robin format, with David Trew retaining the title with a different partner this year, Peter Friedmann.
Six finals were played on Tuesday, in bright sunny conditions. In a very close Men's 85 singles final, Robert Milner overcame a strong challenge from Timothy Dean to retain his title.
In a repeat of the 2022 final, Johanna Tyreus Stanley faced Sarah McFadyen, with a reversal of the result as top seed Johanna won in straight sets, to deny Sarah the double of singles and doubles titles this week.
When Peter Friedmann took to the court for the Men's 80 singles final, he was also hoping to do the double and he achieved it in fine style, defeating the No1 seed from Italy, Paolo Occhipinti. The first set was a marathon, Peter winning on a tie-break at 16-14.
Timothy Dean made up for any disappointment from the singles final earlier in the day, when he teamed up with Derek Backhouse to defeat Gene Harris and Gordon Oates in the Men's 85 doubles.
The Men's 35 doubles title was won by Tom Barton and Simon Ferguson, beating Ryan Bougourd and Ricki Foster in a close fought and entertaining final.
The last final of the day was the Men's 45 doubles, which was completed under floodlights and won by Hafeez Hameed and Mark Tomlinson, who overcame Terry Coles and Peter Kiss.
Wednesday dawned a bit cloudier and chillier than previous days, but the sun soon burst through and shone on the three singles finals. The first to finish was the Men's 35 singles, with Simon Ferguson beat James Daly in three high quality sets.
In a repeat of the Men's 40 singles final from this year's Indoor Championships at Wrexham, doubles partners Zane Cheeseman and Dan Cottier faced each other across the net. The final went to the wire, with Dan winning in three sets.
The Men's 45 singles final was also a three-set affair between Tom Wride and James Smith, with James emerging victorious to retain his title.
The only final scheduled for Thursday was the Men's 75 doubles, which was again played in glorious sunshine - Chris Ornstien retained his title, this year partnering with Richard Tutt, who combined to beat Roy Halfpenny and Wilf Jessop.
Friday was another bright, sunny day at West Hants, once the sun broke through the clouds. Seven scheduled finals and the first to finish was the Men's 70 singles - Niall Sweeney retained his title with a straight sets victory over Jasper Cooper. Later in the afternoon, Jasper and Niall faced each other across the net for the Men's 70 doubles title. Jasper partnered with Boyd Brackstone to take the victory and deprive Andrew Stanley and Niall the opportunity of the double and allow Boyd to retain his title.
In the Men's 75 singles final, doubles winners Chris Ornstien and Richard Tutt faced each other. Chris was unable to retain his title, with Richard winning in two close sets.
The Men's 50 singles title was won by Pieter Van Houten, defeating Hafeez Hameed in another straight sets victory.
In the Men's 65 doubles event, Paul French was attempting to retain the title he won last year with Alec Allen, but it was not to be as he and partner Keith Banister lost to Martin Cornish and Brian Thomas in an entertaining doubles final.
Saturday dawned warm and sunny for the remaining finals and first to finish was Dee Smith, who retained her Women's 65 singles title with a win over Gillian Young. Shortly after, Christine French completed a win over last year's beaten finalist Rhian Griffiths, to win the Women's 60 singles title.
It was a successful day for the French family as Paul French beat Martin Cornish to retain his Men's 65 singles title.
Local favourite Matthew Coombes beat Ben Knapp to retain the Men's 55 singles title, to add to the Men's 55 doubles title he won yesterday.
Another player to complete the double was Chris Hearn, who retained the Men's 60 singles title to add to the doubles he won the day before.
Susan Hill returned to competitive singles play to take the Women's 80 singles and June Pearce returned to title winning ways in the Women's 85 singles. Both these events were played in a round robin format.
The final singles title to be decided this week was the Women's 55 singles, which lasted over three hours, with Michelle Dutton overcoming top seed Alison Hannah-Taylor in three close sets. Michelle returned to the court with partner Susan Espley in the Women's 55 doubles final against Siobhan Nicholson and Debra Schmidt. In the last match of the tournament to finish, Michelle and Sue overcame a strong challenge from Siobhan and Debra to take the title.
The Women's 80 doubles event was won by Dorothy Bamber and Carol Davies, who went one step further than 2022, as did the Women's 65 doubles winners, Ann Brown and Dee Smith, enabling Dee to win both the singles and doubles this year. Both of these doubles events were played in round robin format, as was the Women's 75 doubles which was won by Belinda Blackburn and Wendy Scalinger.
Jenny Hughes and Jackie Nesbitt overcame Rhian Griffiths and Wendy Johnson in a thrilling Women's 60 doubles final, which went to a deciding match tie-break. In a battle of the top seeds, No.1 seeds Pauline Fisher and Shirley Fox defeated Marjory Love and Christine Windmill to take the Women's 75 doubles title. In another battle of the top seeds, it was the top seeds who were victorious as Sara Jenkins and Michelle Oldham beat Maia Dunn and Mili Shah to take the Women's 45 doubles title.