Tennis Wales
New Competitions announced in Wales
• 2 MINUTE READ
Tennis Wales has announced a number of new competitions taking place throughout 2020, aiming to attract more high profile domestic events to Wales.
The new events, for both juniors & seniors will feature a new LTA Grade 2 Junior Open event in Wrexham, new British Tour and Disability events North and South and a new Welsh Veterans Championships planned for August in Cardiff.
Mark Lewis, commenting on behalf of Tennis Wales said "We are hugely excited about bringing more high-level competition opportunities to Wales. We have worked closely with the LTA over the past few months in order to provide a much broader competition calendar. This will give Welsh players the chance to compete on their doorstep while attracting players from all over the country to come and play at some of our fantastic venues here in Wales.
We are looking forward to working with our various partners to deliver some excellent events, while continuing to retain a big focus on working with existing and new venues and referee's, to ensure there is local competition opportunities that cater for all levels of player's playing the game ".
The new events are taking place as follows;
Wheelchair Tennis Tournament 7th-8th March at Newport Tennis Centre
Visually Impaired Regional Tournament 21st-22nd March at Newport Tennis Centre
The Welsh Junior Open Grade 2 4th-11th April at Wrexham Tennis Centre
Welsh Senior Tennis Championships 14-16th August at David Lloyd Club Cardiff
Wrexham British Tour Tier 2 14th-19th September at Wrexham Tennis Centre
Learning Disability Tournament 3rd-4th October at Newport Tennis Centre
William and Shaw capture Tier 1 British Tour titles in Wales
Middlesex's Tiffany William took the Womens' title at the LTA British Tour, Penarth, sponsored by Chiltern - while Buckinghamshire's Michael Shaw was crowned Mens' champion.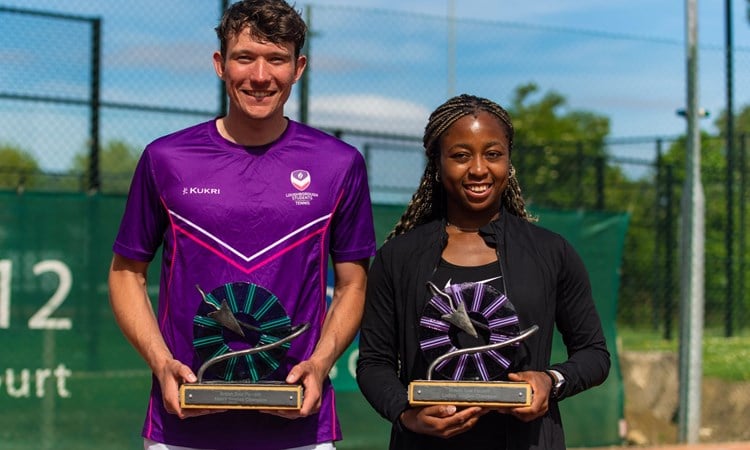 Non-executive director wanted for Tennis Wales Board
We're looking for a dynamic, passionate and professional person  to join us on the Tennis Wales Board.
Susie Griffiths wins LTA Award
Bangor Tennis Club member, Susie Griffiths, won the Cathie Sabin Volunteer of the Year gong at LTA Awards for her work in boosting membership and tennis participation at the club.