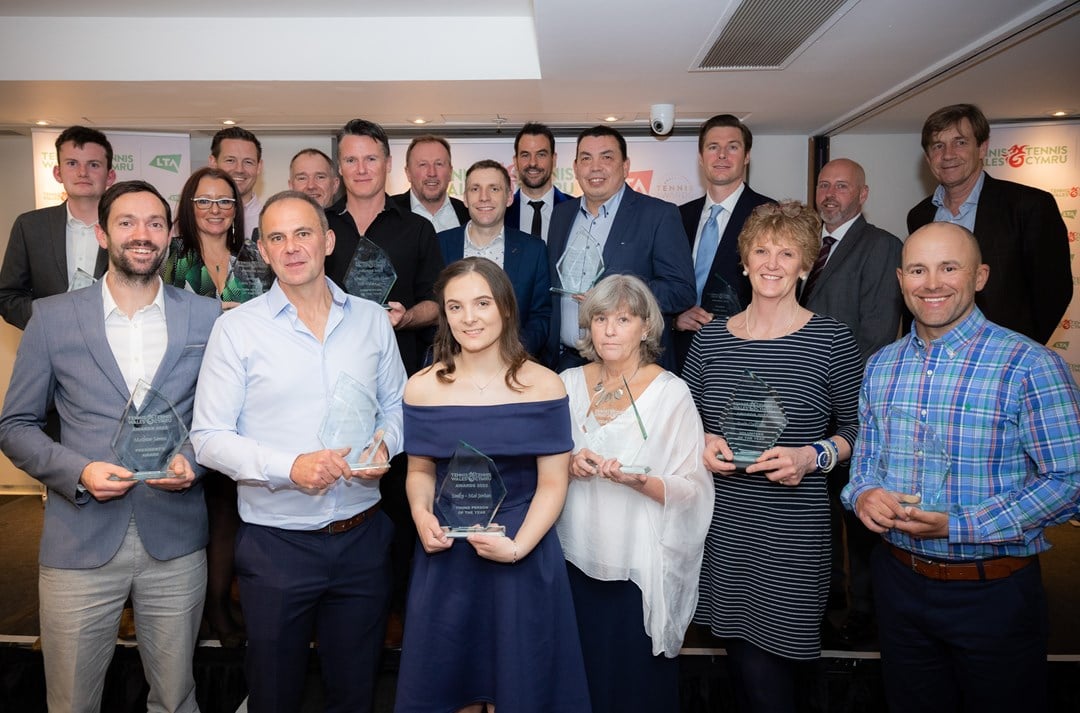 Tennis Wales
Don't miss the 2022 LTA Tennis Awards
• 3 MINUTE READ
The wait is almost over for the seventh instalment of the annual LTA Tennis Awards ceremony, which will be broadcast across the LTA YouTube and Facebook channels on Thursday 19 May from 8pm.
The evening will be hosted by LTA President David Rawlinson and presented by Great Britain Davis Cup captain and LTA Head of Men's Tennis Leon Smith, with a selection of players, celebrities and special guests presenting the awards to the national winners.
Alfie Hewett, Emma Raducanu, Joe Salisbury and Cam Norrie are on the four-player shortlist for the Player of the Year award, having all been named category winners back in February. Ben Bartram, Matilda Mutavdzic and Jack Pinnington Jones are nominated in the Junior's Player of theYear category.
Launched in 2015 with the help of former LTA president Cathie Sabin OBE, the awards
celebrate the achievements of those players on the international stage, but also recognise the many inspirational individuals involved in tennis at a grassroots, county and regional level, dedicating their precious time and energy to the sport. The contribution of these individuals and venues helps to bring fans and players closer to the game we all love.
The quality and quantity of the nominations demonstrate outstanding work that has been done in tennis throughout the last year and David Rawlinson, LTA President, said:
"The LTA Tennis Awards are a real celebration of the people that make our sport thrive.

"They acknowledge the achievements made by outstanding volunteers, coaches, officials, venues and players, who are all vital in helping us to grow the game.

""I would like to congratulate all the nominees for making it to the national final and wish them the very best for Thursday evening."

The awards will be streamed from 8pm on Thursday 19 May on the LTA Facebook page and on the LTA's YouTube channel.

Who's in contention...

All of the fantastic finalists for this year's awards are listed below in their nominated category.

Player of the Year Award
 Alfie Hewett (Norfolk)
 Emma Raducanu (Kent)
 Joe Salisbury (Surrey)
 Cam Norrie (Scotland)

Junior Player of the Year
Three of Britain's up and coming players make up our shortlist for this accolade, having each already been voted category winners.
 Matilda Mutavdzic (Oxfordshire)
 Jack Pinnington Jones (Kent)
 Ben Bartram (Norfolk)

School of the Year
Over the last year we have seen the number of schools registered to LTA Youth Schools surpass 8,500, providing an opportunity for close to one million children to develop their physical and character skills through tennis at school.
 Deal Parochial Church of England Primary School (Kent)
 Gretton School Cambridge (Cambridgeshire)
 John of Rolleston Primary School (Staffordshire)
 Myddelton College (Wales)
 St Mary's School, Hull (Yorkshire)
 Strathallan School (Scotland)
Official of the year
There are nearly 1,000 officials who support the game at every level from grassroots up to elite tennis, very often in a voluntary capacity.
 Geraldine Breed (Bedfordshire)
 Mike Crossley (Sussex)
 Tom Kinloch (Northumberland)
 Parul Patel (Somerset)
 Vikki Patterson (Scotland)
 Kelly Thomson (Lincolnshire)
 John Williams (Wales)

Competition of the Year
The LTA delivers just shy of 10,000 recreational competitions via its network of officials, organisers and County Associations.
 Defiant Sports (Sussex)
 Battle of Shropshire (Shropshire)
 Huddersfield Lawn Tennis and Squash Club (Yorkshire)
 The Nairn 90th Tournament (Scotland)
 East Gloucestershire Club (Gloucestershire)
 Rhiwbina Tennis Club ITF Welsh Open (Wales)
 Suffolk Tennis Grand Prix (Suffolk)

Communities and Parks Award
The Communities and Parks Award, recognises achievements across the thousands of park sites and within communities across Britain.
 Beacon Park Tennis (Staffordshire)
 Headway and Jo Dallas (Hampshire & Isle of Wight)
 Achieve Thrive Flourish and Stuart Long (Essex)
 G Tennis and Chris Marshall (Surrey)
 Musselburgh Tennis Club (Scotland)
 Newport Tennis Centre (Wales)
 Priory TC and Andy Perry (Cheshire)
Development coach of the year
There are nearly 6,000 LTA Accredited Coaches in Britain and this award recognises their
exceptional contributions to grassroots and development tennis.
 Vicky Evans (Durham & Cleveland)
 Jimmy Smith (Sussex)
 Philip Loose (Dorset)
 Graeme Walker (Scotland)
 Matthew Watson (Suffolk)
 Edward Whetton (Leicestershire)
 John Whitehall (Wales)

Performance Coach of the Year
The Performance Coach of the Year focuses on coaches who have made a significant impact at a performance level.
 Mat Dunkley (Bedfordshire)
 Ben Haran (Surrey)
 Andrew Higham (Nottinghamshire)
 Karen Lamb (Scotland)
 Rob Morgan (Yorkshire)
 Morgan Phillips (
 Geraint Richards (Wales)
 Andrew Richardson (Suffolk)
 Ollie Sharpe (Devon)
 Mark Taylor (Nottinghamshire)
 Simon Thornewill (Cheshire)
 Craig Veal (Surrey)

Young Person of the year
Each year the LTA Youth Tennis Leaders programme attracts over 2,000 young people into
volunteering and leadership opportunities. This award highlights some of the incredible young people who, through programmes such as this, have stepped up and gone above and beyond to deliver tennis in the most innovative of ways.
 Ruby Bishop (Norfolk)
 Aidan Dell (Devon)
 Jayden Hobbs (Sussex)
 Emma Howat (Scotland)
 Emily-Mai Jordan (Wales)
 Edward Knight (Cheshire)
 Kian McGrath (Herefordshire and Worcestershire)

Club of the year
Tennis clubs are at the heart of their communities, with many run by volunteers. Across Britain we support over 2,600 clubs through LTA Venue Registration, providing support, guidance and resources to help them grow the sport – to allow them to play a vital role in opening up tennis to adults and children.
 Bridgend Lawn Tennis Club (Wales)
 East Gloucestershire Club (Gloucestershire)
 Esher Lawn Tennis Club (Surrey)
 Grantham Tennis Club (Lincolnshire)
 Montrose Tennis Club (Scotland)
 Oxford Sports Lawn Tennis Club (Oxfordshire)
 Yarm Tennis Club (Durham & Cleveland)

Disability Award
The LTA Open Court disability tennis programme is one of the largest of its kind across any sport, and with the support of Sport England has helped a record number of disabled people enjoy the benefits of being active through tennis.
 Defiant Sports (Sussex)
 Carol Jones (Scotland)
 Newport Tennis Centre (Wales)
 LUSU Sports (Cheshire)
 Grantham Tennis Club (Lincolnshire)
 Tennis Able (Norfolk)
 Tennis Ability at Oxstalls Tennis Club (Gloucestershire)

LTA President's Award
The LTA President's Award is given at the discretion of the LTA President to an individual or group for doing something exceptional in tennis.
 Arum Akom (Essex)
 Donna Andrews (Norfolk)
 Tessa Bass (Sussex)
 Sara Butler (Warwickshire)
 Mathew James (Wales)
 Sarah Lacey (Oxfordshire)
 Chris Marshall (Surrey)
 Northumberland Ladies (Northumberland)
 Royal Wootton Bassett Tennis Club (Wiltshire)
 Brenda Stewart (Middlesex)
 Grace Stockdale (Cheshire)
 Graeme Soutar (Scotland)

The Cathie Sabin Volunteer of the Year Award
Named in honour of Cathie, the former LTA President, this award reflects the unrivalled passion she had for recognising the contributions of the unsung heroes of tennis – the volunteers that keep tennis going throughout the year come rain or shine.
 Michael Goldie (Scotland)
 Susie Griffiths (Wales)
 Sheila Hirst (Cumbria)
 Rita Mahli (Essex)
 Julie Marks (Sussex)
 Peter May (Avon)
 Nathan Turner (Staffordshire)

Lifetime Achievement Award
The Lifetime Achievement Award recognises the inspirational role models who have dedicated a staggering number of years to tennis.
 Mike Aitken (Scotland)
 Neil Allen (Wiltshire)
 Jenny Frow (Herefordshire + Worcestershire)
 Jim Hunter (Cambridgeshire)
 Dennis Laycock (Durham & Cleveland)
 Liz Singer (Wales)
 Graham Sutherland (Kent)
We wish the very best of luck to all of our welsh finalists.