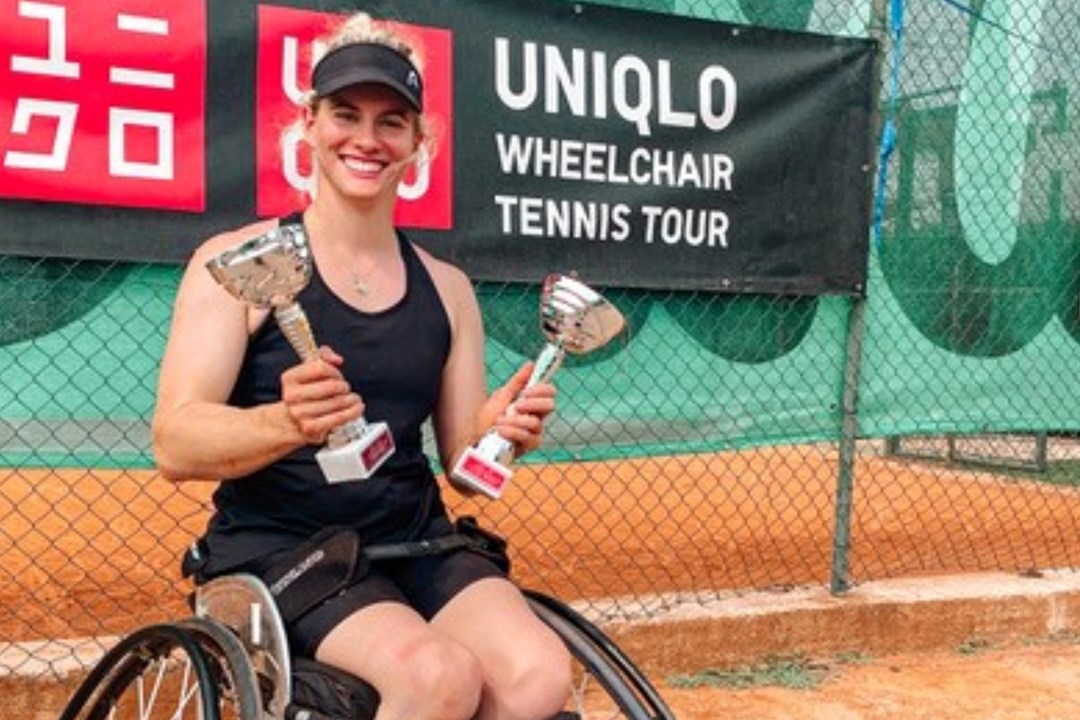 Robyn Love: 'Sport was my safe haven while growing up'
• 5 MINUTE READ
Scottish wheelchair tennis player Robyn Love has marked Pride Month by describing sport as her "safe haven" while growing up.
Robyn is due to attend a 'Rally Allies' event in Glasgow this weekend held in partnership between Tennis Scotland, Pride In Tennis, Leap Sports Scotland and the Lawn Tennis Association (LTA).
The inclusive tennis event for the LGBTQ+ community will take place at Newlands Park Community Tennis Centre on Saturday, 24 June. Other events are planned that weekend in Aberdeen and Edinburgh and have already been held in Dundee.
Robyn, who represented Great Britain in basketball at the 2016 Paralympic Games and now plays professional tennis in a wheelchair donated by compatriot Gordon Reid, recalled how sport gave her the confidence to be herself.
"When I was at university, my basketball team was my safe haven," the 32-year-old said. "The first person I came out to was in my team, the first person I went out with was in my team.
"In sport you can find common ground, it's where people go to feel safe. It's given me so much, and I want to give back.
"Tennis is a sport for everybody, whether you have a disability, if you're able-bodied, whether you're gay or from a diverse background."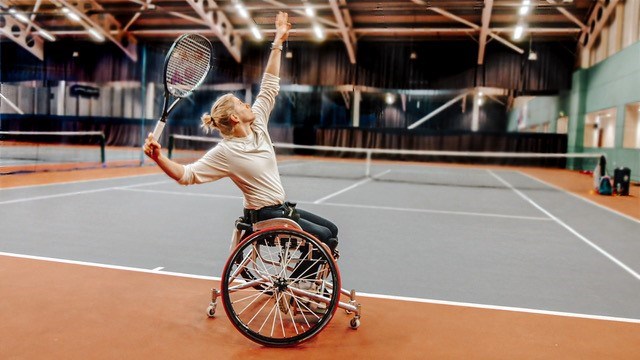 Robyn – who was born with arthrogryposis, a condition that meant her right leg was considerably shorter than her left - hopes the inclusive events will inspire people to enjoy tennis for the first time and lead to new groups starting up.
She said: "I'd love the legacy from these events to be that people start playing tennis every week. I go to a LGBTQ+ tennis club every Sunday in my chair with people who are standing, and we play matches and just have fun."
And Robyn hopes the event will allow her to showcase wheelchair tennis, adding: "There are kids out there like me who don't know they can play para sport, who don't know there's a world out there where they can excel because of their disability."
'Basketball stalwart'
A stalwart of international wheelchair basketball, Robyn helped the GB team to a fourth-place finish at Rio 2016 and won medals at the World and European Championships.
She then led Team Scotland at the 2022 Commonwealth Games in Birmingham before captaining Loughborough Lightning to the BWB Women's Premier League title.
Since then, she has turned her attention to tennis and recently won both the singles and doubles titles at the ITF Futures Series in Bulles, Switzerland.
Gordon's chair
Her tennis career has developed with a little help from her friend, 23-time Grand Slam champion Gordon Reid.
She said: "Gordon gave me his old chair, he said I could have it when we were chatting at the Tokyo Paralympics and I didn't hang about it. I was like 'yes, when I can I meet you?' [to get the chair].
"He's a great guy and wants people to be involved in the sport because he loves it so much. He could see I had something – we had a hit when he gave me the chair – and he'd love to have more Scottish players flying the flag alongside him.
"We've played a bit of basketball together, so we already had a connection, and we grew up reasonably close to each other. We're about the same age, and we still chat regularly."
Originally from Ayr, Robyn now lives in Manchester with her partner, fellow GB basketball international Laurie Williams, and their baby Alba.
She spoke of her tennis ambitions and hopes to eventually play at the Paralympics or in a Grand Slam.
"Ultimately I want to be the best player I can be," Robyn said. "I want to be proud of the tennis I play and believe I am my only limit.
"Tennis is a very tough game and I respect it too much to think 'I can play for a year and go to a Grand Slam, no problem'. But if I push myself and it means I end up going to the Paralympics or Grand Slams, then imagine that…"
Rally Allies events
24th June - Newlands Park, Glasgow - 2-4pm
25th June - Aberdeen Tennis Centre – 10am-12pm
25th June - The Meadows, Edinburgh – 3-5pm
Find out more about each event here.