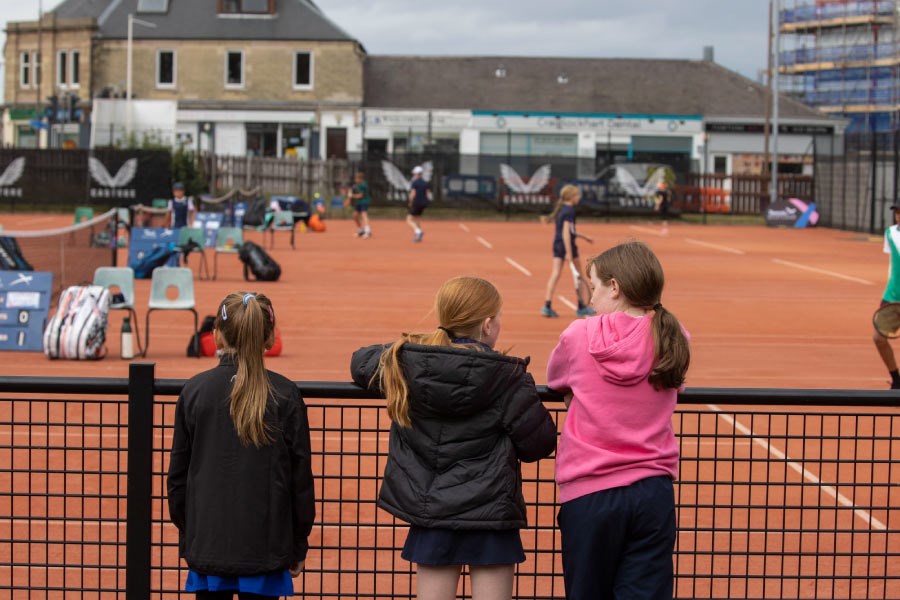 Tennis Scotland Awards Shortlist 2023
• 4 MINUTE READ
It gives us great pleasure to unveil the shortlist for the coveted Tennis Scotland Awards 2023. The annual awards celebrate the achievements of the outstanding individuals, clubs, programmes, and competitions that created a welcoming and pleasant environment in venues across the country in 2022.
We would once again like to thank everyone who took the time to submit a nomination and invite you along to attend the awards with us in person on 31 March at the Stirling Court Hotel at the University of Stirling.
Comedian and impressionist Josh Berry, who started out his career impersonating tennis players, will be the host for the evening. Josh has a broad range of voices from the tennis world in his arsenal and is very excited to share some of these with the audience after dinner.
Tickets for the evening are priced from £50 per person or £400 per table of 10 and can be purchased here.
In contention for Volunteer of the Year are three individuals who have shown great initiative to encourage participation and champion inclusion in tennis on a voluntary basis. Congratulations to Teresa Tait, Alix McDonald and Fabian Haut who have made the shortlist.
The Rising Star Award recognises individuals under 21 years old who made an exceptional contribution both on and off the court in the past year, helping others to enjoy participating in tennis. Our three Development Apprentices Katie McKay, Luke Turnbull and Euan Donegan have been shortlisted for this award.
The Development Coach of the Year award celebrates club and community coaches who showed great teamwork and leadership skills with an ongoing commitment to their own personal development, whilst developing other coaches or coaches. Well done to Alessia Palmieri, Finn McLean and Katie Hoch who make up this category.
Competition of the Year is awarded to a tournament or competition that had outstanding organisation and delivery which showed innovation with good promotion and local club links. The East Lothian Open and the W60 and M25 Glasgow have been nominated in this category.
The Tennis for All Award is a brand-new award that will be rewarded to an organisation or programme that has pioneered in bringing tennis to under-represented groups or communities and inspiring positive change. Congratulations to Maryhill Community Tennis Club, Accessible Tennis CIC, Promoting Inclusion through Sport who have all been shortlisted for this award.
The esteemed Club of the Year award will be granted to an LTA registered venue that engaged its community through the provision of a welcoming, safe, and inclusive environment to play tennis. Cults LTC, Abercorn LTC and Giffnock Tennis, Squash and Hockey Club have been shortlisted for Club of the Year.
Venues that have provided quality tennis opportunities for people in their community to play tennis within a park setting have been shortlisted for the Park of the Year Award. Rosewell Community Tennis and Meadows Park (Edinburgh Leisure) are up for this award.
The Connecting Communities Award honours individuals, groups, organisations, or projects that have provided innovative ways for community members to engage in tennis and increasing participation in tennis. Promoting Inclusion through Sport, Achieve More Scotland and Marjory Finlay have been shortlisted for this award.
Dollar Academy and Strathallan School are in the running for School of the Year, for using tennis to deliver enjoyable curriculum Physical Education (PE) and providing opportunities for pupils to engage in tennis activities outside of school hours.
Lastly, St Serfs Mens 1st Team and Prestwick Academy Girls' Team have been shortlisted for Team of the Year, awarded to teams that achieved outstanding domestic or international results in 2022.
Nominees in full:
Development Coach of the Year:
Alessia Palmieri
Finn McLean
Katie Hoch
Volunteer of the Year:
Teresa Tait
Alix McDonald
Fabian Haut
Rising Star of the Year:
Katie McKay
Luke Turnbull
Euan Donegan
Competition of the Year:
East Lothian Open
W60 & M25 Glasgow
Tennis for All:
Maryhill Community Tennis Club
Accessible Tennis CIC
Promoting Inclusion through Sport
Club of the Year:
Cults LTC
Abercorn LTC
Giffnock Tennis, Squash & Hockey Club
Park of the Year:
Rosewell Community Tennis
Meadows Park (Edinburgh Leisure)
Community of the Year:
Promoting Inclusion through Sport
Achieve More Scotland
Marjory Finlay
School of the Year:
Dollar Academy
Strathallan School
Team of the Year:
St Serfs Men's 1st Team
Prestwick Academy Girls' Team
Winners of the above awards will be announced alongside the following category winners on the evening and on the Tennis Scotland website, Facebook, Twitter and Instagram channels:
Performance Coach of the Year
Official of the Year Award
University of the Year Award
Junior Player of the Year
Senior Veteran Player of the Year
Senior Player of the Year
International Player of the Year
Lifetime Achievement Award