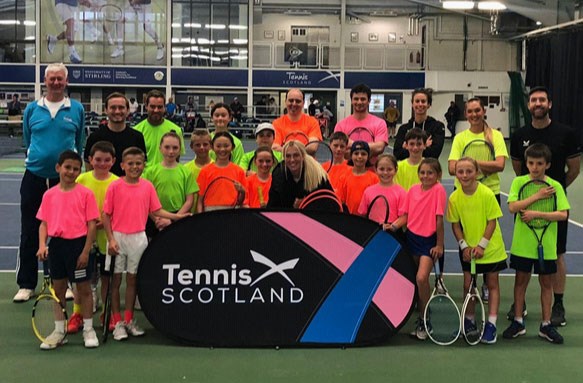 Ali Collins Guides Youngsters Through Second Stage Of The Tennis Scotland Team 10's Series
• 3 MINUTE READ
Ali Collins of Tennis Scotland's National Player Programme teamed up with some of the nation's brightest junior tennis stars last weekend for the second instalment of the Team 10s series.
The series aims to enhance development of the next generation through exhilarating on and off court activities.
The pro doubles player, who recently won a first W25 title alongside Emily Appleton at the Joué-lès-Tours event in France, returned to the University of Stirling to surprise the lucky youngsters who were treated to top advice and words of wisdom from one of the most exciting talents to emerge from the national pathway in recent years.
Ali doubled with 16 young Scots as part of a series designed to unite juniors over three separate fixtures throughout the year by enabling them to mix in a competitive team environment before enjoying a bonus 'off-court' experience.
Speaking about the Tennis Scotland Team 10s event, Ali Collins commented: "I really enjoyed seeing the next generation of players in Scotland. I think it's great to be involved with the juniors as we can give advice and guidance on the long journey the youngsters will go on. It's so important for the young players to enjoy their tennis and keep having fun, and these sort of team tennis formats are perfect for that."
Last weekend's camp built on the inaugural Tennis Scotland Team 10s event centred around The Scottish Championships in February, which saw a group of 10U players welcomed along to 'warm up' the courts by competing in the first stage of the competition, prior to witnessing the men's and women's finals of Scotland's first professional tournament of 2022.
The new series sees four teams consisting of four players challenge in an engaging tournament format, with every game counting as a valuable point on the mini league table. Across a blend of timed mixed singles and doubles matches, the youngsters are supported by some of the country's most highly-rated young coaches who act as team captains. Aimed to continually enhance game development during the competition, the captains are even offered the opportunity to coach players on the sidelines whilst matches take place.
Tennis Scotland's Performance Pathway Coach (U14), Joe Gill, said: "We were pleased to bring the second Tennis Scotland Team 10s fixture to the National Tennis Centre at the University of Stirling, a place where Scotland's finest tennis players have trained over the years, and it was fantastic to welcome professional doubles player, Ali Collins, along to spend some time with the kids.
"We're already looking forward to our final fixture of the season, where I am aiming to increase the number of players involved due to the success of the initial events. Scotland has a lot of depth in the younger age groups, and I want to try and give more players the opportunity to be part of the experience".
Current standings

Team

Points

1

Tigers

64

2

Bumblebees

57

3

Green Pythons

55

4

Pink Panthers

54
Team line-ups (30 April)

Pink Panthers

Bumblebees

Green Pythons

Tigers

Coby Stewart

Cameron Rae

Arthur Mckinlay

Fraser Whitelock

Davide Puddu

Innes Thornton-Smith

Finlay Reid

Kana Saito

Kiera Mccaron

Findlay Price

Amelia Radley

Holly Turtle

Natalia Augustynska

Sophie Langlands

Lucy Wood

Ares Power

Captains:

Scott Fraser

Captains:

Verena Scott

Captains:

Eoin Swan

Captains:

Jonny Adamson