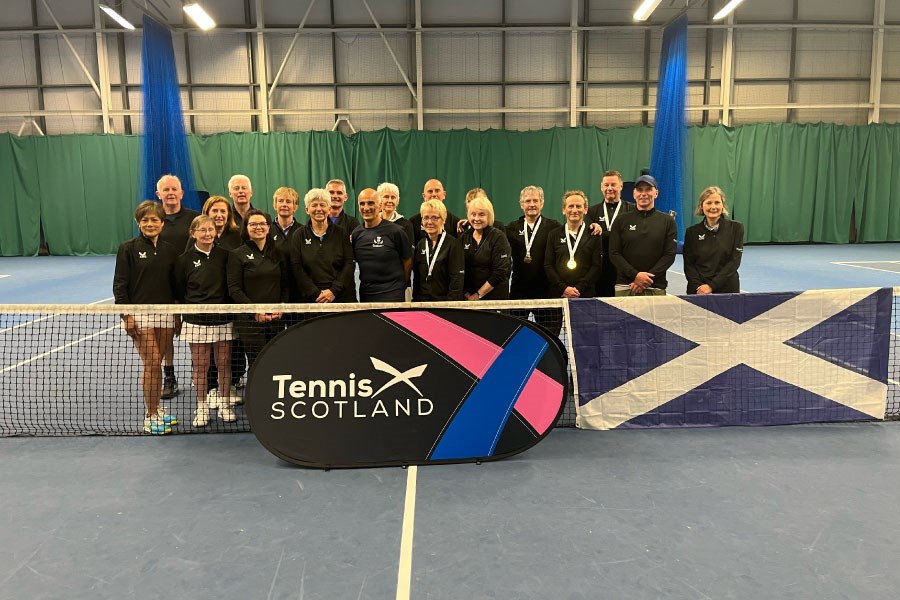 Senior Home Nations: All the action from Scotstoun as it happened
• 3 MINUTE READ
An action-packed weekend of Senior Home Nations tennis came to a close on Monday as England edged out Scotland on the final day to take the trophy south.
But despite finishing as overall runners-up, Team Scotland took both the 60+ men's and women's category titles at Scotstoun, Glasgow.
Day 1
Scotland started strongly against Ireland on Saturday with 3-0 wins for the men's 55+, 60+ and women's 60+ and 65+.
The 55+ women and the 65+ men missed out 2-1 in their ties.
Meanwhile, England bested Wales in all six categories to complete a sweep.
Day 2
Scotland's men's 55+ continued their run of form, picking up a 2-1 victory over Wales.
The 55+ women bounced back from their opening-day defeat to win 2-1 as captain Jacqueline Fullerton and Carole Wilson secured the tie 4-6 6-2 10-7.
Both Scotland 60+ men and 60+ women edged out Wales 2-1 in a couple of thrilling matches.
Ian Campbell and Ronnie Terrace battled back from a set down with the tie even at 1-1 to pull through the decider 1-6 7-6 10-6.
After Nicola Henderson's match tie-break win 5-7 6-2 10-1 levelled the singles play, Rosie Dennis and Daphne Hill overcame Griffiths and Lightbody 6-4 7-6(7) to win the day.
Marjory Love and Tri Drummond put together a day of strong performances in singles and doubles to secure a 3-0 win for the 65+ women.
However, it wasn't to be for the men's 65+ as Billy Clarke and Andrew Mckeown lost 6-4 3-6 7-10 as Wales edged the tie 2-1.
Meanwhile, England put together another commanding performance against Ireland, winning five of six categories on Day 2. Ireland, though, bested England in the 55+ Women's category.
Day 3
The competition came down to the final day as England tried to defend their title against the hosts.
After an early singles defeat in the 55+ men's, Jimmy Wood saved match points to win a dramatic match tie-break 4-6 6-1 15-13 to pull Scotland level.
However, it wasn't enough as Derek Lauder and Gordon Bell fell 6-4 6-2 in the doubles.
The 55+ women lost out 2-0 in singles but managed to pull a point back with Jacqueline Fullerton and Carole Wilson showing their nerve in another match tie-break to win 6-4 4-6 10-7.
As for the 60+ category, Ian Campbell and Nicola Henderson finished the weekend undefeated as they both picked up singles wins.
Ronnie Terras widened the gap for the men, winning 6-4 3-6 10-8. Rosie Dennis and Daphne Hill also picked up wins for the women, as the men's and women's ties finished 2-1 and 3-0 respectively.
In the 65+ category, the men were bested 3-0 and, despite a convincing singles victory from Marjory Love, the women were pipped 2-1 as Love and Drummond lost their final match of the weekend 6-4 6-4.
Final standings
The tie finished 4-2 overall in England's favour, which saw them lift the trophy for the second year running.
However, the Scotland 60+ men's team of Ronnie Terras, Mike Aitken, Gerard Kelly, and Ian Campbell, and 60+ women's team of Nicky Henderson, Rosie Dennis, Jane Russell, and Daphne Hill emerged victorious in their categories.
Wales bested Ireland 4-2 overall on the final day, but it wasn't enough to separate them as they finished on 11 points each in the final standings.
Ireland won the 55+ women's category and England brought home the 55+ men, 65+ men, and 65+ women categories.
Final Overall Points:
England – 21
Scotland – 17
=3. Ireland – 11
=3. Wales – 11