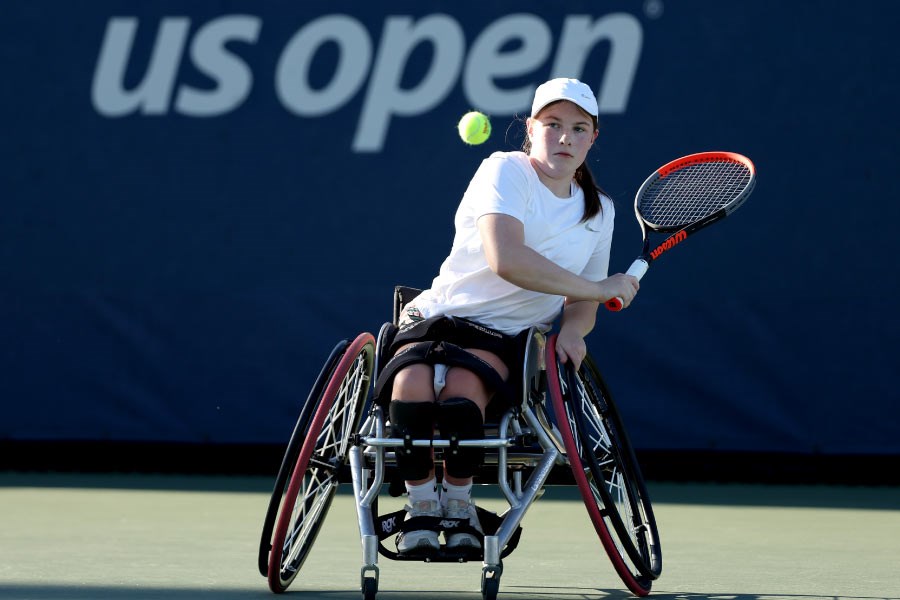 Scottish Women and Girls in Sport Week: Ellie Robertson
• 4 MINUTE READ
This Scottish Women and Girls in Sport Week, we are celebrating the players, coaches and volunteers making a difference in tennis.
Eighteen-year-old Ellie Robertson was one of six Brits - and the only Scot selected - to compete at the inaugural US Open Junior Wheelchair Tennis Championships in September, the first-ever junior wheelchair tournament to take place at a Grand Slam.
Currently ranked World No.8, she resides in Bargeddie and trains at Scotstoun Tennis Centre, Glasgow Gorbals and Gleneagles, where she is coached by former Paralympian, Kevin Simpson. Ellie personifies the #SheCanSheWill attitude and Tennis Scotland caught up with her as part of the Scottish Women and Girls in Sport Week Q&A series.
You are currently in the world's top-10 ranked juniors. How does this make you feel and what would you attribute this to?
It's a massive achievement for me and an amazing feeling. As soon as I started playing in the Junior ITF tour, breaking into the World top-10 was always my goal. I would attribute this to my continuous hard work training every week on the tennis court and in the gym, the work of my coach Kevin, and my coaching team at the LTA.
How did you first get involved in tennis?
I was fortunate that my mum found out that there was a wheelchair tennis club in Glasgow. Before this I tried out table tennis but never stuck to it and didn't even know wheelchair tennis existed at that point.
Who were your inspirations when you started playing tennis?
Rafael Nadal as I have always admired his fighting spirit and never-give-up attitude. This is something I would love to emulate on the court someday. Obviously being Scottish, you can't help but be inspired by the achievements of Andy and Jamie Murray and Gordon Reid, who has really shown what can be achieved in wheelchair tennis. My coach, Kevin, is a former Beijing Paralympian and World Team Cup player, so with him and Gordon paving the way I hope to be the third Scottish Paralympian.
What are your goals for 2023?
In 2023, I'd like to play as many tournaments as possible on the ITF tour to gain as many points as possible and climb the Women's World rankings. I've been fortunate to play in competitions in Italy, Hungary, Netherlands, and Turkey, as well as the UK and obviously the US Open, the experiences have been invaluable.
What do you hope to achieve in your career?
I hope to try my best at every tournament I can qualify for and after playing in a Junior Grand Slam, I hope to one day be playing at a Senior Grand Slam. The whole occasion was terrific to be part of. I felt honoured to get the opportunity to compete at the first ever Wheelchair Junior Grand Slam at the US Open. I have a lot of support behind me which helped me to prepare both mentally and physically. I'm US Open experience – playing at the Billie Jean King National Tennis Centre was amazing and I really hope it will give me a glimpse of my future as I hope to qualify for the Paralympics one day.
You are a great inspiration for young girls looking to get into wheelchair tennis and tennis generally. What advice would you give them to make their dreams come true?
I would urge young girls who are in a wheelchair to try and play wheelchair tennis. I was lucky that my mum found out about it, but the sport has grown significantly since then. If young girls can get involved a young age, they will have the chance to achieve great things in the sport. Other than that, sport in general is a great thing to get involved in because you meet great people and can have a great time with people of all different ages with the same common interest.