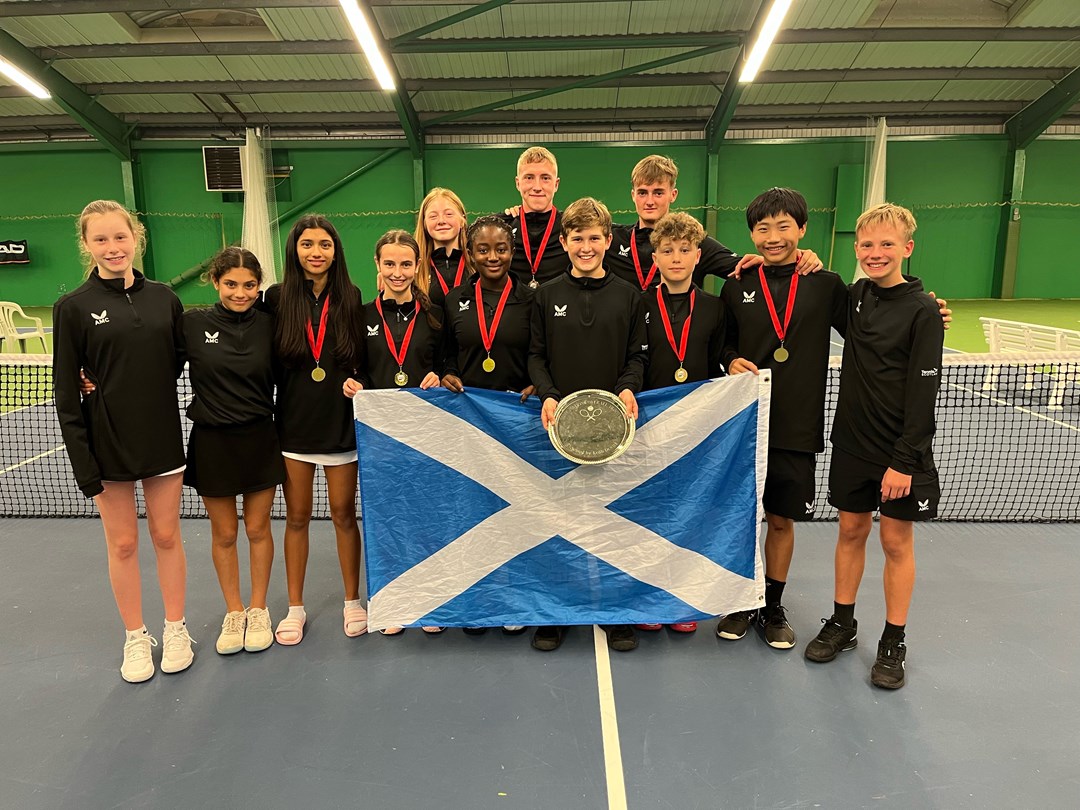 Scotland win Four Nations, Junior success in Bolton, TS Open Tour latest
• 3 MINUTE READ
Catch up on the latest results and updates on Scots competing around the world.
Scotland win Four Nations
Team Scotland brought the Junior Four Nations trophy back up north yesterday after placing first in the 2023 Championships.
The 18U team, made up of Cameron Fryer, Kyle McKay, Hephzibah Oluwadare, and Anna McKnight went unbeaten over the weekend in their ties, only losing two rubbers over the three days of play to win the category.
Cameron and Hephzibah went unbeaten over the weekend in singles and the two doubles pairs were also unbeaten against all teams.
The 14U team of Chenming Dong, Lucas Nolte, Hanna Augustynska, and Aadya Iyer Chadalawada won their category as they too went undefeated. Aadya won six from six in singles and doubles with Lucas winning all of his singles rubbers.
The 12U team of Oran Mcbride, Domink Czopek, Lea Khochfar, and Amy Lamb were locked in numerous nail-biting matches over the course of the weekend as Lea won all three singles. After several matches that finished in match tiebreaks it was not to be as they finished fourth in the category with one draw and two losses.
As Sunday play came to a close the results were calculated and the team topped the overall standings with nine points, edging out Ireland who finished on eight. Scotland were presented with the Junior Four Nations plate to take home as well as awards for the 14U and 18U categories.
Tennis Scotland's Head of Performance, Karen Ross has this to say as she reflected on an action-packed weekend:
Four Nations Final Standings:
Scotland – 9
Ireland – 8
England – 7
Wales – 6
Murray and Norrie back in action in China
Andy Murray competed in his first singles tournament since the US Open last week in at the Zhuhai Championships ATP 250 event.
Having made the trip to China just days after the dramatic Davis Cup win, Murray started off strong beating Chinese wildcard Ye Cong Mo 7-5 6-3. However, in the round of 16 he was edged out by Aslan Karatsev 4-6 6-3 6-2.
Cam Norrie was also competing in Zhuhai, seeded two he received a bye in the first round. He then went on to secure a convincing win over Australian qualifier Marc Polmans 6-0 6-3.
In the quarter-finals he faced Karatsev, who would prove to be a problem for Scots as he ended Norrie's title hopes in a close encounter 7-6(5) 7-6(5).
Scottish juniors compete at Tennis First event in Bolton.
Three Scots featured at the Tennis First 10U event down in Bolton over the weekend. Cameron Rae, Fraser Newcombe, and Matilda Kasselstrand.
Cameron Rae was in the winner's circle as he put in a commanding day of performances. Cameron started his group stages with a 4-2 4-1 win over Henry Harrison followed by a 4-2 4-0 win over Tomas Gabor.
In the final round of the Group A, Cameron bested Seb Beetlestone 4-1 4-3 to advance to the final.
He kept up his winning form to beat Harley Drake 4-1 4-0 to take home the title.
Fraser Newcombe won all three of his Group B matches with wins over Harley Drake, Lucas Frost, and Jonah Harmer. However, in the Group B final he lost out to Tomas Gabor 2-4 3-4
Matila Kasselstrand finished the weekend strong with two wins despite losing her first two group matches.
In the 9U event, Louis Taylor and Frank Atkins both reached the Playoff A stage. Louis was unbeaten in the group stages, picking up straight set wins over Teddy Arthur Lynch, Noah De Baere and William Forbes.
Frank secured two wins in the group stages against Tomas O'Donnell and George He but lost out to Conrad Goh.
Despite the loss Frank joined Louis in the playoff match and it was Louis who would come away victorious with a 4-1 4-1 win.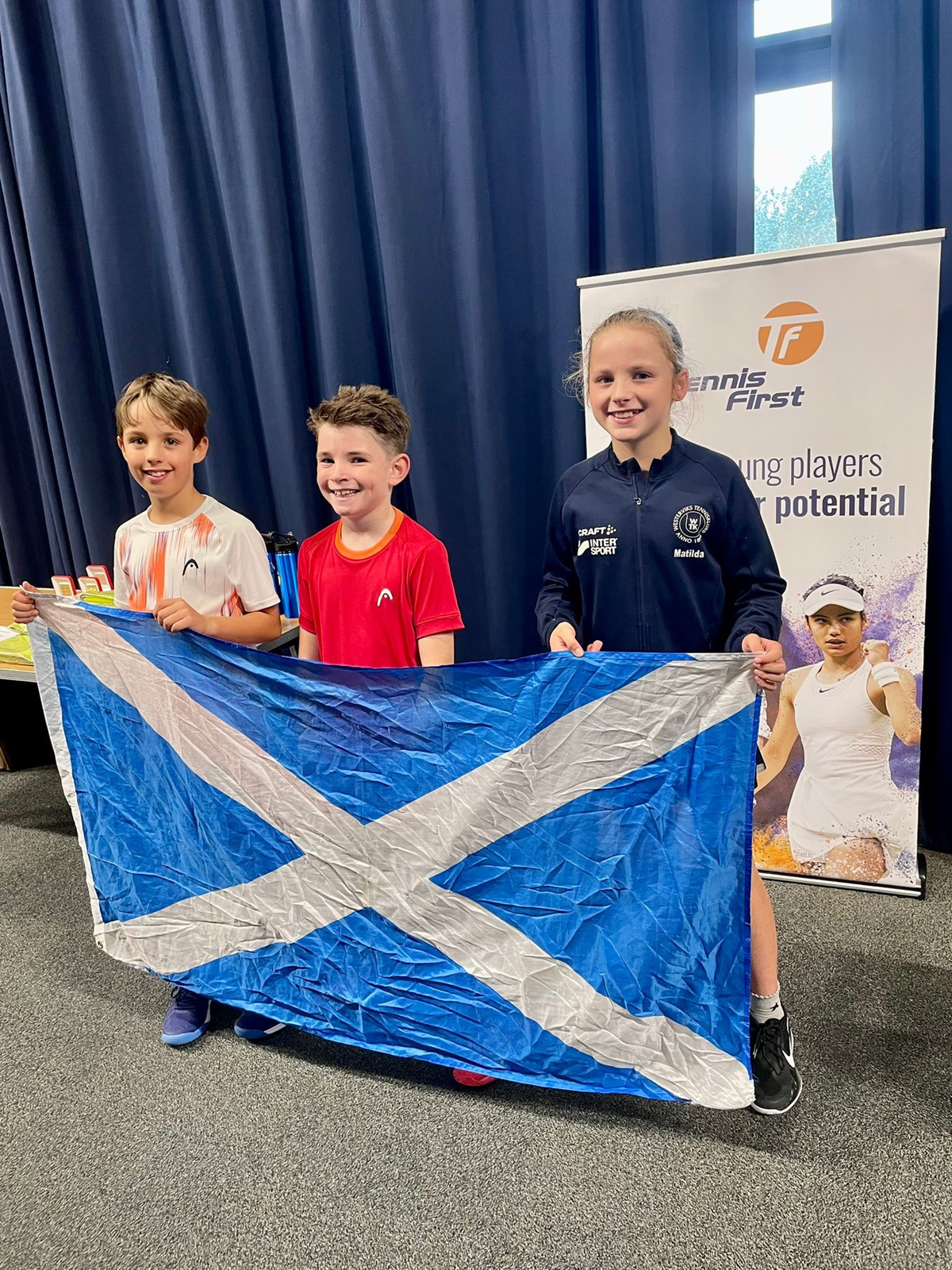 TS Open Tour Round Up
The TS Open Tour Scottish Clay Court Championships were held last week at Craiglockhart Leisure Centre. The British Tour Grade 2 event was the latest instalment of the enhanced TS Open Tour.
Nick Rosenzweig was form once again as he made it two titles in two weeks. Seeded fourth, he put in a string of commanding wins over Toby Ward, Csonger Mar, and Thomas Drayton to reach the semi-finals.
In the semi-finals Rosenzweig faced another TS Open Tour regular Ewan Moore but Moore was forced to retire at 0-2 due to injury.
In the final stood top seed Alexis Canter who is currently ranked 1367 on the ATP circuit. Rosenzweig completed his run of perfect form to down Canter in straight sets 7-5 6-3 and take home £1250 in prize money.
Nick is currently top of the TS Open Tour leaderboard as the race to the TS Open Tour Finals comes enters the final stages of the season.
In the women's draw eighth seed Amelie Brooks won her first TS Open Tour event of the season after a strong title run.
Brooks began her run with wins over qualifiers Eva Dorado and Ava Mcmillan, followed by a 6-1 6-3 win over Alice Sharp.
In the semi-finals she bested Yorkshire junior Molly Robinson 6-3 6-0 to set up a final clash with Teodora Prisadnikova.
The final went the distance with Brooks recovering from a set down, winning 4-6 6-4 6-2 to take home her the Clay Courts title and her £1250 prize.
Next up on the TS Open Tour schedule is the Lexus LTA British Tour Glasgow on October 11-13.
Aidan McHugh and Hamish Stewart progress on ITF Pro Circuit
Last week saw Aidan McHugh reach the semi-finals of the M25 Setubal, Portugal.
Fourth-seeded McHugh opened his account with a win over American qualifier Trey Hilderbrand 6-1 6-3 followed by another straight sets win over Tiago Pereira of Portgual 6-3 6-3.
Next up was Henrique Rocha, who had won the previous week's M25 event in Sintra. Aidan backed up his commanding form with a win over the fifth seed and home favourite 6-1 6-4 to extend his winning streak to eight matches.
However, his streak came to a close in the semi-finals as McHugh was unable to get passed Dali Blanch, losing out to the American 3-6 2-6.
Meanwhile at the M15 Danderyd, Sweden, Hamish Stewart progressed to the quarter-finals, backing up his semi-final the week before.
Stewart came through a tight opener as he took out Sweden's Max Dhalin 7-6(11) 6-3. He then topped Australian sixth seed Matthew Dellavedova 3-6 7-6(5) 6-3 to reach back-to-back ITF quarter-finals.
Stewart's run was cut short in the last eight by top seed Karl Friberg of Sweden 5-7 3-6.