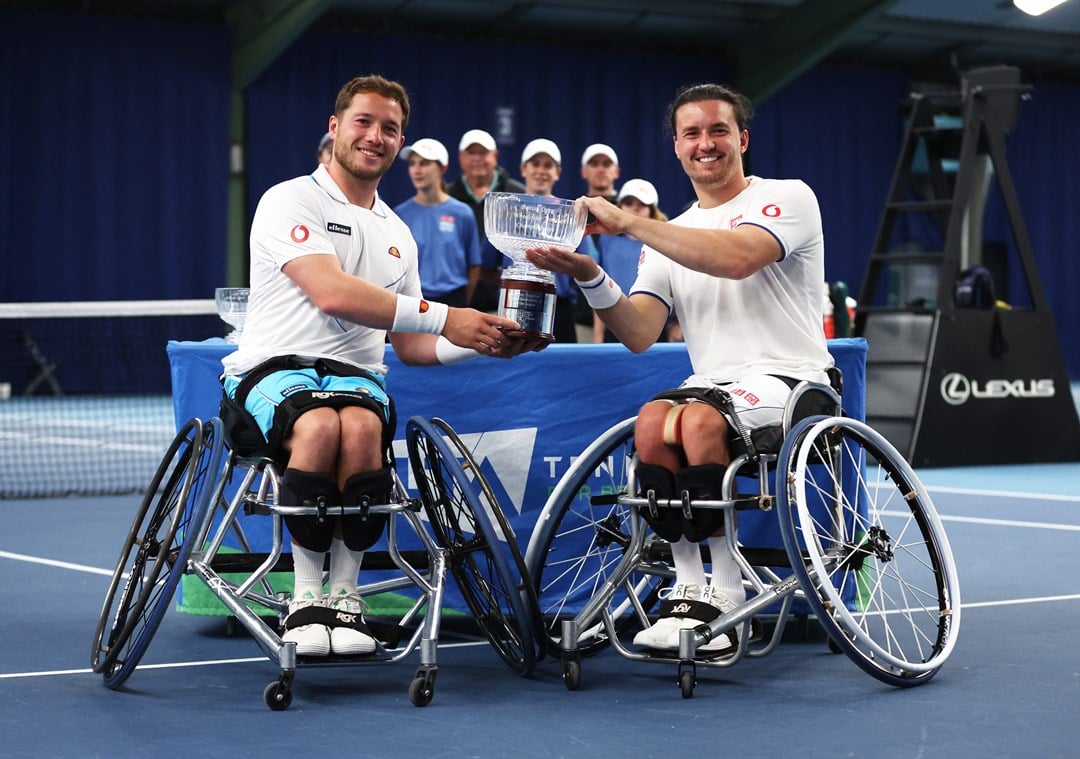 Reid wins again, TS Open Tour latest and Academy players represent GB
• 3 MINUTE READ
All the latest results and updates on Scottish players competing at home and abroad.
Gordon Reid and Alfie Hewett were victorious on home soil, capturing the Lexus British Open doubles title in Nottingham.
They opened their campaign with a convincing win over Sergei Lysov of Israel and Nicolas Charrier of France 6-2 6-0.
The semi-final saw Reid and Hewett face Dutch duo Maikel Scheffers and Ruben Spaargaren, who they overcame 6-1 7-6(1) to make the final in their first tournament since their Wimbledon win last month.
The pair faced familiar opponents Martin De la Puente of Spain and Gustavo Fernandez of Argentina, whom they beat in the Wimbledon semi-final.
Reid and Hewett suffered an early setback, dropping the first 4-6 but managed to bounce back to claim the second set 6-2 and force a match tie-break. The decider came down to the wire with Reid and Hewett clinching the title 11-9.
The pair remain unbeaten this year and the win constitutes their ninth title in 2023 and Reid's tenth of the year.
Lumsden and Mcknight clinch back-to-back titles
Ewen Lumsden earned his second TS Open Tour title in as many weeks at the West of Scotland Open at Western Health and Racquets Club.
Ewen took on Western's own Greg Weir to begin his run, winning 6-3 6-2 before continuing his form against Lachie Macintosh with a 6-2 6-0 victory to reach the semi-finals.
In the semis, against Nicolas Rosenzweig, Lumsden took the first set 6-2 before Rosenzweig battled back to win the second 6-2. The match would end with Lumsden taking the deciding match tie-break 10-7, setting up a rematch with Ewan Moore in the final.
Lumsden put together a strong performance on Saturday, beating Moore in straight sets 6-4 6-4 top earn his second title in a row.
Meanwhile, in the women's draw, Anna Mcknight carried on her form after winning the East Lothian Open. She opened her week with a first-round win against Meiqiao Chen before winning her quarter-final against Lucy Beeston 6-2 6-4.
The semi-finals in the women's draw were nothing short of nail-biting. Mcknight bested top seed Heather Barlow in close battle 6-7 7-6 10-7 to reach the final, while home favourite and second seed Verena Scott beat Eleanor Cochran 6-2 2-6 10-3 in front of an engrossed Western crowd.
The final was a rematch of the East Lothian final where Mcknight had bested Scott. It came down to the wire once more as Anna was able to recover from a set down to pull through 1-6 6-3 7-5 and lift the West of Scotland Open trophy.
Not to be for Scots in North America
Despite a strong first-round performance against Brandon Nakashima, Andy Murray was bested by Taylor Fritz in the round of 16 at the Citi Open in Washington, D.C. Murray pushed the in-form top seed all the way, but couldn't pull through, eventually losing 7-6 3-6 4-6.
Both Andy and Jamie Murray reached the quarter-finals of the doubles. Andy paired up with Dan Evans to beat second seeds Austin Krajicek and Mate Pavic 6-3 6-4 before falling to Argentinian duo Andres Molteni and Maximo Gonzalez.
Jamie and Michael Venus got past Nicolas Mahut and Grigor Dimitrov 6-7 6-3 10-5 before losing out to Belgians Joran Vliegen and Sander Gille 7-6 4-6 8-10.
In Los Cabos, Mexico, meanwhile, Cam Norrie lost in his first round against American qualifier Aleksandar Kovacevic 7-5 6-7 4-6.
The Scots are back in action this week at the Toronto ATP Masters 1000 in Canada, where they will be looking to make deep runs ahead of the US Open later this month.
GB NTA players represent Britain at Summer Cup
GB National Tennis Academy players Charlie Robertson, Henry Jefferson and Hephzibah Oluwadare are all part of the GB Summer Cup squads this week.
Charlie and Henry will compete in Rome, Italy, as part of the three-player U18 squad along with Viktor Frydrych. The boys play top seeds France in their opener.
Meanwhile, Hepzibah joins the U16 Girls team alongside Hannah Klugman and Mingge Xu. They play in Marianske Lazne, Czech Republic, where they open against Germany.