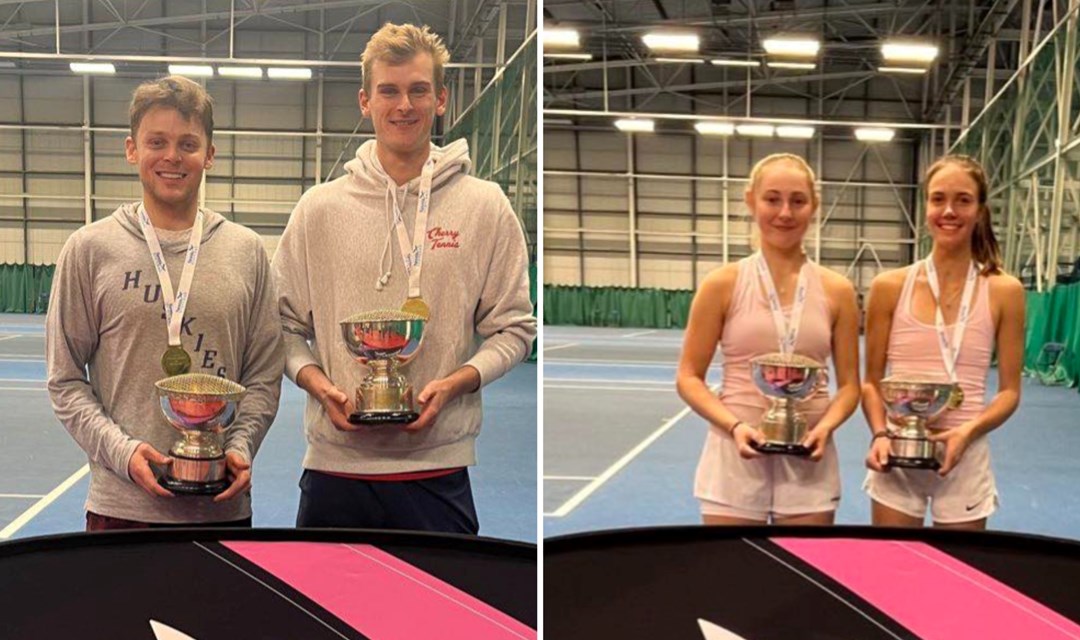 National Doubles Championships held, Lumsden and Oluwadare represent GB on world stage
• 3 MINUTE READ
Catch up on the latest results and updates on Scots competing around the world.
Doubles delight in Glasgow
The TS Open Tour National Doubles Championships took place over the weekend at Glasgow Club Scotstoun.
Scottish pros Hamish Stewart and Ewen Lumsden were crowned men's champions, while GB National Tennis Academy's Hannah Rylatt and partner Hannah Read took home the women's title.
Stewart and Lumsden, seeded three, opened their account with a 6-0 7-6 over Jack Curtis and Thomas Giles before besting Lance Nisbet and Liam O'Brien 6-1 7-5 to book their place in the semi-finals.
The pair then beat Ben Davies and Matthew Earnshaw 6-2 6-2 to secure a final spot. They would face Liam Hignett and David Quayle who had battled their way past Charlie Robertson and Henry Jefferson 6-7 7-5 10-1 in the quarter-final and edged top seeds Alan MacDonald and James MacKinlay 6-7 7-6 10-7 in the semis.
The final saw Stewart and Lumsden gain an early advantage, winning the first set 6-4, and they were able to capitalise on their momentum to clinch the second set 6-0 and claim £1000 each.
In the women's draw, Stirling-based Rylatt teamed up with fellow junior Hannah Read, ranked 119 in ITF juniors.
Rylatt and Read started strongly with a 6-2 6-0 win over Jessica Johnson and Erin Passmore, before besting second seeds Milly and Maisie Wood 6-0 6-1.
The pair continued their fine form by beating fourth seeds Sarah Mcfadyen and Zoe Moffat 6-4 6-0 in the semi-finals.
The youngsters were up against top seeds Emma Wilson and Alexandra Walker in the final. Wilson and Walker entered the final in fine form having not dropped a set, and had beaten third seeds Heather Barlow and Mhairi Beattie 6-3 6-3 in their semi-final.
The final was nothing short of entertaining as Read and Rylatt struck first, winning the opening set 6-4. Wilson and Walker were quick to respond, taking an early lead in the second set, going on to take it 6-2.
Leads were exchanged throughout the match tie-break before Read and Rylatt were able to edge it 10-7 to lift the title and take home a prize of £1000 each.
Lumsden represents GB in Billie Jean King Cup
Maia Lumsden experienced her first Billie Jean King Cup (BJKC) as part of Team GB.
After a consistently successful year on the WTA doubles circuit, including a Wimbledon quarter-final, Lumsden joined the team in London, where they took on Sweden for a place in the 2024 BJKC qualifiers.
Sweden took an early lead as Kajsa Rinaldo Persson beat Jodie Burrage, but GB responded with two wins from Katie Boulter to go back in front 2-1.
Harriet Dart clinched the tie with a win over Caijsa Wilda Hennemann 7-5 6-2 to secure Great Britain's spot in the 2024 qualifying stages, which will take place in April.
Reflecting on her week, Maia had this to say:
Oluwadare helps GB to bronze in Junior BJKC
Hephzibah Oluwadare was selected to represent Great Britain alongside Hannah Klugman and Mingge Xu at the Junior Billie Jean King Cup Finals in Cordoba, Spain.
The event saw eight teams challenge for the world title during the same week as the senior Finals in Seville.
The team opened their title bid with a 3-0 win over Sweden with singles wins by Klugman and Xu. Oluwadare and Xu teamed up in doubles to complete a perfect tie with a 4-0 4-0 win over Tiana Tian Deng and Nellie Taraba Wallberg.
In the semi-finals, the GB juniors were bested by Czech Republic as Alena Kovackova and Laura Samsonova gained wins over Klugman and Xu in the singles ties.
GB played Spain in the play-off for bronze and, after a closely contested tie, pulled through with a three-set victory for Klugman and a tight straight-sets win for Xu to secure third place.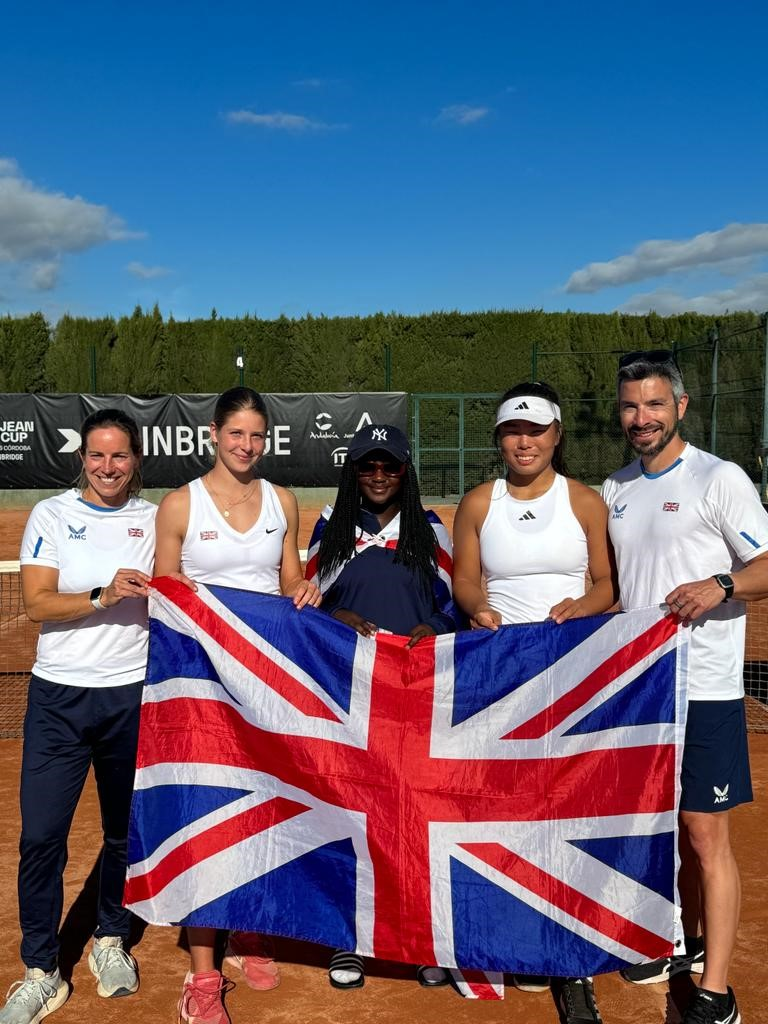 Junior success at 14U Tennis Europe
Scots enjoyed success at the Junior International Liverpool with Hanna Augustynska winning the girls' doubles with her partner Mia Zhou.
The pair were seeded second and received a first match walkover before beating Italians Sofia Ferraris and Isabella Johri 6-2 7-6 (1) for a place in the final.
They faced top seeds Tara Lawal and Daisy Wootton in a nail-biting final that went down to the wire, but it was Augustynska and Zhou who prevailed 6-3 6-7 10-5 to become champions.
Aadya Iyer Chadalawada made it to the semi-finals of the girls' singles. She beat Alicia Sutton in the first round before beating second seed Lawal 6-2 6-7 6-0.
Iyer Chadalawada capitalised on her win with another over eighth seed Liza Bolton 6-3 6-1 before falling to Bethany Pratt 3-6 3-6 in the final four.
In the boys' doubles, Ray Gallacher and Caelan McKechnie made the semi-finals with their run featuring a 4-6 6-2 13-11 win over the fourth seeds Ace Johnson and Rueben Stanmore in the quarter-final.
The pair were beaten by top seeds Eric Lorimer and Scott Watson in another close tie 3-6 6-3 4-10.