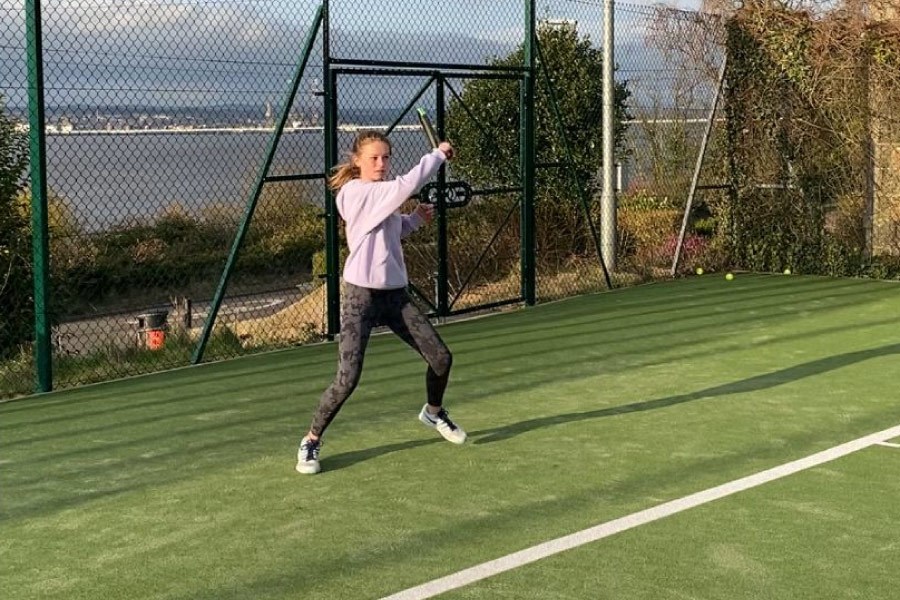 National Apprenticeship Week 2023: Katie McKay
• 2 MINUTE READ
Fourteen years since she picked up a tennis racquet for the first time, Katie McKay is one of the youngest coaches in the country currently completing their Level 3 coaching qualification.
The 18-year-old is currently part of Tennis Scotland's 12-month full time Tennis Development Apprenticeship programme, designed to give individuals under 20 years old experience of organising and delivering tennis on a National, Regional and Local basis while fulfilling development and training activities.
Based in Newport-on-Tay where she plies her trade at Wormit and Newport Tennis Club, 2021 Tennis Scotland Young Person of the Year and LTA Young Person of the Year runner-up, Katie McKay, has always been competitive and loved tennis.
She has had success on the court as a player, taking part in the 14U Road to Wimbledon competition in 2018, where she finished as runner-up in the County Round and got to experience playing at the prestigious All England Club.
My Brother Inspired Me
"My brother inspired me to pick up a racquet, where I played at the local club in the after-school class. I've always been super competitive and loved how many aspects there are within tennis. I find that it's never been boring or repetitive."
Katie has been taken under the wing by her coach Steve, who has coached her since she was nine years old. Steve now helps Katie improve her game as a player and coach, as she still finds time to play tennis four times a week.
While the apprenticeship is teaching her tons of skills while allowing her to pursue a Level 3 coaching qualification, Steve has helped her to adapt and change her coaching to help suit each player.
"As a Tennis Scotland apprentice, most of my time is spent on court, coaching. We run our main group classes after school four days a week with a mixture of players of all ages and abilities. I also dedicate a lot of time to coursework, weekly CPD sessions, and any admin tasks for the club."
Taught Me To Adapt My Coaching
"The apprenticeship programme has taught me to adapt my coaching for different players, which has kept me motivated to learn and improve my coaching skills, while getting to do what I love every day."
As an asset to Scottish tennis and an inspiration to the next generation of female players and coaches, Katie hopes to continue coaching and helping as many players as she can to learn and get involved in tennis.
Reflecting on the apprenticeship programme, Katie said, "I would strongly recommend getting involved in the Tennis Scotland apprenticeship programme. It's a fantastic opportunity to improve your skills and gain experience as a coach and really makes me look forward to mu future as a coach."