Murrayfield Lawn Tennis Club
• 3 MINUTE READ
Location: Edinburgh
Established: 1904
Membership: 202
Background
Nestled on Corstorphine Road with Scottish Rugby's National Stadium as a backdrop, sits Murrayfield Lawn Tennis Club. Formerly known as the West Edinburgh Tennis and Croquet Club, the club was opened in 1904 with the aim of providing recreation and fitness to those in the surrounding area. This mantra holds true today by providing facilities for its 138 adult and 64 junior members who are able to play on their four all-weather artificial grass courts, two of which are floodlit to allow play into the evening in darker winter months.
The venue is steeped in a rich history, the presence of which is illustrated from the traditional style wooden pavilion that sits proudly at the heart of the facility. In 1992, the club was one of the first in the East of Scotland to hold a VW Ratings Tournament. These were held annually until 2000 and had an international flavour with winners of the main singles event coming from across the globe including the US and the Netherlands as well as from the UK.
Murrayfield LTC provides a welcoming environment for players of all ages and abilities by offering coaching and social play opportunities, in addition to the chance of representing the men's and ladies' teams in the East of Scotland League. Representatives also host a friendly annual club competition, featuring both singles and doubles events, which allows members to contest for bragging rights at the club.
This devotion to providing recreation and fitness includes engaging youth in the sport by offering a chance to develop their passion for the game on the club's courts. In 2019, Murrayfield LTC hosted every school and nursery pupil from Roseburn and Balgreen primary schools over a two-day period for an introduction to tennis coaching session. The club has continued this effort to help the next generation of players in the community through the provision of free Saturday morning coaching sessions for junior members.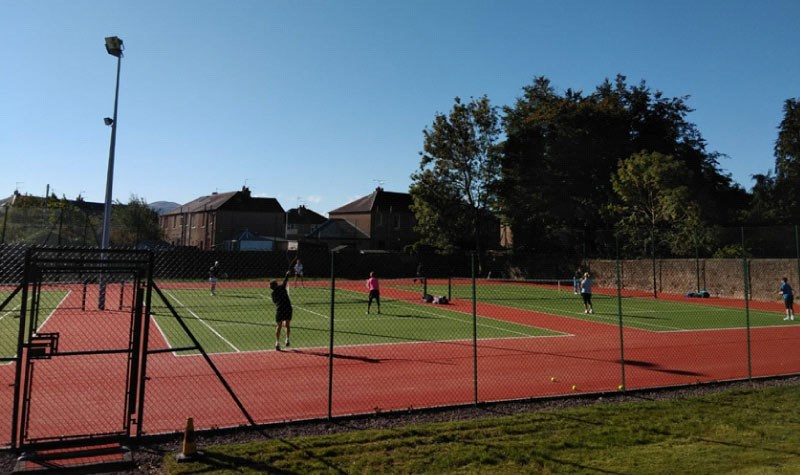 Notable Names
Murrayfield Lawn Tennis Club is no stranger to familiar faces. Notable former members include Patrick D B Spence who was a Scottish singles and doubles champion in the 1920s. Patrick went on to make a name for himself at various Grand Slam events, winning the mixed doubles at Wimbledon in 1928 and French Open in 1931, in addition to representing South Africa in the Davis Cup.
Other former players include East of Scotland singles champion, Ted Slawek, who also set foot on the famous grass courts at Wimbledon on numerous occasions between the late 1940s - early 1950s. Following in the footsteps of past members was Norma Seacy who won Junior Wimbledon in 1947: the greatest achievement of a youth member at the Edinburgh club to date.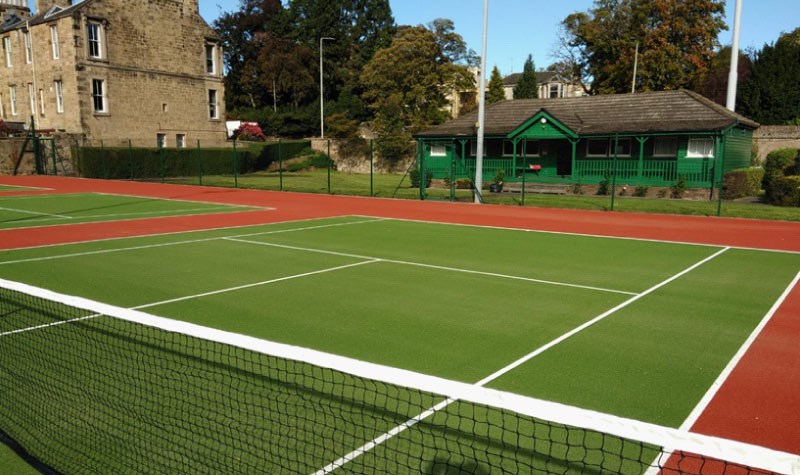 A message from Murrayfield
Douglas Kinloch, Chairman of Murrayfield Lawn Tennis Club, commented: "At Murrayfield we pride ourselves on being a friendly club, actively supporting tennis in our local community, which tries to provide something for everyone. We provide both social and competitive play, adult and junior coaching classes, and have multiple ladies, mens and vets teams participating in East leagues and some also in the county leagues.
"The club is in a lovely setting, and we believe that we now have four of the finest courts in Edinburgh, having completely renewed the surface a few years ago. Anyone joining the club would be very welcome and I am sure would be delighted with our facilities."
Get Involved
Those interested can join the club, which offers a wide range of membership subscriptions. First year prices are discounted and are as follows with additional year subscription rates in brackets: Adult £149 (£195), Junior £56 (£71) and Family £299 (£393).
For more information, check out the club's website and social media platforms:
Twitter: @MfieldLTC
Facebook: Murrayfield Tennis Club