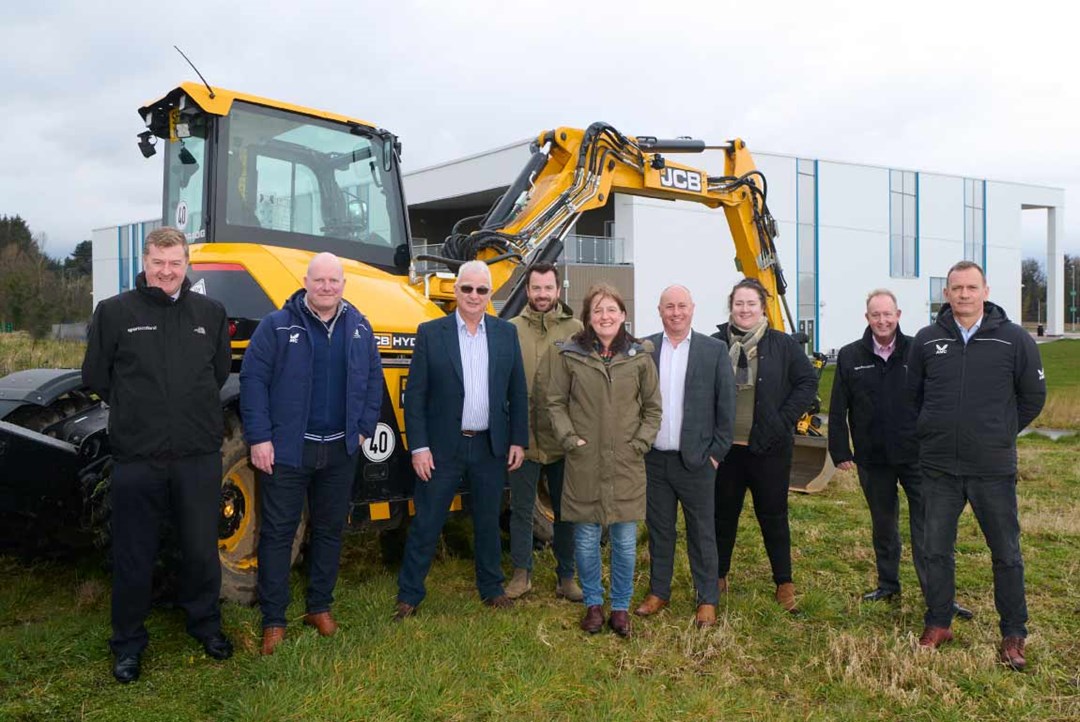 Moray Indoor Tennis Centre Welcome £1.63m TSIT Investment
• 6 MINUTE READ
Moray Indoor Tennis Centre to receive investment from the Transforming Scottish Indoor Tennis fund (TSIT) after £1.63million was secured.
Tennis Scotland Chief Executive Blane Dodds was joined by Maree Todd (Sports Minister), sportscotland representatives, Scott Reid (LTA) and Sandy Adam (Moray Sports Foundation) to mark the start of work on the first project to receive investment from the Transforming Scottish Indoor Tennis fund (TSIT) after £1.63million was secured.
Together with the LTA and sportscotland, Tennis Scotland is supporting the delivery of the Transforming Scottish Indoor Tennis Fund which will see a significant investment into Scottish tennis facilities, with £15million committed by this partnership, for the development of indoor tennis centres in Scotland.
A four-court indoor tennis centre will be built at the Moray Sports Centre in Elgin with the aim of enhancing year-round accessibility to tennis. Tennis Scotland, in partnership with sportscotland and the LTA, secured an investment of £1,117,736 towards the new facility from TSIT. Moray Sports Foundation will contribute the balance of £511,257 towards the new centre.
Blane Dodds, Chief Executive of Tennis Scotland, said:
"The development of the Moray Sports Centre project is another major milestone in the transformation of Scottish indoor facilities. This landmark comes as a result of combined commitment from each delivery partner that has worked tirelessly to progress a number of facility projects over the past 24 months, whilst dealing with the challenges posed by the global pandemic. I would like to congratulate all involved within the team at Moray Sports Foundation who have done a great job, especially with more recent progress coming out of the pandemic.
"Creating enhanced year-round participation opportunities has always been at the centre of our strategic operations, and with momentum generated by increased club memberships, with over 8,000 new club members in Scotland last year, and heightened interest in the sport, we continue to strive towards our goal of delivering more new indoor tennis facilities across the country.
Sports Minister Maree Todd said:
"I am delighted to be at the ground-breaking of this Transforming Scottish Indoor Tennis fund project. Once built, this facility will have a positive impact on the local community, providing more and better opportunities to play tennis all year round, in an affordable and inclusive space.
"Being active has such a positive impact on health and wellbeing, and facilities such as this will help us achieve our vision of an active Scotland where everyone benefits from sport and physical activity for their physical, mental and social health."
A number of other TSIT projects are currently being developed with a focus on building facilities where there is a large local population with no current indoor courts in their area and further announcements are expected in the coming months. The projects come at an opportune time for the sport in Scotland as clubs welcome a continued increase in members, with national membership levels at an all-time high.
The new four-court centre, managed by Moray Sports Centre, will provide players in the local area with year-round access to indoor tennis in an affordable and inclusive space. The aim is to not only provide more and better opportunities for the existing tennis community, but also to increase awareness of the sport of tennis and encourage more people to play.
Stewart Harris, Chief Executive, sportscotland, said:
"This is an important milestone for the TSIT project. The past couple of years have been exceptionally challenging for everyone, so it is fantastic that our partners, Moray Sports Foundation, have remained committed to delivering an indoor tennis facility. This is a great example of how working together can maximise resources and make sport more accessible, at every level.
"This investment has been made possible by the people who play the National Lottery. Every week £30million is raised for good causes which means we can support projects like this which will have a real impact on the lives of their local communities."
Having access to tennis all year round will not only create opportunities for increased participation but will also allow the centre to host competitions, allow performance athletes to progress locally, and support coach and workforce development.
Scott Lloyd, LTA Chief Executive, said:
"More indoor facilities are absolutely crucial to our ambition to open up tennis to many more people, and so it is fantastic to see work start on this milestone project in Scotland. The new centre at Moray will be a valuable addition to the existing network of 89 community indoor tennis centres across Britain that play a pivotal role in supporting the physical and mental health of people in their local communities. We'd like to thank everyone involved in making this project a reality during what have been challenging times, and particularly sportscotland and the Moray Sports Foundation for their investment and Tennis Scotland for their support."
The biggest impact will be at grassroots level where the focus will be on equality and inclusion ensuring as many people as possible can enjoy tennis through partnering with third sector organisations and the Active Schools network in the Moray area. Te plans for the centre include the introduction of a tennis coaching programme, with outreach activity for schools and disability tennis.
Sandy Adam, convenor of Moray Sports Foundation, and major donor to the project, added:
"It's fitting that Moray should be the first significant beneficiary of TSIT funding. This project really is transformational for tennis playing in Moray, perhaps more so here than it would be in most other parts of Scotland. For the first time players can play year round and have competition on their doorstep, coaches will have job security and career progression, and the opportunities for new players of all abilities and ages are boundless.
"With a build programme of around 6 months we hope to welcome players in time for Autumn. MSC are already planning programmes to attract new players and working with Tennis Scotland to develop and promote the game in Moray and the North.
"With these new tennis courts added to the facilities we already have in our sports hall our aim is to become, in double quick time, the number one racquet sports venue north of the central belt."
TSIT is designed to support innovative and creative projects to meet local demand and fill the geographical gaps in indoor tennis provision that currently exist across Scotland. This is the largest capital investment programme in the sport's history in Scotland and the aim is to create more and better opportunities to play tennis all year round.
For more information on the ways in which Tennis Scotland supports the development of facilities across the country, click here.