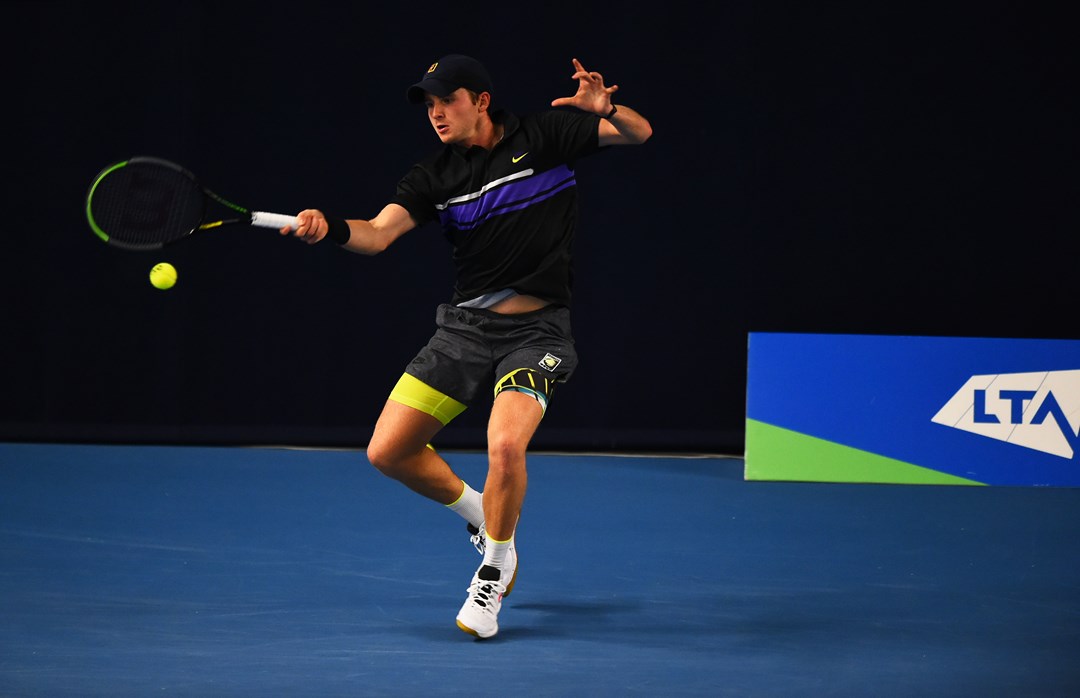 McHugh continues US form, Murrays start hard-court swing, Lumsden and Collins reach quarter-finals
• 3 MINUTE READ
All the latest results and updates as Scottish players compete around the world.
McHugh continues US form
Off the back of his title in Champaign, Aidan McHugh posted another impressive run in Illinois, reaching the final of the M25 Edwardsville.
The top seed opened his week with a straight-sets win over Mac Kiger 6-4 6-4 before edging out Colin Markes 2-6 6-2 7-5.
McHugh then bested 17-year-old Learner Tien, who is currently ranked 12th on the ITF Junior circuit, 7-6 5-7 6-2 to book his place in the semi-final.
A rematch of the previous week's second round saw the Scot face Shunsuke Mitsui of Japan, and he came through once again, this time 6-2 6-4 for a chance to claim back-to-back titles.
In his way stood Quinn Vandecasteele, a US qualifier who competes for the University of Oregon. McHugh's nine-match winning streak came to an end as Vandecasteele claimed the title, besting the Scot 6-3 7-6.
Lumsden and Collins reach WTA quarter-finals
In her first tournament back since her Wimbledon run, Maia Lumsden reached the quarter-finals of Warsaw Open with partner Naiktha Bains. After beating Martyna Kubka and Natalija Stevanovic, the pair were then bested by Linda Noskova and Xiyu Wang 3-6 2-6.
Meanwhile in Switzerland, Ali Collins and Freya Christie reached the quarter-finals of the Ladies Open Lausanne. They opened with a 6-1 6-4 win over Erika Andreeva and Mirra Andreeva before falling to third seeds and eventual champions Diane Parry and Anna Bondar 3-6 6-7.
Scots set for American hard courts
Andy Murray competes in his first event since Wimbledon this week at the Citi DC Open in Washington, D.C. He has a bye before facing the winner of Brandon Nakashima and Aleks Vukic in the second round.
Murray will also team up with Dan Evans in the doubles, taking on second seeds Mate Pavic and Austin Krajicek.
Jamie Murray is also competing in Washington. After an early exit last week in the Atlanta Open to Max Purcell and Jordan Thompson, Murray and Venus will look to bounce back in their opening round versus Grigor Dimitrov and Nicolas Mahut.
Cameron Norrie, meanwhile, is in Mexico for the ATP Los Cabos Open, where he will face Aleksandar Kovacevic or Omni Kumar in the second round.
County week promotions
County week came to a close on Friday after five days of competition for the eight Scottish county teams.
North of Scotland men - consisting of captain Bruce Strachan, Calum MacGeoch, Vincent Gillespie, Ruairidh Fraser, Jed Alexander, Ben Hudson, Marcus Mclaren and Cameron Fryer - topped their Division 2 group, gaining their third consecutive promotion.
The team started the week strongly with a 9-0 win over Cambridgeshire before beating South Wales, Essex, and Northamptonshire all 7-2 to guarantee promotion on Thursday.
Friday saw the North beat Middlesex 5-4 to remain unbeaten for the week. Fryer topped the division's individual stats, amassing 13 wins out of 15 for the week.
Meanwhile in West Worthing, West of Scotland women, consisting of captain Jennifer Steel, Caitlin Steel, Heather Barlow, Rachel Pang, Alicia Gates, Catriona Macintosh, Emily Lauder and Eleanor Cochran, topped Division 5.
The West started off with a promising 6-3 win over Herefordshire and Worcestershire before suffering a day-two setback against South Wales 3-6. They were able to bounce back to clinch a crucial 5-4 win over Dorset, followed up by another 6-3 win over Berkshire on Thursday.
The West secured their top spot by beating North of Scotland women on the final day 5-4. Jennifer Steel and Caitlin Steel topped the group's individual stats by posting an impressive 14 wins out of 15 matches, taking their tally to 29 wins from their last 30 matches.
Meanwhile, East of Scotland men battled to stay in Division 1, while West of Scotland men finished third in their Division 3 group.
Unfortunately, it was not to be for East of Scotland and North of Scotland women as they move down to Division 5 and 6 respectively. South of Scotland men and women also both remain in Division 7 for 2024.
Junior round-up
Scottish juniors competed in England at national events, with notable results coming from Louis Taylor, who won the 9U National Tour South event in Aldershot.
Frank Atkins finished runner-up in the 9U National Tour North event in Repton, where he was edged out by Joseph Welton.
Cameron Rae made the quarter-finals of the 11U Clay National Championships at West Hants, Bournemouth. Cameron teamed up with Arthur McKinlay to make the semi-finals of the doubles.