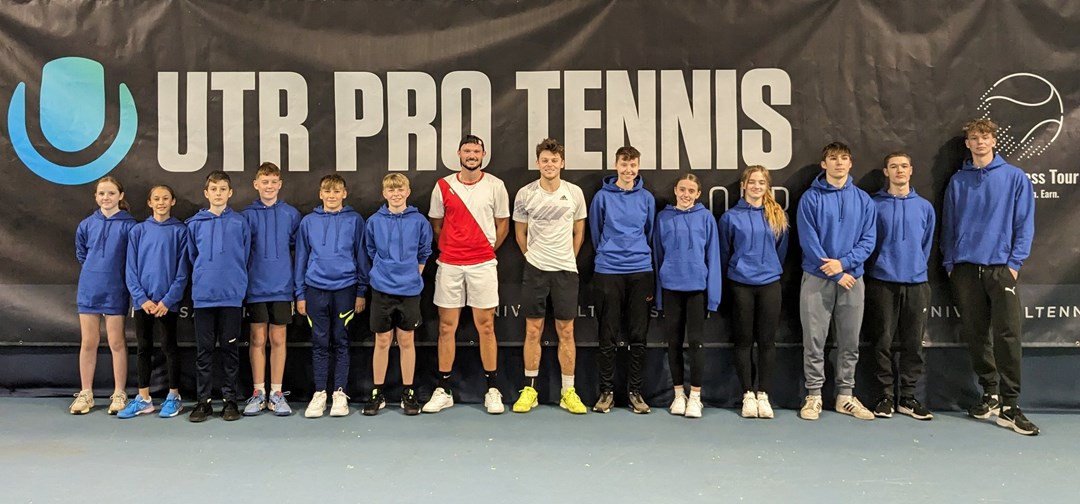 Lumsden claims UTR title, ITF Scots go close and Padel Scottish Cup finals set
• 3 MINUTE READ
Read up on the latest results and updates of Scots competing around the world.
Ewen Lumsden wins UTR
Ewen Lumsden was back in the winner's circle as he was crowned champion at the $25k UTR Progress Tour event in Norwich.
Lumsden's perfect week of tennis began in the group stages, where he won all four of his round-robin matches in straight sets against Edward Pudney, Hugo Coquelin, Brody Nejedly and Freddie Ridout.
Having topped the group, he advanced into the semi-finals where he defeated Jack Curtis 6-1 7-6 (3) to book his place in the final.
Lumsden was up against Kyle Rae, who he overcame convincingly 6-1 6-2 to claim the Progress Tour title.
He is back on the ITF tour next week in Turkey before returning to Scotland to finish his year at the TS Open Tour Finals in December.
Pro circuit success for Scots
Scottish players enjoyed success at ITF pro circuit events as Jacob Fearnley, Matthew Rankin and Ali Collins enjoyed runs to finals.
Fearnley made the final of the M25 Columbus, Ohio, in his first tournament back since his semi-final at the M25 Glasgow.
Entering qualifying, he started strongly by beating Mitchell Maroscher 6-2 6-1 and Robinson Le Meur 6-2 6-3 to progress.
Fearnley opened the main draw by beating his Wimbledon doubles partner and Merchiston Castle team-mate Johannus Monday 2-6 6-4 7-6 (3) and backed up his first-round win by beating American wildcard Evan Sharygin 6-4 6-2.
The Scot extended his winning streak by toppling top seed Radu Mihai Papoe 6-2 7-5 to reach his third consecutive semi-final, where he beat Shunsuke Mitsui 6-1 3-6 6-2 to book his place in the championship match.
Unfortunately, Fearnley was forced to retire after only two games in the final against Learner Tien of the USA. For Tien, it was a third professional title of the year. The 17-year-old has also reached the final of both the Australian Open and US Open junior singles events in 2023.
Matthew Rankin made his first pro-level final at the M15 East Lansing, Michigan. Rankin, who is currently attending University of Kentucky (UK), teamed up with former UK player Alafia Ayeni to make a deep run in the doubles draw.
The duo kicked off their campaign with a 6-2 7-6 win over Alex Bancila and William Grant of the USA. They then upset top-seeded Aussie pair Michell Harper and Patrick Harper 6-3 7-6 (4) to progress to the semi-finals.
Rankin and Ayeni continued their fine form to edge out Samir Banerjee and Braden Shick in a third-set match tie-break 4-6 6-4 11-9.
The final saw the pair face off against second seeds Robin Catry and Fons Van Sambeek, but the French-Dutch pair ended Rankin and Ayeni's title bid 6-4 6-3.
Ali Collins reached the final of the ITF W40 Petange in Luxembourg alongside partner Isabelle Haverlag of the Netherlands.
The top-seeded duo opened their campaign convincingly against Indy De Vroome and Marie Weckerle 6-2 6-3 after receiving a first-round bye.
In the semi-finals, Collins and Haverlag took down Alexandra Eala of the Philippines and Zeynep Sonmez of Turkey 6-2 7-6 (4) to reach the final.
The title decider went the distance as Collins and Haverlag took on GB's Alicia Barnett and Samantha Murray Sharan. Despite winning the first set, Collins and Haverlag couldn't go all the way as Barnett and Murray Sharan battled back to win the Kyotec Open 6-7 6-1 10-6.
Scottish students Jamie Connel and Ben Hudson have also made progress on the ITF pro tour in the US in recent weeks. Connel made an impressive semi-final run at the M15 Tallahassee, Florida, before falling to Felix Corwin of the USA.
Meanwhile, Hudson picked up a maiden ITF pro tour doubles win with teammate Bruno Oliveira from the University of South Florida. The pair entered the M15 Boca Raton, Florida, as wildcards and beat Elijah Strode and Leonardo Vega 7-5 7-6.
They fell in the quarter-finals to tournament winners Thomas Pavlekovich Smith and Lawrence Sciglitano 3-6 3-6.
Padel Tennis Scottish Cup
The first-ever Padel Tennis Scottish Cup semi-finals were completed over the weekend ahead of the final on Sunday, 26 November.
The East of Scotland women's team moved past Bridge of Allan in last week's semi-final, while West of Scotland Padel secured their final spot by coming through a closely contested tie against Thistle.
The clash had to be decided in a shootout after rubbers were split 2-2 and West of Scotland were able to prevail 10-7.
The men's final will be an all-Edinburgh affair as Barnton Park Padel Club bested West of Scotland Padel in the semi-finals, while Thistle Men's Padel were able to beat Aberdeen TC 3-1 to book their place in Sunday's final.
Meanwhile in Bristol, East of Scotland men won the UK Padel County Championships. The team consisting of Philip Blythe, David Holmes, Vincent Hivert, Sam McNeil and Ross Murdoch beat Yorkshire to be crowned champions on Sunday.