LTA Awards Trophies
• 5 MINUTE READ
Achievements of award-winning Scottish Tennis Clubs celebrated by LTA president at Presentation Ceremonies.
Giffnock TSH Club and Western Health and Racquets Club were presented with their LTA Awards trophies by LTA president, David Rawlinson, as the incredible achievements were marked by ceremonies attended by some of the most influential names in British tennis.
Both clubs were initially celebrated at the virtual LTA Awards ceremony in June having won their respective categories at the Tennis Scotland Awards earlier in the year. Following the easing of lockdown restrictions, the clubs finally got their hands on the coveted awards as in-person celebrations paid tribute to their outstanding efforts supporting Scottish tennis by leading the charge for sports returning from lockdown in 2020.
Club of the Year
Giffnock TSH Club were presented with the prestigious Club of the Year title at a ceremony in Glasgow's Southside on Monday afternoon.
In the most fiercely competitive LTA Award's category, Giffnock TSH Club outshone venues across the breadth of the UK for its inspirational resilience, compassion and strive to engage individuals in its community, particularly in the early stages of lockdown. The efforts of club members ensured that Giffnock was one of the first sports clubs in Scotland to become COVID-19 compliant thanks to a proactive approach to tailoring their facility, coaching set up and communications, which attracted a 33% increase in memberships.
LTA President, David Rawlinson, said: "To be named Club of the Year is a momentous achievement and one truly befitting of Giffnock Tennis Squash and Hockey Club which acted as a lifeline for members and the wider community during lockdown. I feel privileged to finally present the award in-person and meet some of the inspirational individuals who assist in the running of this exceptional club. I would like to congratulate everyone involved for the role they played in bringing this prestigious award to Giffnock."
Blane Dodds Tennis Scotland Chief Executive
Tennis Scotland Chief Executive, Blane Dodds, said: "The response of our clubs was exceptional throughout lockdown and Giffnock Tennis Squash and Hockey Club perfectly illustrate how the community rallied to ensure that our sport not only returned safely, but continued to thrive throughout 2020.
"I would once again like to congratulate Richard Cook, the committee, and everyone at Giffnock for this outstanding achievement and their work in ensuring that the club is a very valued part of the community. Our clubs truly are the lifeblood of Scottish tennis and Giffnock has demonstrated that it is delivering not only in Scotland but also compared to all tennis clubs throughout the UK."
Richard Cook Tennis Convenor
Richard Cook, Tennis Convenor, Giffnock Tennis Squash and Hockey Club, said: "To receive such an incredible honour put the icing on the club's 125th anniversary celebrations. The selfless commitment and dedication shown by our volunteers and organisers truly displays that Giffnock Tennis Squash and Hockey Club is more than just a club – we're a tennis family."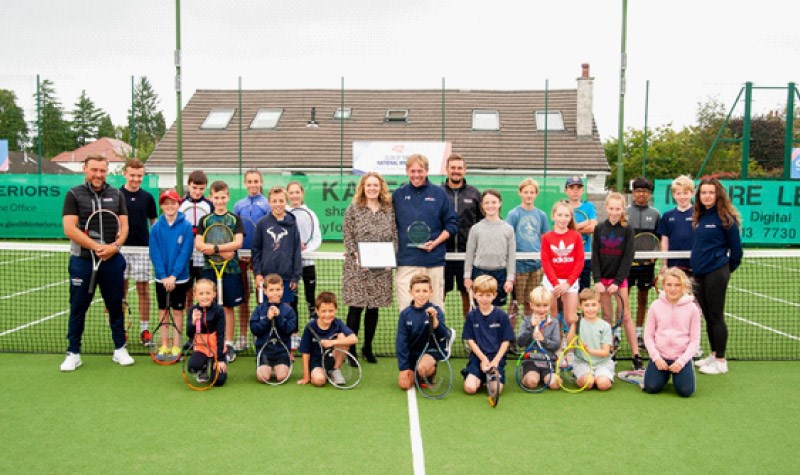 Competition of the Year
Following the conclusion of this year's Club Championships on Saturday, Western Health and Racquets Club were presented with the UK Competition of the Year Award in recognition of last year's event which united members and raised substantial fees for charity.
The club was recognised for running a safe and inclusive competition during lockdown, with 238 players taking to the court to compete and raise a 5-figure sum for Teenage Cancer Trust. The efforts of members and organisers ensured that Western's Club Championships was one of the first events to return to the competition calendar.
Club Championship
Running from August to October, the Club Championships encompassed three events: a veteran's competition, a junior grade and an open finals day. These raised more than £11,000 through entry fees and donations which were presented to Teenage Cancer Trust in memory of Murray Stewart, a talented young tennis player and club member who tragically lost his battle with cancer. Murray's family donated a new trophy for the Open Men's Doubles event which was proudly won by his brothers Hamish and Ewan.
Tennis Scotland Chief Executive, Blane Dodds, was amongst those in attendance Glasgow's West End on Saturday to pay tribute to the outstanding achievement. He commented: "The fact that we were able to safely reintroduce competitive match play during lockdown is a credit to our competition team and each of the tireless event organisers throughout the country. To provide such a high-level and meaningful experience for players during a very challenging year displays the passion within our community and I'm delighted that the efforts of everyone involved with Western Health and Racquets Club has been recognised across the whole of the UK.
"To have the opportunity to attend this year's finals has been a pleasure and I trust this UK award will continue to assist Western communicate and position its place in the community and also nationally."
LTA President David Rawlinson
LTA President, David Rawlinson, added: "The LTA Awards 2021 truly are a celebration of people that stepped up to use tennis as a means to enhance the lives of others within their communities. The Western Health and Racquets Club: Club Championships 2020 symbolises how our sport continued to have a positive impact, both on and off the court, despite the challenges posed throughout 2020.
"Attending this year's competition has provided fascinating insight into the hard-work and dedication of everyone at Western Health and Racquets Club that has played a role in running such a highly-respected tournament."