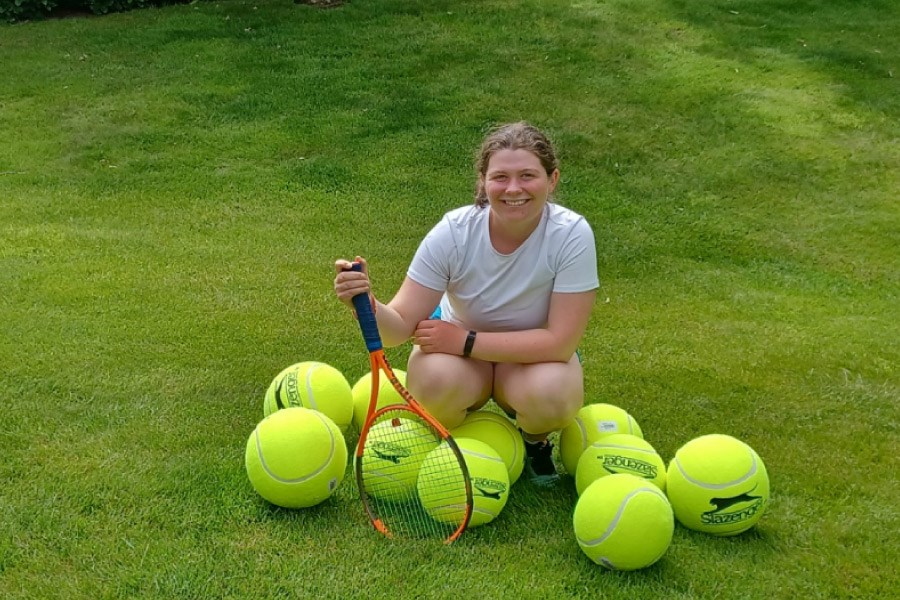 Scottish Women and Girls in Sport Week: Emma Howat
• 4 MINUTE READ
This Scottish Women and Girls in Sport Week, we are celebrating those players, coaches and volunteers making a difference in tennis.
This year's Tennis Scotland Young Person of the Year award winner, 19-year-old Emma Howat, is being recognised for the significant contribution she has made to the tennis community and for helping others to play and enjoy the sport.
Falkirk-born Emma is a member of Dollar LTC, where she first started playing with her mother as a child but has since made the step-up to competitive tennis.
Casha McNab, Dollar Tennis Club secretary, called Emma "an exceptional young person to whom the club is indebted for all her efforts."
Emma - who coaches as well as runs out-of-work-hours practices, club nights, tournaments, barbecues and several junior teams ranging in age from eight to 16, all on a voluntary basis – embodies the spirit of #SheCanSheWill this Women and Girls in Sport week and Tennis Scotland caught up with her for our first Q&A of the series.
Congratulations again on winning the Tennis Scotland's Young Person of the Year award. How did it feel when your name was announced?
When I found out that I had won, I felt really happy and but also an immense sense of pride. It's something I could never have imagined and it was especially pleasing to be nominated by friends and colleagues at the club.
You do so much for your community through Tennis. Where did this passion originate from?
I think the important word here is community. I am involved in a small community club, and have known most of the kids for years, so not only do I see them at the club, but around the village or at the ski slope. I would say my passion is not just the tennis, but seeing people learn and grow through playing tennis, as players and as people.
Who were your inspirations when you started playing tennis?
When I started playing, I don't think I was aware of any inspirational players, so it would probably have been my mum. However, as I got older, like most players from Central Scotland, I looked up to Andy Murray. He is an inspiration to this day, not just for what he's achieved on the court, but the issues he supports off it - especially his passion to promote equality.

You were constantly running practices, club nights, tournaments, barbecues, and several junior teams last year. That's a lot of work for one person: What does a typical day in your life look like?
That's a tricky question as I rarely have a typical day. Generally, my morning will be more relaxed, and I sort a lot of admin for upcoming teams or tournaments at my club. In the afternoon, I am normally on court coaching or at my local ski slope, as I am also a ski instructor. Weekends are far less predictable, but generally I will be coaching in the mornings and the afternoons vary every week, depending on what events we have running.
What are the biggest challenges you've faced so far?
I feel very lucky to say that I haven't had to face too many challenges, as the committee at Dollar LTC have always been incredibly supportive every time I have wanted to run an event or book out the courts for extra practice sessions. However, there are always organisational challenges, especially when there are so many activities for kids to fit into their schedule - there is never a time that will suit everyone!
What are you hoping to achieve in the future?
My goal over the last couple of years at my club has been to increase participation in tennis out with the regular one-hour-a-week coaching sessions, by increasing opportunities to play more competitive tennis. I would like to continue with this but also shift the focus slightly to getting more girls playing competitively, because although we have seen competitive participation more than double in the last two years, this has not been comparable. I'd really like to encourage more girls to take their tennis to the next level.
In this Girls and Women in Sport Week what advice would give to aspiring girls and women in tennis?
Just have fun - and if you are having fun, don't let anything stop you. There are so many opportunities out there in sport and if they come your way grab them all, because they're only going to lead you to bigger and better things - and more fun.
Scottish Women and Girls in Sport Week aims to increase visibility of women and girls in sport and physical activity, showcase partnerships, raise awareness of the barriers within the sport, and highlight the many health benefits it can bring. #SheCanSheWill